March 20, 2019 | Paul Volcker Can't Save Us This Time…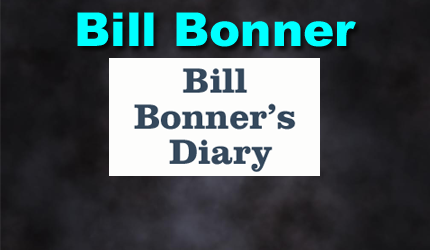 Is an American author of books and articles on economic and financial subjects. He is the founder and president of Agora Publishing, and author of the daily financial column, Diary of a Rogue Economist.
Still no visible crack in the stock market. But the economy may be breaking down.
First, there is growing recognition that the Obama/Trump recovery has been a flop.
A headline at Yahoo Finance:
Jamie Dimon: The U.S. economy should have grown 40% in the last decade, not 20%
Hardly a week has gone by since the White House proposed its new budget, counting on 3% growth. Now, it too is already admitting that it won't work. The New York Times:
The Trump administration pushed a $1.5 trillion tax cut through Congress in 2017 on the promise that it would spark sustained economic growth. While the tax cuts have goosed the economy in the short term, officials now concede they will not be enough to deliver the 3 percent annual growth the president promised over the long term.
Second, more signs are appearing that the recovery – weak as it is – is reaching its end.
The big exporters – China, South Korea, and Japan – all report slowing overseas sales. And the shippers too, say there is less traffic on the high seas, confirmed by the decline in the Baltic Dry Index.
Even Fed Chairman Jerome Powell has noticed the weakness in the global economy:
… We've seen increasing evidence of the global economy slowing down… I would say the principal risks to our economy now seem to be coming from slower growth in China and Europe and also risk events such as Brexit.
Great Britain is scheduled to leave the European Union in just nine days. On what terms? We don't know. Apparently, neither does anyone else. The uncertainty could be disruptive.
Canadian Example
But today, we follow up on what we believe is a sure thing – that the U.S. fiscal train is going to run off the rails.
The feds already have $22 trillion of debt, increasing by $1 trillion per year. The Trump budget will be rejected by Congress. And its economic projections are nonsense.
But it's most pernicious feature – trillion-dollar deficits as far as the eye can see – will prove an underestimate. Our own guess is that U.S. debt (following a recession and market crash) will rise to $40 trillion by 2030.
But wait… surely there's some way out… a way to slow down… and get back on track. A Dear Reader reminded us that Canada did it.
Gary M.:
It is possible to balance a federal government budget. Canada's debt was so bad in 1996 that the IMO [International Maritime Organization] was threatening to intervene. But six years later, the budget was in surplus, and the government managed to run seven straight surpluses until the Great Recession drove it back into the red.

The problem for the U.S. is that, as Canada showed, getting to a surplus requires measures that either liberals or conservatives abhor: One-fifth of all government positions, other than military and RCMP [Royal Canadian Mounted Police], were eliminated (about 50,000 jobs); government transfer programs (to provinces and individuals) were radically restructured.

For example, unemployment insurance was renamed employment insurance to reflect a realignment towards supporting workers between jobs, with lower monetary benefits and more training programs… Taxes were increased on individuals and corporations.

A temporary 3% surtax was applied to income over $50k; the tax was eliminated when the deficit was gone. Although it wasn't a part of the strategy, the existence of a new value-added tax raised more revenue than anticipated.

The U.S. is one of the only major industrial democracies without such a tax. There was also a degree of luck.

Canada cut its deficit in a period of global prosperity and high resource prices, bolstering corporate earnings and tax revenues. The recent U.S. tax cut has, once again, failed to result in increased government revenue from greater economic activity.

In fact, tax revenue is down 6%. Spending cuts must be combined with at least temporary tax increases to get the government into the black.
So, you see, it can be done. Disaster is not fore-ordained. Catastrophe may be avoided.
Howl for Stimulus
But… can you imagine Mr. Trump raising taxes and cutting spending? How about AOC or Bernie Sanders?
Can you imagine the Fed sitting on its hands as the stock market crashes again and unemployment goes to 10%?
Can you imagine Jerome Powell standing tall, unflinching, like Paul Volcker… as economists, politicians, the White House, and the press all howl for "stimulus"?
We can't.
More to come…
Regards,
Bill
STAY INFORMED! Receive our Weekly Recap of thought provoking articles, podcasts, and radio delivered to your inbox for FREE! Sign up here for the HoweStreet.com Weekly Recap.