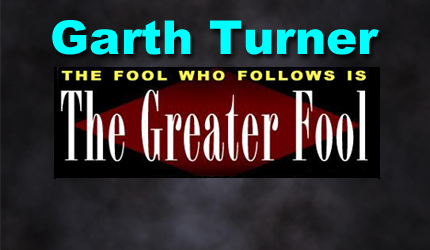 A best-selling Canadian author of 14 books on economic trends, real estate, the financial crisis, personal finance strategies, taxation and politics. Nationally-known speaker and lecturer on macroeconomics, the housing market and investment techniques. He is a licensed Investment Advisor with a fee-based, no-commission Toronto-based practice serving clients across Canada.
This blog took a lot of heat two years ago for suggesting peak house was upon us, and only fools were making offers. Surely you recall it. FOMO stalked the land. Rockstar realtors orchestrated blind auctions. Bidders squirmed and stressed. Greedy vendors rode the wave to windfall gains. Household debt passed $2 trillion for the first time – most of it mortgages – as families stretched as never before to buy real estate at altitude. The media had a cow.
Now we know. It was a trap.
The latest stats from the GTA are telling. The average detached home, as in Vancouver, is in bear territory after shedding 20% from its peak. Year/year in February Toronto real estate gains were less than inflation, while both sales and listings fell. The month saw the biggest drop in transactions in a year, prompting the local cartel to beg Ottawa to review/gut the stress test and bring back 30-year mortgages. Yes, so people can borrow more money and afford houses which they can't actually afford. But that's how realtors think. I guess we all would, if we lived on commish.
Of course the danger – now that Ottawa's in crisis mode and Mr. Socks is worried about October 21st (and why women don't like him) – is that the March 19th budget will deliver what the industry's begging for. Finance guy Bill Morneau has already revealed there will be a Moister Strategy on that day, widely expected to contain (at least) a 30-year loan extension plus a new tax credit to help pay closing costs. As argued here before, this could affect a natural market correction. Or, maybe not.
Meanwhile last week's awful economic numbers, combined with an earnings miss at two banks, have raised the spectre of a made-in-maple recession. If that were to occur, plus the Lavalin/Jody/Jane/Gerry crisis in the PMO, we might well have a change in government – something that looked like a kinky neocon fantasy three weeks ago. This also is not lost on the Bank of Canada, which until recently was penciling in two rate hikes for 2019. That's now down to one. And no time soon.
The good news about recessions is the cost of money often goes down, assets like houses get cheaper and inflation fizzles. The bad news is you might lose your job. Plus real estate becomes illiquid, so people who must sell have to wait or relist lower.
By the way, the definition of a recession is not when your MIL says you're a complete loser. That's called 'Sunday.' Rather it's two consecutive quarters of negative growth – in other words, an economic contraction lasting at least six months. Such events are routine since things don't go up forever. But recessions tend to be far shorter than periods of expansion, so investors with balanced and diversified portfolios can basically ignore them. (For example, between 1945 and 2001 recessions averaged 10 months compared to 57 months for expansions.)
So here we are. Real estate is giving up momentum and people no longer talk about it during sex. This is good. But economic growth has stalled, the federal government is distracted, China's fed up with us, corporate profits have moderated and the central bank is cautious. In other words, don't quit your job in the next few months. Or pickle yourself in debt – no matter how enticing things look.
And that includes Rutting Season Rates.
The spring borrowing market just kicked off with HSBC, which has been trying hard to become a predatory lender in recent years. The bank is after headlines and applicants with a 2.99% five-year fixed-rate mortgage (about half a point less than the other guys). The lender is taking advantage of exactly what I've just described – an abrupt stall in central bank rates, crappy economic numbers and reticent buyers. Given the serious wobble in major real estate markets, new mortgage originations have been plunging, so HSBC has become overly aggressive in courting first-timers. (By the way, the bank's also cratered its HELOC rate.)
Expect more of this. Home loan rate cuts will be everywhere in a few weeks as the big banks compete for their share of a dwindling pie (or avocado toast, in this case). Listings will also swell. If Morneau/Trudeau decide to distract young voters with a tasty homebuying strategy in the budget this month, house lust could be back.
Does it make sense to buy?
Well, it makes better sense now than it did two years and 20% ago, if you're after a detached. But there's obviously more to come. Patience.
About the picture...
That's Sugar, and her dad's a cop. With a message for me. "I've been a police officer for 23 years. I used to read comments on police related reporting and started to feel the world was against me. Quite seriously. I know it wasn't though. It was that fringe group of folks who are so disconnected and permanently pissed off that by taking the time to spread their venom they seems to think it will change things. It won't. I'd suggest you just shut down the comments for a month or two and perhaps even permanently. When YOU comment about their comments – you make them relevant. They aren't."
STAY INFORMED! Receive our Weekly Recap of thought provoking articles, podcasts, and radio delivered to your inbox for FREE! Sign up here for the HoweStreet.com Weekly Recap.