March 25, 2019 | Not Normal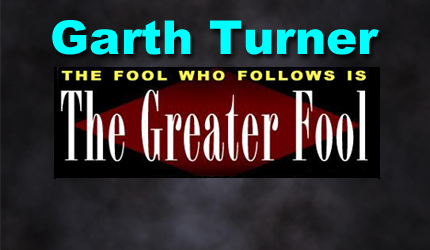 A best-selling Canadian author of 14 books on economic trends, real estate, the financial crisis, personal finance strategies, taxation and politics. Nationally-known speaker and lecturer on macroeconomics, the housing market and investment techniques. He is a licensed Investment Advisor with a fee-based, no-commission Toronto-based practice serving clients across Canada.
Markets don't give a fig about collusion. Or Lavalin. So let's jump to what matters.
Last week we talked about an American inverted yield curve. That's when short-term interest rates (like the central bank benchmark) are greater than what most bonds pay. Especially l-o-n-g bonds – a decade or more. So investors can reap the same returns by investing money for a few months as for an entire decade. That's not normal.
Why is it happening?
Because Mr.Market believes future interest rates will be lower as inflation and economic growth erode. So long bonds currently available become more valuable (the price rises) since they carry a higher coupon rate than ones to be issued later. As bond prices increase, the yield decreases. And now 10-year ones pay less than 90-day deposits. (If your head hurts a little, you're normal. Bonds are weird.)
So this has just happened in Canada, too. First time in 12 years – since before the credit crisis hit.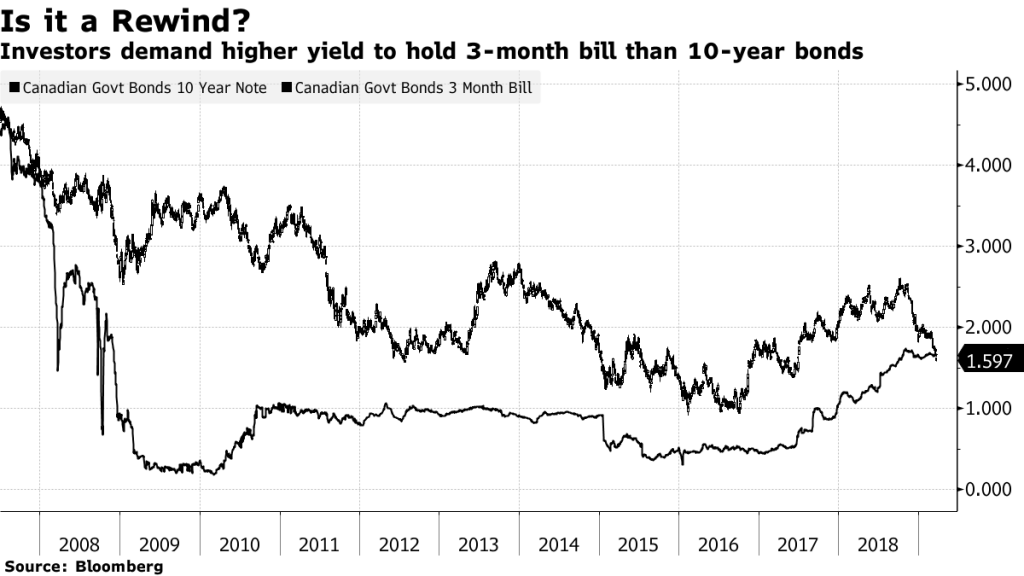 Canadian interest rates have crashed more than almost any other western country over the past six months. There is a 50-60% decline in five-year and 10-year Government of Canada yields. In other words, the sunny ways projection contained in last week's federal budget was, well, er, ah, more faerie poop. At least, the market ain't buying it. Neither should you.
Retail sales have dropped. Household debt is at epic levels, and continues to rise. The mortgage business is in tatters because of the stress test, tapped-out households, wobbly housing markets and ill-conceived taxes on buyers from out of the country, secondary homes and high-end houses. (Now Toronto is close to slapping a new uber-transfer tax on $3 million+ properties. It never ends.) The sum of all fears is that families have gorged on too much debt, spent their brains out and will retrench to try and save or pay of borrowings. Since two-thirds of the economy depends on you buying stuff, it's bad news.
Next: reduced credit as lenders pull up the drawbridge to reduce risk and the ultimate house-killer – rising unemployment. All this has generated a massive turnaround in expectations. The market's giving 32% odds of a Bank of Canada rate cut in September and even a 24% chance the bank will fold in July. Wow. Just 90 days ago we were being told to expect two more hikes in 2019.
Meanwhile global trade has dropped almost 2% in the last three months (the biggest in a decade). Brexit is a total, bleeding mess. And now 45's all cocky and puffed-up again, which bodes badly for the China trade talks.
So, yeah, no more rate hikes in Canada. If the yield curve inversion continues (it may not) then we could be about a year and a half from a recession. In advance of that you can expect monetary or fiscal stimulus – rate cuts or increased government spending. The trouble with Canada is that rates are still very low (the bank rate's just 1.75%, even after five hikes compared to the Fed's 9 increases) and Ottawa's already spending tens of billions more than it collects annually. Our economy has shrunk in three of the last four months. This could explain why beaver bond yields have crapped out more than elsewhere.
Anyway, here's what it means to everyday life.
First, GIC and high-interest savings rates will be falling. Second, so will fixed-term mortgage costs. Thus, third, you might want to go with a variable-rate home loan or lock into one of those cheapo spring specials now being unveiled. Fourth, none of this is long-term good news for real estate. Sure, loans will cost less, but wounded consumer confidence is a bigger determinant of property sales. People worried about jobs don't buy houses.
Now, lest all the pantywaists who read this pathetic blog over-react, go to cash and head for their bunkers packed with Cottonelle, Milkbones and Star-Kist, be aware. The yield curve thing might once again banana. A mortgage war and motivated sellers could deliver a far better rutting season than we saw last year. And financial markets have soared so far in 2019, with no reason to expect an abrupt reversal. In other words, if you require a house and can afford one, buy it with cheap financing. And if you're not yet a multi-millionaire and need to grow your money for retirement, well, don't stop. Ever.
STAY INFORMED! Receive our Weekly Recap of thought provoking articles, podcasts, and radio delivered to your inbox for FREE! Sign up here for the HoweStreet.com Weekly Recap.