March 7, 2019 | Is King Dollar Facing a Death Cross?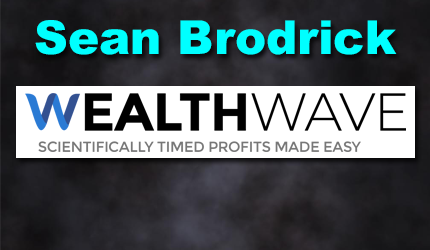 Sean is the natural resource analyst for Weiss Ratings. You can read his thoughts on gold, oil, cannabis, uranium and other natural resources at Wealth-Wave.com
The U.S. dollar has been on a roll in 2019. The greenback is up about 2% from the low it hit in early January.
In currencies, 2% is a big move. So, this is bringing dollar bulls out of the woodwork.
But those bulls may be headed for the slaughterhouse. That's because a longer-term signal is flashing rough times ahead for the greenback.
That signal is coming from the 50- and 200-day moving averages in the U.S. dollar. Take a look at this chart I grabbed from my Bloomberg terminal:
A few things you can see. First, the U.S. dollar's rally since January doesn't amount to much in the big picture.
Then there are the moving averages. The 50-day moving average is the purple line. It's about to cross below the 200-day moving average (the blue line).
The last time this happened — in May 2017 — it triggered a tumble in the dollar that carried it more than 10% lower.
And in currency terms, that is huge. HUGE!
Why would the dollar head lower? I can think of a few reasons.
#1: President Trump Hates a Strong Dollar
President Trump has railed against a strong dollar practically since he was elected. In January 2017, he said the dollar was "too strong." And this past July, he again emphasized the need for a weaker dollar to spur U.S. exports and cut imports. He said a strong dollar "puts us at a disadvantage."
It's no wonder he continues to be worried about that, because the U.S. trade deficit just hit a 10-year high.
And he just did it again! Speaking at the Conservative Political Action Conference this past weekend, President Trump took a swipe at Fed Chair Jerome Powell, saying he was someone who "likes raising rates" and a "gentleman that likes a very strong dollar."
President Trump added: "I want a dollar that does great for our country, not a dollar that's so strong that it makes it prohibitive for us to do business with other nations and take their business."
Speaking of Powell & Co. …
#2: The Fed Has Turned More Dovish
The Fed is certainly listening to President Trump. After hiking its benchmark interest rate four times last year, on Jan. 30, the Fed took a very dovish turn. It stopped using language that calls for "further gradual" interest-rate increases, and started emphasizing patience.
For example, Boston Federal Reserve Bank President Eric Rosengren recently suggested the Fed's pause on rate hikes would last "several meeting."
#3: The Fed Might Get REALLY Dovish
And during a speech at that Economic Club of New York, N.Y. Fed President John Williams says that, in a downturn, the Fed might consider quantitative easing and even negative rates.
Part of this is due to expectations that the U.S. economy will slow. Williams, for example, says he expects economic growth to be just 2% in 2019. That's down from nearly 3% last year.
The Big Winner if the Greenback Weakens
There's nothing magic about the "Death Cross." It does indicate that shorter- and intermediate-term momentum is sputtering. But it could pick up again.
If the dollar does slump, however, there will be a big winner: Gold!
That's because the yellow metal is priced in dollars. The recent dollar rally has definitely dragged on gold. Likewise, dollar weakness could ignite the next leg of gold's big rally.
I've been telling my paid-up subscribers that gold is on the launch pad. I've even released my latest gold research — along with a solid gold stock pick — to everyone who reads this free column. If you haven't yet chosen to download my complimentary gold report yet, and you prefer to buy gold and miners blindly, that's up to you. But I really hope you'll take a few moments to see what the cycles are telling us about gold.
So, keep your eye on King Dollar. It looks strong now, but a big haircut could be around the next corner. If/when that happens, you'll want golden protection in your portfolio.
All the best,
Sean
STAY INFORMED! Receive our Weekly Recap of thought provoking articles, podcasts, and radio delivered to your inbox for FREE! Sign up here for the HoweStreet.com Weekly Recap.