March 1, 2019 | Eight Years of Price Suppression yet Few can Comprehend the Issues!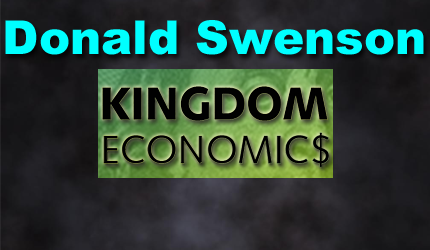 Donald B. Swenson: Born January 24, 1943, Roseau, Minnesota. Graduated H.S. 1961, Moorhead High, Minnesota. Graduated College 1968, Moorhead State University, Minnesota. Designated member of Appraisal Institute (MAI), 1974. Employed with Western Life Insurance Company, 1968 – 71; Iowa Securities Company, 1971 – 73; American Appraisal Company, 1974 – 81. Part-time teacher/valuation consultant/bartender, 1979 – 2008 (taught workshops at Waukesha County Technical Institute, Wi. and Madison Area Technical College, Wi.). Retired 2008 (part time teacher/blogger), AZ. Self educated economist/philosopher/theologian: http://kingdomecon.wordpress.com.
Our silver and gold prices have been manipulated and suppressed since 2011 (now nearly eight years). Market conditions would normally be favorable for silver and gold but algorithmic price suppression in ubiquitous. It continues as I write. Who is behind this scheme and why?
Dr. Paul Craig Roberts educated me on this price suppression scheme back in 2011. As a prior under-secretary of the Treasury, Mr. Roberts had the wisdom to understand why our authorities desire to suppress the prices of silver and gold. It all has to do with market psychology and maintaining our dollar (psychologically strong).
Our money system is now digital and trading is now done by retail investors and also our central planners (the Fed, BIS, and this department called the Exchange Stabilization Fund). This means that our central planners can suppress any price they choose via trading strategies. Most pundits seem unaware as to who are trading our markets.
The strategy which works best involves trading digital contracts on our electronic exchanges using a pre-programmed algorithm. Today, trading is digital and algorithms set most prices in our markets. An algorithm can also be programmed to trade 24/7 to manipulate and/or suppress a price (like the silver and gold spot price).
I can buy contracts on the Globex and/or another electronic exchange and use the strategy of selling short. These digital contracts are not settled in the physical metals (as should be required). This means that buying contracts (and selling short) increases the SUPPLY of the metal (for trading purposes) and suppresses the digital spot price. Settlment is then done in digital cash and not the physical metal. Why is this allowed?
There is no need for an active trader to trade a commodity like silver or gold (in person). A robot with an algorithm can do the trading. I can use the Globex electronic exchange for this activity (one option). I source the algorithm with instructions to trade. See this website…which is used for much of this price suppression.
https://www.cmegroup.com/trading/metals/
I could also trade with my personal computer platform to assure that my trade accomplishes its objective (price suppression of spot silver and spot gold).
Most financial pundits have not caught on to this price suppression scheme of our central planners. These central planners can now trade all our markets to manipulate prices (including stock prices) so as to maintain confidence in the digital trading system. Dr. Paul Craig Roberts had the wisdom to discern the psychology behind our dollar and why price suppression of silver and gold is necessary (from a central planners viewpoint).
Mr. Roberts recognized that our authorities will manipulate and suppress silver and gold to help keep our digital dollar strong (in the minds of investors). I have now followed this price suppression scheme for nearly eight years. It is obvious, to me, that the digital spot prices (which determine the market) are manipulated and suppressed (regularly).
I have been writing about this for nearly eight years to educate some investors. But the vast majority of pundits and our miners (who should be interested in this issue) seem oblivious to all this manipulation and price suppression. The organization called GATA: http://www.gata.org, has also followed this price suppression scheme.
Bill Murphy and Chris Powell have followed this issue for years and I find their findings as valid (mostly). They seem unaware of this trading tool called the Algorithm (however). I have talked to Bill Murphy briefly on this at a prior metals conference. You can check their views here:
https://www.youtube.com/watch?v=SUcsne5XnyI&feature=youtu.be
CHRIS POWELL, Secretary/Treasurer
Gold Anti-Trust Action Committee Inc.
[email protected]
I am at a loss for why our mining community has no real interest in this issue. The 'all in sustaining costs' of producing silver is currently around ($16/ounce) and for gold around ($1250 per ounce). Yet this community (with a couple of exceptions) seems not to care about all this price manipulation and suppression. This is strange to me.
My sense is that our mining officials are mostly not desiring to rock the boat on this issue as they continue to sell the mantra that prices are set via supply and demand. They assume that prices will adjust spontaneously via normal market processes. This, to me, is gross deception. Dr. Paul Craig Roberts was correct in his perceptions on this issue. The prices are manipulated daily and suppressed when the prices rise above pre-desired levels.
As I write the price of silver is $15.25 (down some 2.2% today) and gold is $1300.46 (down 1% today). General market conditions should be favorable for silver and gold to rise given the unstable digital markets and the world situation. Yet the price can be suppressed by an algorithm and none can discern who is doing the suppression. Isn't it time for our pundits to get some education on our digital markets (and algorithms)?
Our financial pundits and our miners (who should want to understand this issue) simply refuse to challenge the system which produces this manipulation and price suppression. Until some challenge is mounted by those being affected, I doubt that our central planners will change their scheme. These central planners can operate behind closed doors to do their manipulation schemes. Pass this missive on to those who might desire some understanding on this issue. Thanks.
STAY INFORMED! Receive our Weekly Recap of thought provoking articles, podcasts, and radio delivered to your inbox for FREE! Sign up here for the HoweStreet.com Weekly Recap.