March 19, 2019 | Charlie Brown, Lucy's Football and Gold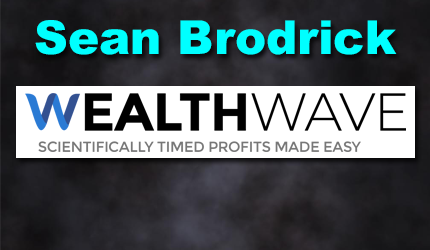 Sean is the natural resource analyst for Weiss Ratings. You can read his thoughts on gold, oil, cannabis, uranium and other natural resources at Wealth-Wave.com
Gee, I sure hope you didn't miss the gala launch of our three-part interview series today! We just finished streaming the first one this afternoon.
The good news is that I've had my team post the recording without delay. If you want to watch it now, just turn up your speakers and go here. It should start playing on your screen without further ado.
Meanwhile, the other good news is that investors now have more great opportunities in the gold market.
Yeah, I know — the action in gold bullion has been disappointing to investors of late. But that's actually a positive: It gives you the chance to buy in without chasing high prices. Plus, there are ways to make money even when the yellow metal grinds along in second gear.
And they shouldn't be too disappointed; expecting an imminent blast-off in gold is a little like Charlie Brown lining up to kick the football Lucy has set up for him. You know she's going to pull it away at the last second.
And right now, gold is a snooze-fest; rangebound. It's gone up the past two days, but it's off the highs it hit last month — seemingly unable to wiggle away from either side of $1,300.
Still, the fundamentals for gold keep improving …
In just the last couple months, we have more central bank buying. We are also seeing increased instability in Europe, due to Brexit and other political unrest across the continent.
Then there's the fact that the Fed abruptly ended its rate hikes in December. According to recent Fed Funds futures, 91% of options traders are betting on interest rates staying the same for the rest of this year. And 9% are betting rates will fall.
How does this affect gold?
Well, it feeds into the idea that the U.S. dollar seems poised for a long-overdue correction. After all, it was rate hikes that made the dollar so attractive compared to other currencies. And, since gold is priced in dollars, as the greenback stumbles, gold shines.
One more thing: In terms of supply, we may have hit what's best called "peak gold." According to the World Gold Council, total gold production dropped 0.9% last year. As supplies tighten, prices usually get squeezed higher.
I'm sure these forces and more will give the gold market a tailwind. In the meantime, let's talk about ways to make money in gold NOW!
Because here's the interesting thing. Gold may be snoozing. But miners, as tracked by the major ETFs, are outperforming gold nicely this year.
You can see that gold itself is up 1.53% this year. At the same time, the VanEck Vectors Gold Miners ETF (NYSE: GDX) is up 4.74%. In other words, this basket of leading, BIG miners is tripling the performance of gold.
The smaller the miner, the better the performance. The VanEck Vectors Junior Gold Miners ETF (NYSE: GDXJ) is up 5.76%. And the Global X Gold Explorers ETF (NYSE: GOEX) is up 9.67%.
Gold explorers are outperforming the metal by six times.
Sure, gold explorers are more speculative. They have more risk. But let me also point out …
We're seeing mergers in the big-cap miners. Last fall, Barrick bought Randgold Resources. In January, Newmont bought Goldcorp. Barrick then tried to buy Newmont, and ended up settling for forming a joint venture.
At the same time, major gold miners are seeing their total production shrink. In fact, that shrinkage is accelerating. In the fourth quarter, the 34 largest members of the GDX saw their production fall 7.5% from a year earlier.
The big gold miners could replenish their resources organically. But they don't want to spend huge sums of money on exploration that may or may not work out.
So, the much easier thing to do is buy gold explorers who have already done most of the hard work. That's what they're doing. And that's why gold explorers are starting to outperform their larger-cap brethren.
This is telling me my next moves for my Supercycle Investor subscribers should be into junior miners and explorers. We've taken some gains on miners recently, including 29% gains on Alamos Gold, and 12% on B2Gold. Now, for the really big payoffs, it might be time to swing for the fences in juniors.
The GOEX isn't a bad way to do it. It's a basket of 47 precious metal-leveraged companies. And Canada and Australia — both mining-friendly countries — represent 76% of the fund's geographic exposure.
To be sure, for real outperformance, I'll look at individual companies. And sure, that carries higher risk. I'll do my homework.
If you're investing on your own, do plenty of research and be careful. But don't sit this one out, either. That football is lined up for a good kick. And sooner than later, it's going to go right through the goalposts.
All the best,
Sean
STAY INFORMED! Receive our Weekly Recap of thought provoking articles, podcasts, and radio delivered to your inbox for FREE! Sign up here for the HoweStreet.com Weekly Recap.