March 26, 2019 | Cash-In on Cannabis. We Called the Trend, Here's What's Next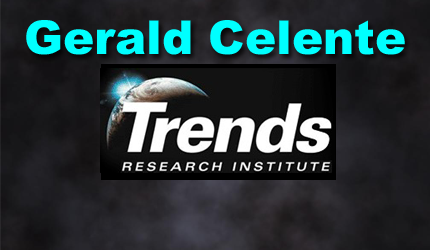 Gerald Celente, who developed the Globalnomic® methodology to identify, track, forecast and manage trends, is a political atheist. Unencumbered by political dogma, rigid ideology or conventional wisdom, Celente, whose motto is "think for yourself," observes and analyzes the current events forming future trends for what they are — not for the way he wants them to be. And while Celente holds a U.S. passport, he considers himself a citizen of the world.
KINGSTON, NY, 20 March 2019—It's bigger than the legalization of marijuana that politicians are blabbing about and the business media are promoting to cash-in on the tax and investment potential. It's the full line of cannabis and hemp products that will catapult it into a trillion-dollar global industry within a decade.
As the World Leader in Trend Forecasting®, this Trends Journal prediction was long established before the mainstream media latched on to this megatrend and followed our lead. Back in 2016 the Trends Journal had forecast "Reefer Money Madness," after identifying a series of converging trend lines that would propel legal marijuana into the mainstream and ignite a major industry boom.
And as one of our Top Trends for 2019,"Get High, Get Healthy," we forecast: "The legalization of marijuana in many states and the new federal Farm Bill that will legalize hemp will open the floodgates of explosive growth for both the marijuana and hemp industries that, because of their recreational, industrial and medicinal qualities, will be much bigger than booze."
Indeed, we forecast that the industry, which will create jobs in technology, product development, customer service, health care management and much more, will emerge as one of the fastest-growing job sectors in the U.S. and in many nations.
POLITICAL CANNABIS CRIMINALITY
As cannabis legalization is escalating at a rapid rate, greedy politicians are inflating tax rates that will be costly to the public and making regulations that will cater to big business that pay them off with "campaign donations" at a cost to small business startups and OnTrendpreneurs®
Trends Journal publisher Gerald Celente proposes the National Cannabis Freedom Act… a referendum on all state ballots in the 2020 elections to let voters decide if they want a continuation of strict government regulations and excessive taxation, or limit regulation and taxation as would be applied to any natural plant.
While numerous polls worldwide show a majority of people favor legalization and more and more studies confirm the health and healing benefits of marijuana, politicians have woken up to the enormous potential in sales tax revenue cannabis can bring.
TREND FORECAST: While still an illegal substance on a federal level and in most states in the U.S., the cannabis legalization trend is global. And because the cannabis/hemp industry is multidimensional, it will grow rapidly on several levels: recreational, medicinal, health, cosmetic, food and beverage, plastic replacement, clothing and a broad array of other products.
STAY INFORMED! Receive our Weekly Recap of thought provoking articles, podcasts, and radio delivered to your inbox for FREE! Sign up here for the HoweStreet.com Weekly Recap.