March 24, 2019 | Bad to the Bone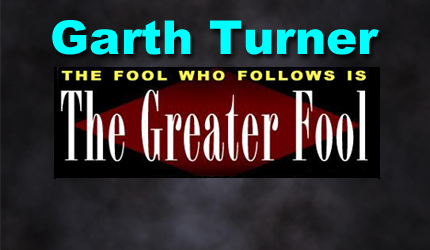 A best-selling Canadian author of 14 books on economic trends, real estate, the financial crisis, personal finance strategies, taxation and politics. Nationally-known speaker and lecturer on macroeconomics, the housing market and investment techniques. He is a licensed Investment Advisor with a fee-based, no-commission Toronto-based practice serving clients across Canada.
Mueller, blah, blah. Brexit, blah, blah. Inverted yield curve, blah, blah. Lavalin, blah, blah.
Let's take a few minutes and kick off the new week with insignificance. Macroeconomic navel-gazing. First up is Franco, renting and vexing in a dodgy west end Tranna hood.
"Hey Garth: (Insert standard blog suck up). I have an interesting opportunity I was hoping to get your feedback on. I currently rent a 3 bedroom detached home in Roncesvalles from a friend's father, who is giving me a stellar deal ($2000 + utilities, and I get to sublet the basement for $1050). It's a solid house in a great neighbourhood, doesn't need much reno work but I would probably open the back wall to let some more light in.

"The owner wants to sell me the house. I could never qualify to get into this housing market, as I am a high school English teacher making 50k a year, 37 years old and single (recently divorced). I have about 50k (30k of which is in an RRIF) in investments, and am starting to build a small portfolio of ETFs, etc. The owner of the home is willing to lend a second mortgage to me at a good rate (probably 5%). So I would just have to qualify with the big banks for a downpayment of 20% to him, and then I would pay him additionally on top of the bank.

"I am thinking of offering him 1M or 900k for the property based on the comparables I have researched and the current market conditions. My plan would be to renovate the basement slightly (put in a proper kitchen) and up my tenant's rent from $1,050 to $1300 most likely.

"Any thoughts? Would I be insane to get into this market now, or should I take the hand that is being extended? I would never have an opportunity like this on my own, and they are basically treating me like family since we've been friends for about 20 years. Grateful for any counsel, and would appreciate if you didn't post this situation on your blog! (My friend might be reading!)"
Okay, we'll call you Jim. And you must be on drugs. Or just a dreamy, detached, financially illiterate English teacher.
I mean, get a grip, Jimbo. You have a grand total of $50,000, most of which is (for some reason) in a RRIF and doesn't even qualify for the Home Buyers Plan loan. That means closing costs alone (double land transfer tax – after the first-timers rebate – plus legals) would eat up all your after-tax cash. On top, it sounds like you plan on borrowing the downpayment (20%) plus taking a second mortgage – plus looking for primary financing.
The bottom line will be 100% debt. So, a $1,000,000 mortgage. First, you don't qualify to carry that amount of financing. Second, you'd fail the stress test in spectacular fashion. Third, the landlord/owner has obviously discovered you're a total rube and is happy to unload this place on you without conscience. Fourth, you have zero money for renos. Fifth, if you make structural changes and put in a kitchen for the tenant, the property's appreciation (if any materializes) will be subject to capital gains tax. Sixth, did she divorce you over money? Would make sense.
STAY INFORMED! Receive our Weekly Recap of thought provoking articles, podcasts, and radio delivered to your inbox for FREE! Sign up here for the HoweStreet.com Weekly Recap.