February 15, 2019 | Wall Street's B*tch?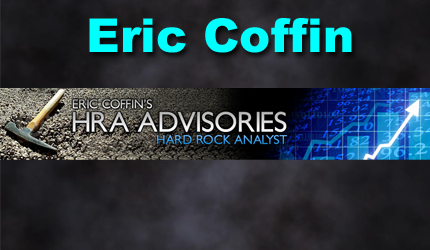 Eric Coffin, born in a mining town and raised in the industry. He has spent decades in the resource business. This gives him a background of real practical experience that no other editor can match.
Ok, not very nice of me. But, really, I'm not sure what other phrase describes the US Federal Reserve better. It sure as hell fits Wall Street's own thinking. Make no mistake, traders at Wall and Broad are convinced the Fed is locked in to do their bidding. It's party on dude!
And, let's be fair, Wall St traders aren't just being princesses (much). The Fed has done nothing in the past few weeks to dissuade Wall St that it is, indeed, the center of the universe as we know it. Any way you look at it, the recent SPX rally pictured in the chart below is dammed impressive. And the Fed has been more responsible than any for it.
The Fed has been SO accommodating, in fact, that another large down leg in NY should now be delayed, possibly by several months. How things ultimately resolve themselves depends on what you believe the FOMC's true motives were. I agree part of the recent dovishness is a sop to Wall St, but not all of it. Even Fed governors that don't have a reputation as doves sounded pretty defensive in recent speeches. That makes me wonder what they are seeing in the raw data.
It's not consumer sentiment driven, I don't think. Most of those still aren't great but are improving again, at least for now. That drives home just how important the equity markets are to the demeanor of US consumers who may not even be shareowners. I'm as cynical about central banks as the next guy, but I think the FOMC would care a lot less about Wall St if they didn't fear a more general impact on sentiment from weak stock prices.
Even so, I tended to believe FOMC Chair Powell when he recently stated-angrily I might add-that the Fed would not be dovish just to make Wall St happy. That begs the question of why the Fed suddenly IS so dovish though…
I think the sentiment the FOMC is worried about is corporate. Large company spending decisions have an impact on capital spending and, ultimately, employment. Business leaders do their best to sound positive, but they are well aware of how long the current expansion has gone on. The law of averages alone is bound to make them more cautious the longer this expansion lasts.
The Moody's/WSJ chart below was published in late January. It shows a surprising continuation of collapsing business sentiment, well after Wall St had bounced and it was clear the Fed was putting rate increases on hold.
There are two ways to read this, I think. Either management groups, and by extension the market, haven't fully priced in the Fed's new stance. Or the FOMC are worried about some of the same things, which don't necessarily show up in domestic readings.
The chart below shows some of the things the editors think are bugging management groups, presumably drawn from the survey itself. Some of those are (sort of) resolved, like the Washington shut down, but most drag on. It's probably not any one thing, it's a collection of moderate irritants that spell trouble as a group, especially for companies that depend on exports.
Recent consumer surveys are still depressed, though I've always been a bit of a skeptic when it comes to consumer sentiment surveys, as you're probably aware. The top chart on this page should be highly concerning if you think sentiment surveys are the ultimate. Consumer confidence dropped steeply in January, hitting levels not seen in over two years.
The second chart below shows why many worry about confidence surveys and, also, why I'm increasingly skeptical of them. This chart tracks an index of consumer expectations and real consumption expenditure growth. After rising strongly in 2016 and holding those highs for over two years, consumer expectations fell hard in the past couple of months.
I agree that the move is strong enough to be concerning, but we have to view it in the context of what consumers do, not just what they say.
High future expectations were not matched by increasing growth rates in real consumption during the past two years. The growth rate actually dropped while expectations remained strong. The correlation between the two measures, which was close earlier in the survey, has broken down in the past two years. No reason is given for this breakdown but, and I've commented on this numerous times, I think the issue is lack of wage growth.
Consumers can't spend what they don't have. Notwithstanding the low unemployment rate in the US, wage growth continues to be sluggish. The latest non-farm payroll report featured another very strong payroll gain, above 300k. Even with back to back 300k gains, we're still not seeing much upward pressure on wages. The month over month increase in hourly wages for January was only 0.1%, well below expectations.
I don't know how privy the FOMC is to BLS data that hasn't been published. I assume they have access and I'm sure they didn't love that wage growth number. Wage growth has been the underpinning of the Fed's "rising inflation" argument and consumer spending is the main driver of GDP growth. I could see FOMC members getting skittish seeing yet another in a long line of wage gain "misses".
None of the above points to recession, but the combination of slowing wage growth, dropping Producer (input cost) inflation and weak business sentiment are all good reasons for the Fed to pause. Other data points are more concerning to me, and perhaps are to the Fed as well.
I commented last issue on a recent study that implies yield curve inversion actually causes recessions, not just predicts them. That has me tracking the US yield curve more frequently than normal. It looks almost identical to the version that was in the last issue; pretty flat overall with a very slight inversion between the 1 year and 7-year maturities.
I noted that the data in that survey wasn't yet showing either declining loan demand or tightening loan standards but that it was a data point worth watching. Well, as it happens, the latest Fed lending officer survey was released as I was finishing this editorial. It's not great news.
The results of the Q1 2019 survey are the rightmost data points on the two graphs above. The survey shows that demand for loans of all types, commercial and consumer, declined since the last survey (lower chart) AND that banks are tightening lending standards across the board (upper chart). I wouldn't classify the results as "terrible" but they are definitely troubling. As noted in the last issue, tightening of bank lending standards has been a pretty dependable recession indicator in the past.
The bottom line is that I think The US Fed was definitely concerned about the dive on Wall St, as much as it keeps insisting it ignores the stock market. Given several ways in which equity prices factor into management spending decisions, the Fed would be crazy to ignore it.
I don't, however, think the Fed is "Wall St's Bitch". That is a dangerous conceit on the part of traders. It's the return of the "Fed Put". "All clear everyone, the Fed's got our back, BTFD!"
Not quite. I think the Fed has plenty of data points signaling caution, not the least being the knowledge that one or two more rate hikes could generate a full yield curve inversion.
On top of that, the Fed has to worry about slowing growth in China, and weakening demand worldwide, shown in the charts above. Whether that is part of the Fed's "official" mandate or not, overseas issues can't be ignored.
The combination of Fed dovishness and a potential reduction in QT lit a fire under the equity markets. It also lit one under the gold market, which is of more immediate interest to HRA.
As you can see on the last chart below, gold powered higher and is looking fairly comfortable in the $1310's. The recent move was strong enough for gold to get pretty overbought, so some consolidation here would be expected.
I still want to see gold get past $1350. I think that's the level that would really generate broad-based buying across the sector. But I'm happy with what I'm seeing and the "Fed Put" should have the same impact on the gold market as it does Wall St. With the added advantage that renewed weakness in NY should also be supportive.
I realize I'm putting off longer base metal coverage, again. The good news for gold helps base metals too, and most have bounced along with precious metals. While the fundamentals are strong for most base metals, it's hard to predict how 2019 will go until we see a US-China trade war resolution. Still no sign of that.
For now, I continue to view early 2019 as the best-looking potential gold market since early 2016. And if we see gold move through $1350, there is a good chance we'll match the sort of performance that makes the first half of 2016 such a fond memory for resource stock traders.
Ω
The HRA–Journal and HRA-Special Delivery are independent publications produced and distributed by Stockwork Consulting Ltd, which is committed to providing timely and factual analysis of junior mining, resource, and other venture capital companies.  Companies are chosen on the basis of a speculative potential for significant upside gains resulting from asset-based expansion.  These are generally high-risk securities, and opinions contained herein are time and market sensitive.  No statement or expression of opinion, or any other matter herein, directly or indirectly, is an offer, solicitation or recommendation to buy or sell any securities mentioned.  While we believe all sources of information to be factual and reliable we in no way represent or guarantee the accuracy thereof, nor of the statements made herein.  We do not receive or request compensation in any form in order to feature companies in these publications.  We may, or may not, own securities and/or options to acquire securities of the companies mentioned herein. This document is protected by the copyright laws of Canada and the U.S. and may not be reproduced in any form for other than for personal use without the prior written consent of the publisher.  This document may be quoted, in context, provided proper credit is given.
©2019 Stockwork Consulting Ltd.  All Rights Reserved.
STAY INFORMED! Receive our Weekly Recap of thought provoking articles, podcasts, and radio delivered to your inbox for FREE! Sign up here for the HoweStreet.com Weekly Recap.