February 22, 2019 | Trending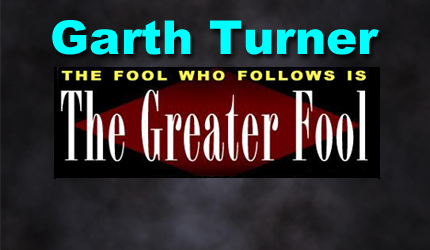 A best-selling Canadian author of 14 books on economic trends, real estate, the financial crisis, personal finance strategies, taxation and politics. Nationally-known speaker and lecturer on macroeconomics, the housing market and investment techniques. He is a licensed Investment Advisor with a fee-based, no-commission Toronto-based practice serving clients across Canada.
If the pointy heads at CIBC are right, you'll soon have more graphic proof why every portfolio needs US bucks in it. Trump or no Trump.
As regular inmates will know, the advice here (long-standing) has been to hold about a quarter of your investments in Yankee-denominated assets. Simple reason. The loonie is a flighty currency, wobbling in value as the American dollar rises and falls, commodity prices fluctuate and the Bank of Canada diddles with monetary policy. There was a time when the loonie was at par with the greenback and this pathetic blog told readers to go forth and plunder US real estate, which was then in the crapper. But, alas, those days have passed.
Now we're on the flushing end of things, and our 75-cent buck (says the bank) is heading for 71 cents or less – the lowest in a decade and a half. Since Canadians have blown their brains out on mortgages, loans, credit cards and HELOCs, the logic goes, economic growth will have to come primarily from exports and business spending. But given higher wages and taxes in Canada (than the US) this will be a challenge. That, says CIBC, will keep rates lower in Canada, leading to the weak dollar needed to make our corps more competitive.
So, down she goes. Maybe back to levels not seen since the 1998-2003 period – a decline over two or three years. "Don't be surprised to see dollar-Canada sport a 1.40 handle again in the next five years as the Bank of Canada is pressed to set interest differentials at a level that will give us the currency we might need to bring exports back to life."
And, yes, that would be a good time to sell the house in Phoenix I told you to buy.
              
Despite my recent efforts to breath some life into the twitching corpse of RRSPs, no pulse. Sure, this is a great way to chop taxes, coddle the affluent and shift the burden from one part of your life to another, but the mudda of all shelters has been usurped by the TFSA. A BMO poll finds over half of people would rather have a tax-free savings account, even though there's no tax deferral associated with it, no refund for selling yourself assets you already own and no easy income-splitting or mat leave financing.
Worse, a third of us don't know the difference between an RRSP and a TFSA. That could explain why almost 60% of moisters lack retirement savings – even though older Millennials are now just two years away from turning 40. Yes, another consequence of house lust, and a society in which real estate is the goal of life.
Why's the TFSA trending? That's easy. It's liquid. Cashable. No tax to pay so no hesitation to take the money and buy a new sink.
Proof? Here are the latest government stats for TFSA contributors aged 25 to 29:
Total contributions for the year: $3.72 billion
Total withdrawals for the year: $2.55 billion
Total number of withdrawals: 3,431,710
That should be all the proof you need that these things are being used as de facto bank accounts – savings vehicles to finance consumer spending – not investment vehicles held for the long-term. And that's why the RRSP is dying – just as a retirement crisis is coming.
                
Finally, chew on this as we head into February's final weekend.
It's less than a year before our banks will be forced, by law, to set aside a significant chunk of your savings account, as opposed to (like now) lending it out to finance some loser's new Ram truck (nuts optional). Starting next January the bank cop, OSFI, will enact Liquidity Adequacy Requirements, forcing banks to set aside money to cover withdrawals depositors might make within the next 30 days. The reserves required will be higher by up to 200% and act as a buffer against, well, a run on the bank.
As you may know, a run of even modest size could wipe out a bank's stash of cash quickly. I mean, have you gone to the local branch lately and asked for five grand in folding money from your savings account? Once they stop laughing, you have to leave. No funds.
The good news is that such an event's unlikely, since most Millennials have never been inside a bank. Also we now have 'bail-in' provisions that will convert certain securities into bank equity should the curtain fall. No, deposits are not included.
So there's nothing to worry about. Until there is.
STAY INFORMED! Receive our Weekly Recap of thought provoking articles, podcasts, and radio delivered to your inbox for FREE! Sign up here for the HoweStreet.com Weekly Recap.