February 23, 2019 | Trading Desk Notes – February 23rd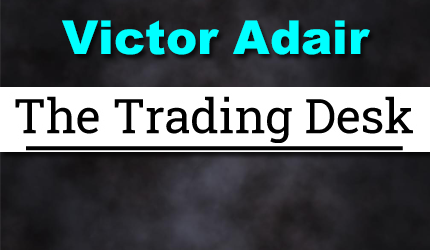 Victor Adair, author of The Trading Desk Notes, began trading penny mining shares while attending the University of Victoria in 1970. He worked in the mining business in Canada and the Western United States for the next several years and also founded a precious metals trading company in 1974. He became a commodity broker in 1977 and a stock broker in 1978. Between 1977 and his retirement from the brokerage business in 2020 Victor held a number of trading, analytical and senior management roles in Canada and the USA. Victor started writing market analysis in the late 1970's and became a widely followed currency analyst in 1983. He started doing frequent media interviews in the early 1980's and started speaking at financial conferences in the 1990's. He actively trades his own accounts from The Trading Desk on Vancouver Island. His personal website is www.VictorAdair.ca.
David Rosenberg said it all in one sentence this morning: "The (economic) data flow globally continues to weaken but the markets don't really seem to care much, knowing that central banks have their backs."
I've been thinking that markets would start to care…that the increasing tide of weak economic data points would slow down / reverse the surge of enthusiasm that has buoyed "risk on" sentiment back to levels not seen since stocks were hitting All Time Highs in October 2018.
In line with my thinking I took some bearish positions in gold, crude oil and stocks Wednesday and Thursday…positions that were a-toe-in-the-water size because, 1) I was trying to top-pick strong trends and, 2) the three markets were highly correlated and I had a concentration risk. My rationale was that markets had run WAY too high too fast and that if they rolled over they could have a decent sized break. I set tight stops and my ratio of risk to potential reward was strong.
The markets fell Thursday (the S+P futures even registered a daily Key Reversal Down) and my positions looked good at the close…gold was down ~$28 from Wednesday's high!  But markets began to rally overnight and I covered all of my positions for a very small net loss early Friday morning. My thinking at the time was, "Market trends often go WAY further than you think makes any sense!" As I wrote last week, "I trade in line with my macro views but my risk management rules ALWAYS override any opinions I may have about where markets are going."
You might ask, "Why didn't you just buy the markets, which were in strong up trends, rather than trying to make money by picking a top?" Fair question, and my answers are:
1) I think there is much more risk being long the market right now rather than being short because the weakening economic data, which currently doesn't seem to matter, will matter, and when it starts to matter its REALLY going to matter…and over-extended markets will be vulnerable to nasty breaks
2) it's in my nature to look for opportunity where and when I think the crowd is wrong…especially if I think the crowd is egregiously wrong!
The trick is to get the timing right because I'm almost always early on those calls. Getting the timing right means
1) having the patience to wait for evidence that the trend is turning
2) being prepared to be wrong on my initial bets
3) being prepared to put the trade on again, probably at a worse price.
The gold market hit a 10 month high this week, up $140 from November's low, and up against all major currencies. If I had to pick just one reason why gold has rallied the past 3 months I'd say it's because the gold market has sensed a 180 degree turn in Fed policy from what it was 3 months ago.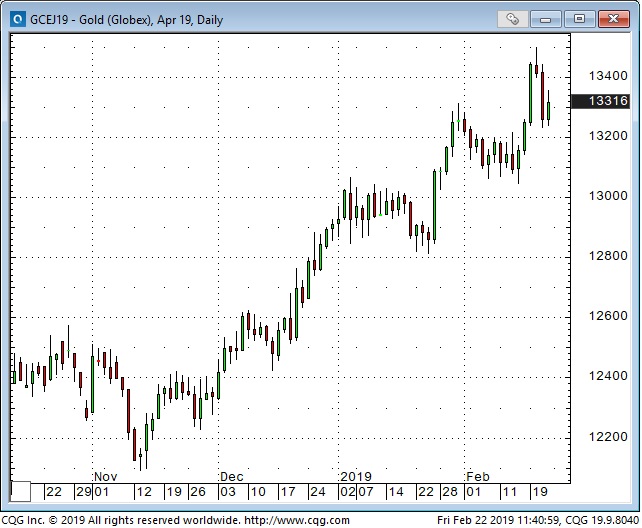 The S+P 500 futures contract closed on its highs last week and has sustained those levels this week, hoping for a "Trumpendous" trade deal with China, despite a flood of overbought indicators including bullish sentiment hitting highs not seen since January of 2018.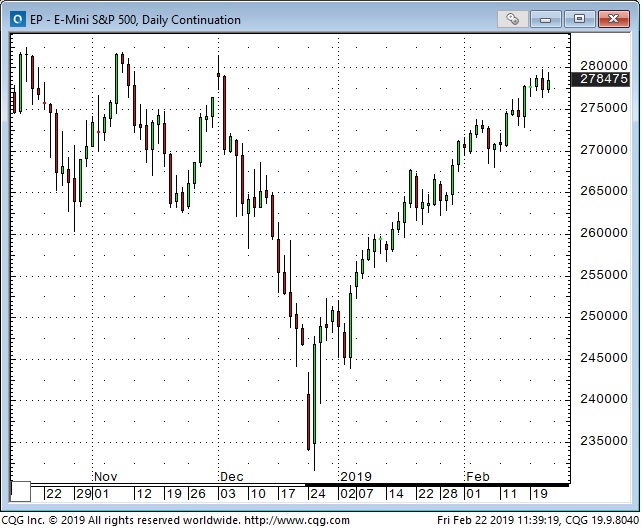 The crude oil market also closed on its highs last week and extended those gains this week with bullish sentiment soaring to an extreme 93%.
The Canadian Dollar has been highly correlated with stocks and crude oil since the October highs…so with stocks and crude both up this week it's no surprise to see CAD bid.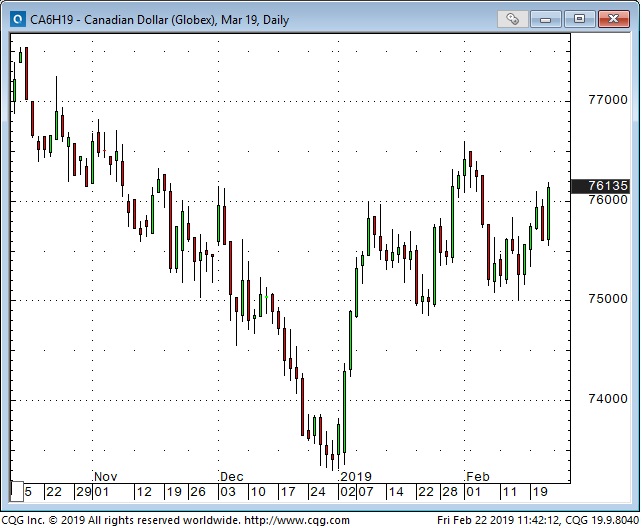 One last thought: People love to buy things that are going up. Money managers have to buy things that are going up…or risk losing AUM. When you reach for yield and it works you reach for more. Markets top when the news is bullish. I think this is a time to be cautious, not aggressive.
PI Financial Corp. is a Member of the Canadian Investor Protection Fund. The risk of loss in trading commodity interests can be substantial. You should therefore carefully consider whether such trading is suitable for you in light of your financial condition. In considering whether to trade or the authorize someone else to trade for you, you should be aware of the following. If you purchase a commodity option you may sustain a total loss of the premium and of all transaction costs. If you purchase or sell a commodity futures contract or sell a commodity option or engage in off-exchange foreign currency trading you may sustain a total loss of the initial margin funds or security deposit and any additional fund that you deposit with your broker to establish or maintain your position. You may be called upon by your broker to deposit a substantial amount of additional margin funds, on short notice, in order to maintain your position. If you do not provide the requested funds within the prescribe time, your position may be liquidated at a loss, and you will be liable for any resulting deficit in your account. Under certain market conditions, you may find it difficult to impossible to liquidate a position. This is intended for distribution in those jurisdictions where PI Financial Corp. is registered as an advisor or a dealer in securities and/or futures and options. Any distribution or dissemination of this in any other jurisdiction is strictly prohibited. Past performance is not necessarily indicative of future results
STAY INFORMED! Receive our Weekly Recap of thought provoking articles, podcasts, and radio delivered to your inbox for FREE! Sign up here for the HoweStreet.com Weekly Recap.