February 26, 2019 | Stressed Out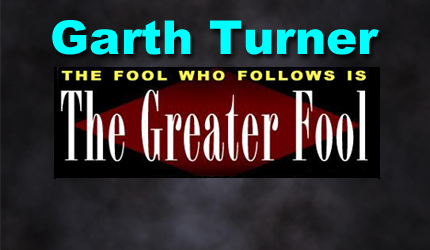 A best-selling Canadian author of 14 books on economic trends, real estate, the financial crisis, personal finance strategies, taxation and politics. Nationally-known speaker and lecturer on macroeconomics, the housing market and investment techniques. He is a licensed Investment Advisor with a fee-based, no-commission Toronto-based practice serving clients across Canada.
On Monday we vexed about the byelections. Done now. Results as expected. GTA went Con. Montreal to the Libs. BC now NPD, sort of. In Burnaby only a third of voters showed up. Sad. Of those, 60% didn't vote orange – which means the Dipper won. The fact he's party leader just made the win more lackluster. And let's throw some disbelief on this: 10% of the ballots went to the Mad Max candidate – the one God talks to about media gigs. Sheesh.
Well, on to the election. You can count on a Moister Housing Strategy at the heart of the Lib campaign. The question, then, is how disruptive will this be to Mr. Market? For months real estate has been in corrective mode. Sales have been squishy, prices in a slow decline in most cities, detached houses hardest hit and a swell in rental demand as many prospective bidders give up and lease. Mortgage rates have stabilized and it looks like the Bank of Canada will hike again, reluctantly, once or twice in 2019. That could be the end of the current tightening cycle.
The stress test has reduced credit among those who don't actually deserve it. Mortgage and HELOC debt levels just increased again. Household borrowing at over $2 trillion sits in record territory. Wage gains trail inflation. The savings rate is almost down to zero (0.8%). Yes, more people are working but family finances grow more perilous monthly. This is an environment in which real estate values need to fall in an orderly fashion until an equilibrium is reached. Supply and demand. Not FOMO and fear.
But will T2 and Bill Morneau crumble in the face of Moister malaise? Will the tireless industry campaign against the stress test succeed?
There was more of it this week, as the Financial Post gave over space to Re/Max to publish this:
"After more than a year in play, it is now apparent that the stress test is causing more harm than good, effectively closing a door in the faces of first-time homebuyers. The time has come for policy-makers to consider how to incentivize homebuyers in Canada, not penalize them.

"Ten per cent of Canadians no longer qualify for a mortgage with banks. The stress test has cut first-time homebuyers out of many markets in Canada and caused a ripple effect through every tier of homebuyer. It has affected move-up buyers needing larger homes to accommodate growing families. It has created a frenzy in the rental market, since those who no longer qualify for a mortgage are opting to rent. The bottom line is that the Canadian government needs to find ways to support, even incentivize, homebuyers in Canada (especially first-timers who are facing challenges entering the market) rather than penalize them."
It's a moan repeated by real estate boards and the entire building industry, as well as the mortgage lobby. And now that real estate-related activity accounts for about a quarter of the entire economy (more than oil and factories combined), it resonates with Ottawa. Especially in an election year. And especially with the Libs, who counted on weedy Millennial support to grab power in 2015.
Now here's the problem. The stress test was created by the bank regulator to shield the Big Five from an erosion in their mortgage portfolios. By forcing all buyers – even those not looking for CMHC insurance – to pass the test, it ferreted out the Bank of Mom grifters who were actually credit slouches. The goal was to ensure all high-risk bank loans were properly insured.
But the real estate/mortgage/builder cartel sees it differently – as a politically-motivated blunt instrument designed to burst a housing bubble that no longer exists. In fact, Bill Morneau himself has walked into that trap. Last week he said, "We wanted to make sure that prices were not escalating in some markets at a pace that was unsustainable." But the stress test is the child of OSFI (the regulator, who says this isn't about house prices) and not the government. Or is it?
Mortgage guys are consequently flipping out, arguing the stress test may be a "politically-driven seat-of-the-pants rule-making." As broker and industry spokesguy Rob McLister writes, the test has "prevented borrowers—who would have previously qualified in 2017—from benefiting from home ownership, driven up rents, pushed people to non-prime lenders with higher mortgage rates, kept people from consolidating debt and lowering their interest rates, and hampered competition for renewers, among other things."
So which is it? A bank protector, or a bubble-pricker?
Both, actually. But don't expect it to last.
Fighting scandal and slipping in the polls, the federal government fears losing the critical moister vote. When it comes to staying in power or doing the socially responsible thing, it's no contest. So get set for a package of changes which will 'boost affordability' and end up making houses less affordable. Diddling with the stress test will be a part of it.
The only question is, when? The answer is March 19th.
STAY INFORMED! Receive our Weekly Recap of thought provoking articles, podcasts, and radio delivered to your inbox for FREE! Sign up here for the HoweStreet.com Weekly Recap.