February 6, 2019 | Nowhere To Hide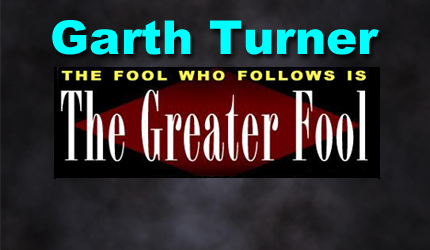 A best-selling Canadian author of 14 books on economic trends, real estate, the financial crisis, personal finance strategies, taxation and politics. Nationally-known speaker and lecturer on macroeconomics, the housing market and investment techniques. He is a licensed Investment Advisor with a fee-based, no-commission Toronto-based practice serving clients across Canada.
In the GTA, where six million souls toil, dwell and freeze, there's no speculation tax. No empty-houses tax. No higher property tax for the property-rich. The lower-than-BC foreign buyer tax has had zero market impact. There are no politicians lobbying for more taxes on real estate. Nobody got elected promising to gut homeowners or crash house prices. There's scant resentment of offshore buyers. Nobody cares about money-laundering, if there is any. And people don't obsess about their real estate on the streetcar or the subway.
But, Toronto also has the stress test. Buyers have seen interest rates rise. And in the Kingdom of 416, for years a double land transfer tax has added about $50,000 to the cost of the average detached digs.
The contrast with the Left Coast is therefore dramatic. Last month Vancouver sales plunged 40%. In Toronto they were flat year/year. In YVR the benchmark house price is 9% lower and 93% of available detached houses did not sell. In the GTA house prices gained enough to pace inflation. No bubble. No crash. The market is finding its level – which means inflated detached houses are getting cheaper (by almost 9% in a year).
Today the real estate cartel held a big media event to try and pump 2019. They can't help themselves. It's part of realtor DNA. Apparently they can also mind-start an Audi by merely gazing at it.
So where is Toronto real estate headed this year?
If you believe the cartel, it's all good. Sales up moderately (from 77,400 to 83,000), prices rising 4% – mostly due to condos, and no big surge in listings. They hope. But all this stability talk masks a deep concern about eroding credit and muddled moisters in the nation's biggest market.
Yes, more stress test angst. The real estate board admits that, on average, the test has forced potential buyers to qualify for monthly payments $700 above what they actually have to pay to own a property. The result? The market's moved down – more demand for cheaper places. More love for condos, less for detached. As a result, detached houses lost 8.8% of their value in 416 during the past year (to $1,174,134) while condos gained exactly the same – almost 9% (to $591,444).
So here is the realtor squeeze on federal Finance Minister Bill Morneau:
"One area that needs to be revisited is the imposition of the OSFI-mandated two percentage point mortgage stress test. While we saw buyers return to the market in the second half of 2018, we have to have an honest discussion on whether or not today's home buyers are being stress tested against rates that are realistic. Home sales in the GTA, and Canada more broadly, play a huge role in economic growth, job creation and government revenues every year. Looking through this lens, policymakers need to be aware of unintended consequences the stress test could have on the housing market and broader economy."
Of course, things are always more dire than the industry likes to admit. For example, the average detached 416 price of $1.174 million is 13.3% lower than it was exactly 12 months ago. So someone needing to sell would have to eat a loss of more than $180,000 plus $47,138 in land transfer tax and another $58,700 in commission. The total hit = $285,800, or a loss of 21%. Ouch.
In fact the average detached house in the jewel of the GTA is changing hands for 12% less than in the Spring of last year and a crispy 25.6% under what it commanded the previous year. Yeah, houses always go up – just like your Mom told you.
Where from here?
As mentioned, the cartel wants buyers to believe prices will rise 4%, to an average of $820,000 (from $787,195). That would be close to 2017 levels, but not quite. And what is this based on? "An uptick in the number of people considering a house purchase… supported by population growth, low unemployment and lower average fixed-rate borrowing costs…" Plus, of course, duct tape and faerie dust.
Only in real estate could end users be told categorically that prices will be higher in the future. If an investment advisor guaranteed a 4% average increase in all portfolios, he'd be vivisected by regulators. In fact, there are solid reasons to expect the two-year plop to continue – unless politicians cave.
Interest rates are not going down in 2019, other than some modest bond yield-related blips. The Bank of Canada is not cutting, and is still expected to increase at least once (along with the Fed). The majority of people who bought 'investment' condos are considering dumping them, since most are losing money. Meanwhile tens of thousands of new units are about to flood onto the scene, even as the unsold condo inventory piles up. While the feds may cap (not gut) the stress test while allowing 30-year insured mortgages again, the debt level of families in the GTA is extreme. The national average is 170%, but in Toronto it's more like 200%. For average buyers of $1 million+ properties, it exceeds 400%.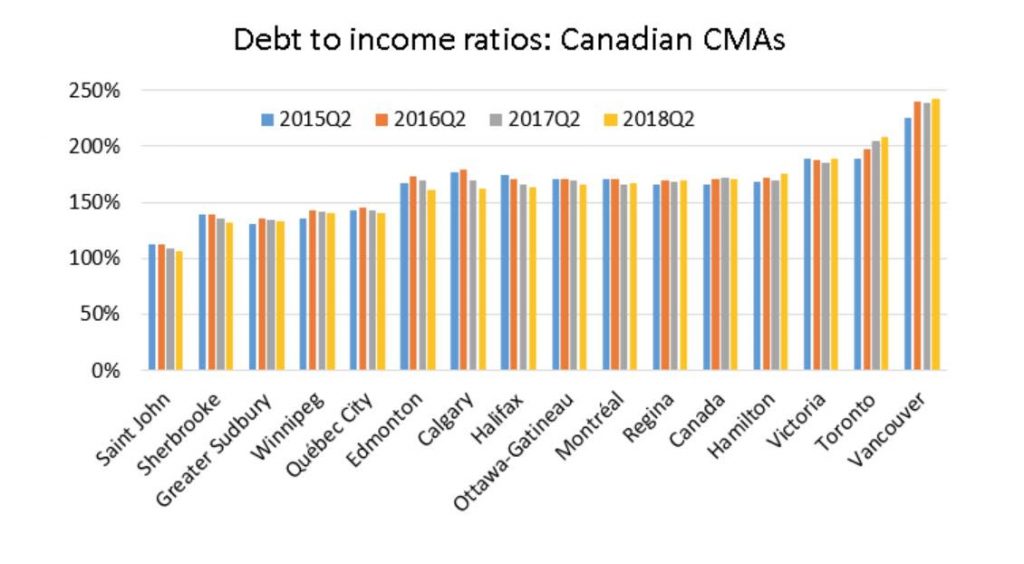 – McGill International Review
Moral: Toronto is not Vancouver. The West is pooched. The East's in disbelief. And realtors are praying you don't notice.
STAY INFORMED! Receive our Weekly Recap of thought provoking articles, podcasts, and radio delivered to your inbox for FREE! Sign up here for the HoweStreet.com Weekly Recap.