February 6, 2019 | Market Mayhem: Guns, Gold and a Getaway Plan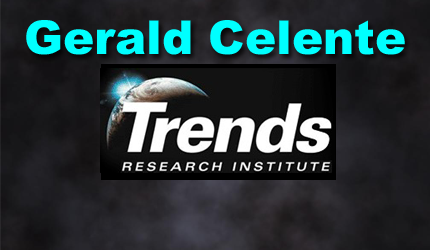 Gerald Celente, who developed the Globalnomic® methodology to identify, track, forecast and manage trends, is a political atheist. Unencumbered by political dogma, rigid ideology or conventional wisdom, Celente, whose motto is "think for yourself," observes and analyzes the current events forming future trends for what they are — not for the way he wants them to be. And while Celente holds a U.S. passport, he considers himself a citizen of the world.
KINGSTON, NY, 6 February 2019— When we launched our Top 10 Trends for 2019 we warned: "Buckle up for a wild ride into the future."
Welcome aboard the New Year.
U.S. equity markets went from having the worst stock market December since the Great Depression to the best January since 1987.
Across the globe, equities notched up their best month in more than three years.
Why? Is it because euro zone business growth grounded to a halt in January with its Purchasing Managers' Index (PMI) expanding at its weakest rate since mid-2013?
Were markets cheering the United Kingdom's PMI that slipped to near contraction levels at 50.1? Possibly equities were flying high on the news that Italy fell back into recession.
Or was it on the latest gloomy news from the German Ifo Institute for Economic Research that its economic climate index recorded its first negative reading for the euro zone since 2014, at a negative 11.1 points?
Was it because China's economy, the second largest in the world, grew at its slowest rate since 1990? Or was it Japan, the third largest economy in world, risking recession?
Guns, Gold and a Getaway Plan? Why? Because the high risks of an "Economic 9/11" we had forecast last September, before the Federal Reserve reversed its aggressive interest rate policy, still persists.
Now, in an about face, the major central banks are again injecting more monetary methadone into the cheap money-addicted corporate and equity market addicts. The odds for lower interest rates in the U.S. have increased and the European Central Bank has indicated more rounds of Quantitative Easing.
In China, its central bank lowered reserve ratio requirements to encourage more bank lending, especially to small businesses, while also cutting corporate and personal income taxes.
And despite China's debt having doubled since the Panic of '08, to around 300 percent of the size of its economy, the government will be dumping $163 billion into infrastructure development. It has even launched a "go out and spend money" campaign by encouraging consumers to purchase cars and appliances by offering incentives of up to $120.
Look around the world. Across Africa, from Congo, Nigeria, Ghana, Sudan and Somalia, down to South America, across Asia, out to Australia and back to North America… socioeconomic and geopolitical volatility rules. Name the country, name the leaders, name the political and economic systems, add up their successes and subtract failures.
The bottom line: It's one big con game and Ponzi scheme. All these measures defy basic economic principles. Thus, governments and central banks have only temporarily delayed "Economic 9/11." But their actions have dramatically increased the monetary risks of an inevitable global market meltdown.
TREND FORECAST: As evidenced by the building social unrest in Europe, wars and riots throughout Africa, escalating Middle East tensions, the mounting South American migrant crisis and the brewing U.S.-led Venezuelan coup d'etat, there are any number of wild card triggers and black swan events that will crash equity markets and economies worldwide.
In an atmosphere of such instability, demand for gold, the ultimate safe-haven asset, will dramatically increase.
STAY INFORMED! Receive our Weekly Recap of thought provoking articles, podcasts, and radio delivered to your inbox for FREE! Sign up here for the HoweStreet.com Weekly Recap.