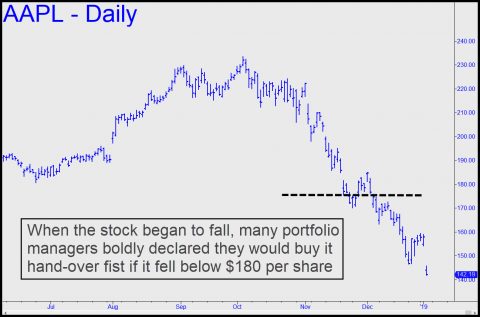 Apple shares got sacked again Thursday, falling to a $142 low that is nearly 40% beneath the record $233 achieved a mere 90 days ago. What were Apple's institutional sponsors thinking back then?  And why, as the stock began its wealth-vaporizing plunge, were the same giddy geniuses salivating over the prospect of adding massively to their positions if AAPL fell to a magic number somewhere around $170?  Now, of course, with 20-20 hindsight, they will all tell you exactly why the stock has plummeted and why it could fall even further.
One Guy Who Got It Right
Before we're inundated with such blather, let's give credit where it's due:  to Andy Kessler, the only guy we can recall getting Apple exactly right when almost no one had anything bad to say about the company. Last summer, when AAPL was climbing above $200 for the first time, he wrote the following in his Wall Street Journal column, 'Inside View':
"Smartphones are now like radial tires. Everyone has one and they don't wear out. Phone franchises are fickle. Ask Motorola or Nokia , if you can find them. One near-term sign of distress: Marketing tech products with splashy colors, as Steve Jobs did with tangerine iMacs almost 20 years ago, means the fun part is almost over. Apple hopes to make it up in services, but Google leads in maps, Netflix in video, and Uber in transportation. Apple is falling behind in most other growth segments. The company's destructive seed is its desperate need for a new product category. It won't be watches." 
iPhone's Big Problem
This was common sense talking rising above the bullish din, and it is why Rick's Picks regularly cited Kessler's list of indictments whenever we dissed Apple, which was often. (Click here for even more dissing, at ZeroHedge.) We also raised an additional concern that is about to become significant: Sales of the Cupertino firm's ridiculously overpriced iPhones (the most expensive model costs $1400) would be extremely vulnerable in an economic downturn. We are there now, even if the front page of The Wall Street Journal has gushed recently about what a fabulous holiday season retailers had.
Apple remains one of the most valuable companies in the world, and that is why we will continue to treat its shares, along with Amazon's — as crucial bellwethers for the U.S. stock market and the global economy. In the meantime, we must caution investors against thinking that the dark turn Apple's story has taken will not eventually subsume the high-fliers, especially the FAANGs. They've been hit hard already, to be sure, but there is still plenty of room for their respective bear markets to steepen as AAPL's has.
The Mob at Zuckerberg's Door
AMZN, currently trading for around $1500, is down nearly 25% from a $2050 high achieved in September.  But just imagine what could happen if the very deep recession that's coming puts pressure on the company's profit margins.  Try to raise prices, and Bezos-the-monopolist could wind up pilloried in the public square. Meanwhile, the torch mob is already at Zuckerberg's door over privacy issues, and it is predictable that they will come after Google's Larry Page (although not his fall-guy, Sundar Pichai) for the same reason.
Never before has economic power and the ability to manipulate opinions been concentrated in the hands of so few. That is why the carnage and recriminations still to come in this bear market will distinguish it from all others before it.  The mega-billionaires will ultimately pay a steep price for their success, both literally and figuratively.  As for institutional investors, they will be chastened to discover that the glorified ad agencies whose shares they bid into the cosmos are worth considerably less when the consumers behind all those monetized eyeballs are tapped out.