January 3, 2019 | The Year That Rocks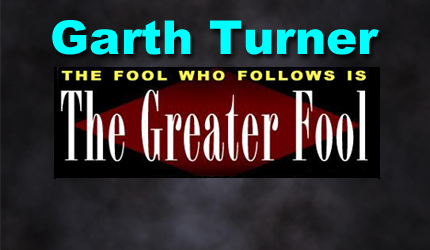 A best-selling Canadian author of 14 books on economic trends, real estate, the financial crisis, personal finance strategies, taxation and politics. Nationally-known speaker and lecturer on macroeconomics, the housing market and investment techniques. He is a licensed Investment Advisor with a fee-based, no-commission Toronto-based practice serving clients across Canada.
When asked the other day if she ruled out running for political office, she said no. Thus, you might add Angelina Jolie, the tomb-raiding hottie, successful director and current UN Special Envoy to the list of 2020 US presidential aspirants. Plus Oprah, of course. And maybe Joe Biden, despite his obvious failing as an OWG (old white guy). Then on the Republican side, don't be shocked at a contested nomination as that party tries to survive its sitting president. Yup, that's Mitt Romney, newly-minted senator, out there stirring the pot.
2019 will rock if you're into politics. And politics are rocking the markets.
Evidence? Start with China. Trump tariffs have contributed to that country's crappy stock market performance and helped slow its overall growth, since America is its No.1 export destination. The US-sanctioned Meng arrest in Vancouver was purely stupid theatre, designed to provoke Beijing. Now Apple – America's Huawei (of which Meng is CFO) – with 20% of its sales in that country is warning of reduced profits. In turn, that's reduced the stock market. Big plop Thursday, hours after Xi's big speech. Funny how this stuff works.
A year ago Trump was tweeting, "DOW RISES 5000 POINTS ON THE YEAR FOR THE FIRST TIME EVER – MAKE AMERICA GREAT AGAIN!",  taking credit for a stock surge. Now that the market's fallen more than 15%, he's blaming the Democrats, who haven't been in power. Funny how that works, too.
Stocks went up because the quixotic US president cut taxes, slashed regulations and moved hard to push inflationary growth. Companies made more. Stocks popped. Investors were happy. Then that inflation promoted the Fed to begin raising rates.
Meanwhile Trump started the fight with China. He slapped tariffs on aluminum and steel, even from Canada. Business input costs across American spiked as a result. He attacked the Fed as no president had ever done, weakening confidence in the central bank. He lost advisors the markets thought were credible – Cohn (economic advisor), Tillerson (state), Sessions (justice), Mattis (defence) and Kelly (WH chief). Next to go will be Mnuchin (treasury), as this billionaire reality TV star and real estate developer – under investigation by Mueller, having personally caused a government shutdown and after losing the House to Democrats – tightens his grip on all levels of government.
And this is why markets worry. Last month an RBC survey asked institutional investors what most kept them up at night. The answer? One word. It ended in "ump".
Markets rise and fall for a plethora of reasons. In fact, over 70% of the time the direction is up. These days with 3% growth in the US economy, corporate profits expected to rise 8.3%, relatively tame inflation and full employment, investors should be docile, not worried. But with no recession on the horizon, markets are pricing one in. Stocks have become far cheaper. Some are bargains. Yes, like Apple. But the selling is on, reflecting the uncertainty caused over and again by one orange-topped dude.
And this is why 2019 will be such a show.
It will be a crowded field of Dems lining up to take on Trump. He may also be challenged from within, although the odds of a sitting president losing a nomination are slim. In any case, it would be a spectacle. Then there's the possibility of a third candidate for the White House, having the same effect as Ross Perot did decades ago (and Preston Manning in Canada). Splitting the republican vote between Trump and (for example) Michael Bloomberg might elect Angelina!
Well, obviously, the outcome is unknown, but the volatility is certain. Markets may decide, once the current risk-off episode is over, that Trump is yesterday's news and will be gone in 2020. In that case, attention can divert away from Mr. Chaos and back to the economic fundamentals. As stated here a few days ago, higher highs than the peak of 2018 could be a reality as investors gobble up companies that actually looked attractive when they cost 20% more.
As for Canada, the election this autumn is all about math. The NDP has collapsed, so all those scruffy socialists with their eat-the-rich signs will likely migrate to the Libs. Mad Max and his Trump-lite populist maple agenda will suck support off the Cons, not the other guys. And Justin is about to promise the largest demographic – moisters – a guaranteed annual income so they need never leave mom's place. Figure it out.
What should investors do?
Nothing you haven't heard before. Don't sell into a storm. If you have money to invest, do it and get more bang for your buck. Stick with diversified assets, like ETFs, rather than individual stocks to reduce risk. Stay balanced, since the right kind of bonds reduces volatility and helps counterweight equities. Fill up your TFSA this month with $6,000 worth of growthy stuff. Pay no heed to the wusses who think this is 1929. It isn't. Look at the economy.
Be cautious, but confident. Don't use your prime+1% HELOC to load up on FAANG stocks, for example. By the same token, resist plowing money into a five-year GIC which will end up returning less than the inflation rate. In short, if your portfolio is properly weighted and balanced, just ignore it.
Mr. Market says MAGA is done.
STAY INFORMED! Receive our Weekly Recap of thought provoking articles, podcasts, and radio delivered to your inbox for FREE! Sign up here for the HoweStreet.com Weekly Recap.