January 22, 2019 | The tool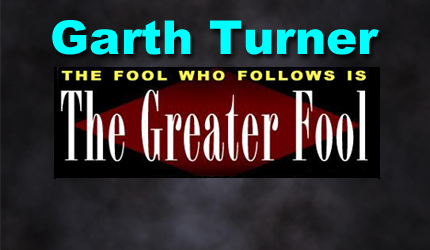 A best-selling Canadian author of 14 books on economic trends, real estate, the financial crisis, personal finance strategies, taxation and politics. Nationally-known speaker and lecturer on macroeconomics, the housing market and investment techniques. He is a licensed Investment Advisor with a fee-based, no-commission Toronto-based practice serving clients across Canada.
What a week on the country's Most Pathetic Blog. Scary doctors. Disastrous savers. Doomy polls. Rising debt and falling incomes. The news on the personal finance front just keeps getting worse – exacerbated by wobbly real estate and stock markets which ended 2018 in worse shape than Doug Ford's cholesterol.
Of course, a lot is self-inflicted. That's a message most people don't want to hear, instead blaming modern life for their financial failures. In truth, the world has changed. The days of stumbling from school to marriage, a house and children, then career, retirement and a pension are kaput. It takes a lot more planning now, plus some basic financial literacy and the flexibility to change gigs or locations. But it can be done. The yawning wealth divide is evidence the majority have yet to understand this. They'd rather be pissed and vote for some goof who promises to change everything. And can't.
I thought about such things as the Amazons cleaned out my garage and brought me a dusty box full of "Garth Turner's 1999 RRSP Guide". Wow. Artifacts. Actual you know, like, books. Paper thingys. Two hundred pages of ways to milk the system and build wealth. In fact I used to publish one of those guides every year, then hit the road to stage financial seminars in cities across this frosty, Godforsaken, January nation.
These days books have morphed into blogs. Live events are the preserve of HGTV flippers and now mutual fund flopper Kevin O'Leary. What's happened to "RRSP season" is even more acute. It vanished – along with the urgency everyone used to feel to make contributions before the end of February. The amount of money flowing into these things has crashed, and the meme among the moisters is that RRSPs are some olden-tyme vestige. Like the CBC. Or manners.
As far as can be told, we are squandering this tax tool as never before. When I wrote my RRSP guides, fully a third of all people shoveled money into their retirement plans each and every year. By 2016 that declined to just 22%. Anecdotal evidence lately (and I'm in a good position to see it) suggests this has fallen off a cliff in the last few winters. The feds confirm activity has faded steadily since peaking about 2007.
The amount of extra tax people pay as a result is staggering. As of 2016 (the latest reporting year for StatsCan) Canadians had accumulated $1.065 trillion in unused and available RRSP room. That's $44,500 each. Of 29.6 million taxpayers, 24.5 million have not maxed out their plans. That's an 85% fail rate.
Just to remind you, the more money earned, the greater the contribution that can be made and the more significant the tax break. It tops out around $26,000, and somebody in the top tax bracket can then save about half that in actual tax paid. The money invested earns untaxed growth, and can stay that way until the year you turn 71. You can give your RRSP room to your spouse (in effect), so you get the tax break and s/he gets the money. If the spouse is in a lower tax bracket, you can save a bundle when it's withdrawn. You can also use existing assets to make a contribution, turning a taxable portfolio into a taxless one – and getting a refund while you do it.
Yes, RRSPs are taxable when cashed in, so use them wisely. They can finance a year in which you get laid off, take a trip to Drumheller to discover your ancestors or have a baby. They allow tax-shifting during your life, reducing taxable income during those years when you make a lot and turning it into income when you're not. RRSPs can leverage up a home downpayment, or provide tax-free education financing. You can borrow money to contribute, use the refund to repay a chunk of the loan, and create wealth out of nothing. You can even use a melt-down strategy to get income from a registered plan, and pay no tax.
In short, it's a tool. A valuable one. Why not use it?
Yeah, I already know the answer. Not enough money. And that brings us back to the discussion of the last two days. When 85% of taxpayers have not maxed their RRSPs and 90% have failed to take full advantage of the TFSA, we have only our own habits to blame. Over-consumptions is all around us. Everybody has Netflix. Take-out replaces groceries. Children are doted upon like wee deities. We suffer, and act upon, house lust. Beach vacations eat massive cash. And, of course, we pay tax on tax – which an RRSP could diminish.
For the self-employed, or anyone who will retire without a plump corporate or defined-benefit pension (most of us), a retirement savings plan should be at the core of your strategy. When you hit 71, just convert it to a RRIF, keep the tax-free compounding in place, and draw the minimum amount annually. Or cash out RRSP funds after you stop working in a way that controls your own income, and tax bracket. Plus, always marry someone a decade younger so you can continue to make spousal contributions long after your libido limps off.
Yes, you have until March 1st to contribute in order to reduce the amount Justin will Hoover from you in April. Or you can eat boxed pizza, watch Bird Box and complain.
STAY INFORMED! Receive our Weekly Recap of thought provoking articles, podcasts, and radio delivered to your inbox for FREE! Sign up here for the HoweStreet.com Weekly Recap.