January 30, 2019 | The Desperate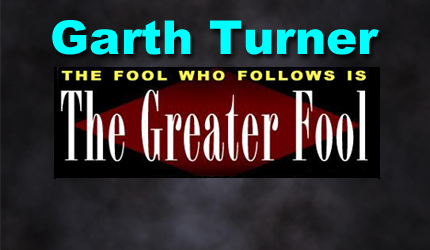 A best-selling Canadian author of 14 books on economic trends, real estate, the financial crisis, personal finance strategies, taxation and politics. Nationally-known speaker and lecturer on macroeconomics, the housing market and investment techniques. He is a licensed Investment Advisor with a fee-based, no-commission Toronto-based practice serving clients across Canada.
Nobody actually knows how many families are being driven into the rapacious arms of the sub-primers. But it sounds like lots. And what a price they're paying.
For example, a report out of Calgary this week cites 6,000 applications being made to a single MIC (mortgage investment corporation), with people desperate to borrow funds at rates ranging from 8.5% to (shudder) 15.5%. This suggests that while traditional lenders (the banks) see their originations shrink dramatically, a torrent of people they reject are ending up taking money from the alt guys at a cost which is crippling. What a cruel price our house lust is extracting.
It's not just oil-plagued Cowtown, either. The alt guys are everywhere. They abound in Vancouver, and in Toronto this is the fast-growing segment of the lending market.
MICs are private lenders, unregulated by the feds, not subject to the stress test requirements and specialize in funding people the banks are afraid of. The money they hand out typically comes from wealthy individuals willing to accept the risk involved, or individual retail investors who salivate at a higher rate of return and have no clear idea how dodgy this can be. Sadly, most are retired, older and conservative. They would never dream of buying blue-chip, dividend-paying stocks but happily accept interest from residential mortgages, thinking it's a far safer asset. Wrong choice.
Alt lenders specialize in funding people with lousy credit, between jobs, unable to renew a bank mortgage or who want to buy real estate and can't pass the stress test. In return for upfront fees (a grand or two) plus an interest rate two to five times higher than at the bank, they get the loan, typically with a short term of a year or two. For these families, MICs can be a godsend. Without the cash, they might lose a home, be unable to consolidate debt or restructure their lives. But the rapid growth of the sub-prime lenders is clear evidence of the financial mess so many people are in.
It's also testament to B20, the stress test. By reducing the amount of bank credit by about a fifth, this has crushed a lot of people at the lower end of the wealth spectrum, or who wrestle with job loss. Obviously, those numbers are growing, and CMHC is now trying to determine by how much.
A question: should people in financial distress be given mortgages at crazy costs? Would it be better for them to lose their real estate, and escape this incredibly expensive debt? Is it ethical for retired, old people to suck off 8% returns from MICs on funds provided at usurious rates to desperate families? Just asking.
In BC the MIC business hasn't even been regulated by the province – until this week. But it will take another year to impose even this gossamer level of oversight. Meanwhile the federal government has in recent days thumped the idea that it will be extending the stress test to the alt landing business.
You will recall such a move was suggested a week or two ago. It threw the mortgage industry into a frenzy. A widely-circulated Reuters report said flatly that fed officials were actively considering ensuring all borrowers – from all lenders – could afford to pay 2% more than their contracted rate. That's bad enough when the mortgage offer is 3.7%. But when it's 9.5%, this is slaughter.
Anyway, false alarm. Bill Morneau says it ain't happening, which is more consistent with his recent assertion the T2 government is about to make it easier – not harder – to buy a house. Especially if you're a needy Millennial. That had led to speculation the stress test would be capped, the home buyer credit goosed and 30-year ams make a triumphant comeback. So all that may still happen, ether in the coming federal budget or the election campaign.
And speaking of the big picture, here's a warning. Pessimism among business leaders has jumped and optimism slagged, says a new survey. At the end of 2017 almost half of these guys were bullish on the future, but by last month that had plunged to just 26%. Mostly they fret Trump's nationalism will sideswipe our economy. Hmmm.
The boss worries about the economy. The worker gambles all on a house. One of them is nuts.
STAY INFORMED! Receive our Weekly Recap of thought provoking articles, podcasts, and radio delivered to your inbox for FREE! Sign up here for the HoweStreet.com Weekly Recap.