January 27, 2019 | Technology: Distracting, Disturbing, Deceiving & Deluding Ourselves To Death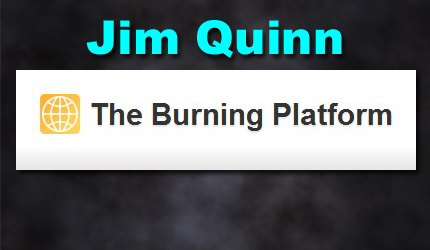 James Quinn has held financial positions with a retailer, homebuilder and university in his 30 year career. Those positions included treasurer, controller, and head of strategic planning. He earned a BS in accounting from Drexel University and an MBA from Villanova University. He is a certified public accountant and a certified cash manager.
"What Huxley teaches is that in the age of advanced technology, spiritual devastation is more likely to come from an enemy with a smiling face than from one whose countenance exudes suspicion and hate. In the Huxleyan prophecy, Big Brother does not watch us, by his choice. We watch him, by ours. There is no need for wardens or gates or Ministries of Truth.
When a population becomes distracted by trivia, when cultural life is redefined as a perpetual round of entertainments, when serious public conversation becomes a form of baby-talk, when, in short, a people become an audience and their public business a vaudeville act, then a nation finds itself at risk; a culture-death is a clear possibility." ― Neil Postman, Amusing Ourselves to Death: Public Discourse in the Age of Show Business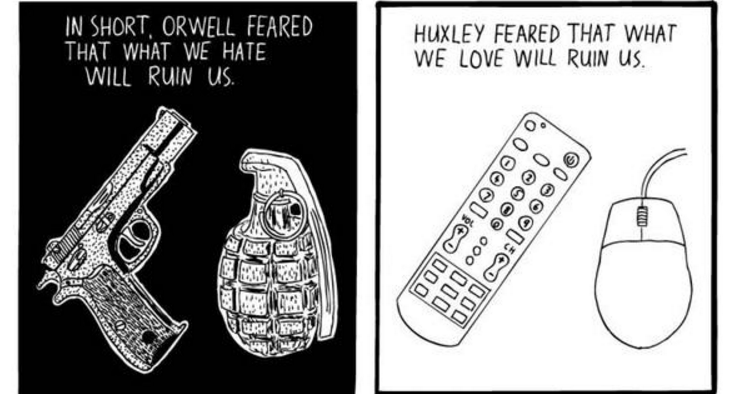 Something as mundane as using the restroom at work sometimes ends up triggering deeper thoughts about technology – its benefits, deficiencies and danger to our culture. I've been using the same restroom at work for the last twelve years. They remodeled the restroom a few years ago with the latest technology – automatic flushers, automatic soap dispensers, automatic spigots, and automatic towel dispenser. This technology is supposed to make things better, but from my perspective the technology just added complexity, glitches and unnecessary complications.
First off, these technological "improvements" did not eliminate any humans from the equation. The housekeepers responsible for the restrooms continued to be employed. Prior to the remodel they would fill a metal bin with individual paper towels and fill the soap dispenser with liquid soap. Now they have to insert a roll of paper towels in the electronic dispenser and a cartridge of soap in the electronic soap dispenser.
Instead of doing this daily, they wait until they are empty before replacing the towels and soap. That means they run out during the day. It must be dozens off times when I've washed my hands and put my hands in front of the automatic towel machine and nothing comes out. Then your choice is going to a stall and using toilet paper or wiping your hands on your pants. When it's not empty, it jams 20% of the time. The automatic faucets stay on too long or go off by themselves with no one near them.
The bottom line is this bathroom technology was costly, requires ongoing costs for battery replacement, did not eliminate any labor costs, malfunctions at a far greater rate than the previous manual devices, and provides less service and satisfaction than the non-technological methods.
This led me to ponder whether this microcosm of technological dysfunction and dissatisfaction applies to technology on a much larger scale, as technology has been sold to the masses as the solution to all of our ills and a sure sign we are progressing as a civilization and culture. Technological advances have given the masses the false impression their lives have gotten better, when in reality the technology has enslaved and controlled them while providing a never-ending distraction from reality, critical thinking and the truth.
"Americans no longer talk to each other, they entertain each other. They do not exchange ideas, they exchange images. They do not argue with propositions; they argue with good looks, celebrities and commercials." ― Neil Postman, Amusing Ourselves to Death: Public Discourse in the Age of Show Business
With virtually everyone in America having access to the internet, smart phones containing more computing power than NASA used to launch rocket ships into outer space, and the proliferation of computers even in the poorest school districts, the masses should be far more intelligent and informed than previous generations. But nothing could be further from the truth.
Technology is wasted on people who haven't been taught to think critically, have been indoctrinated by government run schools to be subservient cogs in the machine, and believe feelings and emotions are more important than knowledge and understanding. The proliferation of social media (Twitter, Facebook, Instagram) has resulted in the dumbing down of human interactions and replacement of discussing issues with virtue signaling, selfies, faux manufactured outrage, and glorifying shallow celebrities. We're addicted to technology.
It is incomprehensible our society has embraced technology for amusement, trivialities, and superficial displays of diversion, rather than advancement of knowledge, proliferation of ideas, and cultural progress and enrichment. The works of Aristotle, Socrates, Shakespeare, Dickens, Twain, Tolstoy, Steinbeck, Orwell and Huxley are available with one click of your iGadget, but instead the masses choose to play Angry Birds, Candy Crush, and Madden, while worshipping at the altar of Kardashian. So much knowledge and wisdom at your fingertips, guaranteed to make you smarter and 99.9% choose to amuse themselves into a stupor of ignorance.
STAY INFORMED! Receive our Weekly Recap of thought provoking articles, podcasts, and radio delivered to your inbox for FREE! Sign up here for the HoweStreet.com Weekly Recap.