January 31, 2019 | Sudden Sentiment Shift: The Mainstream Rediscovers Precious Metals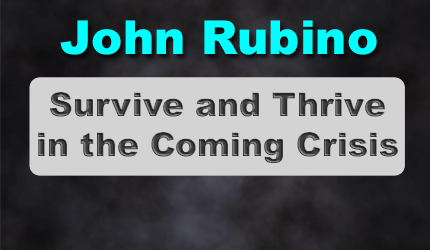 John Rubino is a former Wall Street financial analyst and author or co-author of five books, including The Money Bubble: What To Do Before It Pops and Clean Money: Picking Winners in the Green-Tech Boom. He founded the popular financial website DollarCollapse.com in 2004 and sold it in 2022.
It's amazing what a few weeks of outperformance will do for an asset class.
Gold and silver, after being pretty much ignored for the past few years, are now the shiny new toys of the investment world. From just the past couple of days:
(MarketWatch) – Global gold demand reached 4,345.1 tonnes (t) in 2018, up 4% on 2017 and in line with five-year average demand of 4,347.5t, according to the World Gold Council's latest Gold Demand Trends report. The annual increase was driven by a multi-decade high in central bank buying and accelerated investment in bars and coins during the second half of the year. While annual inflows into exchange-traded funds (ETFs) were down 67% in 2018, demand was boosted in the final quarter by inflows of 112.4t.

Central banks added 651.5t to official gold reserves in 2018, up 74% on 2017 and the second highest yearly total on record. Net purchases jumped to their highest level since the end of US dollar convertibility into gold in 1971, as a greater pool of central banks turned to gold as a diversifier.

————————

(Kitco) – On top of being bullish on gold prices this year, Goldman Sachs' favorite commodity play at the moment is "long gold."

Gold has a lot of potential and can hit $1,450, according to Jeffrey Currie, global head of commodities research at Goldman Sachs.

When asked about his top play on commodities during an interview with Bloomberg this week, Currie replied: "Long gold, we see that one with the most upside."

The reason for such an optimistic outlook on the yellow metal this year includes recession fears, gold's wealth-effect, and central bank buying, according to Goldman.

"We believe the world is A-ok right now, however, recessionary fears remain high and that is increasing the physical demand for gold. Wealth-effect is better for gold, and finally central banks are buying," Currie said.

In terms of which banks are buying, Currie highlighted that India bought 70 tonnes last year and China started re-entering the market.

"One hundred tonnes of central bank buying gets you to $1,425 alone. Our target is $1,450," he said.

————————

(Kitco News) – As gold prices wrapped up another great session and hit fresh eight-month highs, Mad Money's Jim Cramer said that he is a gold "believer."

"We are big gold believers here. Now gold is at $1,300, we think gold is going to $1,400-$1,500. We suggest that everybody have a little bit of gold in their portfolio," Cramer said on Wednesday.

————————

(SRSRocco) – As the demand for precious metals shows some life once again, sales of the U.S. Mint Silver Eagles jumped in January. Not only have Gold, and Silver Eagle sales increased, so have the precious metals prices. In the past two months, gold and silver prices have gained 7% and 11% respectively. Today, gold reached $1,320, while silver topped $16.

While January sales of Silver Eagles fell to a low last year at 3.2 million oz (Moz), down from 5.1 Moz in 2017, they picked up this month surpassing 4 Moz. According to the U.S. Mint's most recent update, Silver Eagle sales totaled 4,017,500 versus 3,235,000 last year:

————————

(ETF Daily) – Gold was stuck in a rut before it began to move up last fall, and it's now back at $1,300 per ounce for the first time in eight months.

Gold futures closed above the key $1,300 per troy ounce this week, and the February contract closed at a high of $1,308.90 Tuesday. Gold had fallen into a slump last summer and had been held back by a soft demand picture

The changing demand dynamic, and a flight to safety by skittish investors has changed the prospects for gold and it could perform much better in 2019.

"This could be gold's year," said Suki Cooper, precious metals at Standard Chartered Bank. Since mid-November, when gold was at $1,200, it has gained about 9 percent.

"You could start see prices trading toward $1,400 by the end of the year," Cooper said. Gold has not been at $1,400 since September 2013.

————————

(Bloomberg) — Think of it as a potential silver lining for investors. A deepening shortage is promising to help boost prices as haven demand for the precious white metal rebounds in 2019.

Silver surged 9.1 percent in December, its biggest monthly gain in almost two years. The commodity has benefited as a persistent trade war, weakening dollar and prospects of slower pace of U.S. rate increases drove haven demand for precious metals. The price outlook is improving at a time when demand for gold's cheaper cousin is poised to top production for a seventh straight year.

With miners avoiding new projects amid global economic uncertainty, the price could spike as high as $17.50 an ounce from about $15.87 now, according to a Bloomberg survey of 11 traders and analysts. About 26,000 tons of silver is expected to be produced this year, according to estimates by Robin Bhar, a London-based analyst at Societe Generale SA. That would be the least since 2013, and means global physical demand will again top output.

"Supply growth has started to slow, more than for any other precious metal," said John LaForge, the head of real assets strategy at Wells Fargo Investment Institute.
What do all the headlines mean for future demand? As technical analyst Michael Oliver told mining analyst Jay Taylor in a recent interview:
Even [financial advisors] who don't like gold are getting calls from clients asking "how come we don't have any gold in our accounts? It's the best performing asset for the last six months." Once non-gold people realize it's the best performing asset out there, they'll be forced into it, which will widen the investor base for gold mining stocks. If just a small part of what's in the broader stock market flowed into gold that's a huge rush of money for such a small sector. The gold and silver miners will probably be the best place on the planet.
STAY INFORMED! Receive our Weekly Recap of thought provoking articles, podcasts, and radio delivered to your inbox for FREE! Sign up here for the HoweStreet.com Weekly Recap.