January 13, 2019 | Millennials Dislike Today's Capitalism! It's Understandable to Me!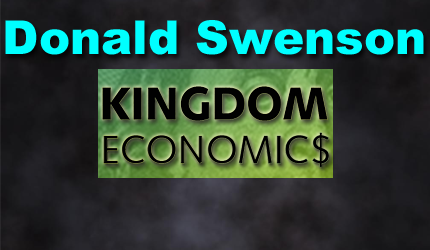 Donald B. Swenson: Born January 24, 1943, Roseau, Minnesota. Graduated H.S. 1961, Moorhead High, Minnesota. Graduated College 1968, Moorhead State University, Minnesota. Designated member of Appraisal Institute (MAI), 1974. Employed with Western Life Insurance Company, 1968 – 71; Iowa Securities Company, 1971 – 73; American Appraisal Company, 1974 – 81. Part-time teacher/valuation consultant/bartender, 1979 – 2008 (taught workshops at Waukesha County Technical Institute, Wi. and Madison Area Technical College, Wi.). Retired 2008 (part time teacher/blogger), AZ. Self educated economist/philosopher/theologian: http://kingdomecon.wordpress.com.
A vocal spokesperson for the Millennials (those under 35) is this new politician (Alexandria Ocasio-Cortez of New York) who is likely to become rather popular with the masses of millennials in 2019. A member of the Democratic Party, she has been the U.S. Representative for New York's 14th congressional district since January 3, 2019.
Ocasio-Cortez is a member of the Democratic Socialists of America. Before running for Congress, Ocasio-Cortez was a community organizer working in the Bronx and serving as an educational director for the 2017 Northeast Collegiate World Series for the National Hispanic Institute. At the age of 29, she is the youngest woman to serve in Congress in the history of the United States.
Today's Wall Street Journal had an article on Capitalism entitled 'A star for the left as doubts grow over Capitalism'. I have been saying (for years) that Capitalism is over because we now have a system where our Central Banks rule over all finance. This is unlikely to change going forward and, personally, I don't blame our millennials for hating our current system of economic inequality (falsely called Capitalism).
Are you aware that some 78% of all Americans now live from pay check to pay check? Currently, some 800,000 government employees are laid-off due to the polarized shut-down over the Trump Wall situation. These employees are now getting hand-outs from Credit Unions, Banks, and Mortgage Companies (to survive) as these employees are unable to pay all their bills. All this will add to their dislike of our current mis-named system called Capitalism.
If the shut-down continues for another two months we could have some 38,000,000 food stamp recipients also without funds for living. This could really create a Yellow-Vest type revolution here in America. This Yellow-Vest concept derives from the economic problems currently happening over in France. Thousands of French millennials are unhappy with their mis-named system of Social-Capitalism.
We have a real mess on our hands when our markets get shut-down as the masses of people can not live adequately under our current pseudo system. The wealth under our current system goes to the top 5% (primarily) and the masses must live from month to month (with no real savings to fall back upon). All this is because we have a system of corruption which starts with our money and banking system (and our bloated DEBT economy).
Capitalism worked when the distribution of wealth was fair and balanced (the 50's, 60's, and early 70's). This ended in 1971-75 (under Nixon) and has gotten much more dire since then. Today, we have a digital money system where money goes to select corporate elites (like Amazon, Google, Netflix, Facebook, Boeing, Apple, Exon, Goldman Sachs, etc.). These corporate elites can receive unlimited funds directly from our banksters (due to their favored status).
Our banksters prefer bigness and eliteness over private entrepreneurs who must start from scratch. And we have Central Banks which can funnel excessive money units to all these elites who obtain favor from our corrupt financial system. There is little that our month to month millennials can do given this corrupt economic system which we now live with. This lady from New York, Ocasio-Cortez, could become a popular politician and spokesperson for all these suppressed millennials.
We need to recognize that America does not have any REAL Capitalism today. We have a Fascist system which distorts and rigs all economic activity via computers. I have been writing about this corrupt system for years. We need to start thinking about a NEW MODEL for economics going forward. Our current DEBT model is soon going to end. You can witness the end as you watch this website: http://www.usdebtclock.org.
I am: https://kingdomecon.wordpress.com. Help with a donation if you want more education on philosophy and economics. Thanks!
STAY INFORMED! Receive our Weekly Recap of thought provoking articles, podcasts, and radio delivered to your inbox for FREE! Sign up here for the HoweStreet.com Weekly Recap.