January 4, 2019 | Led Astray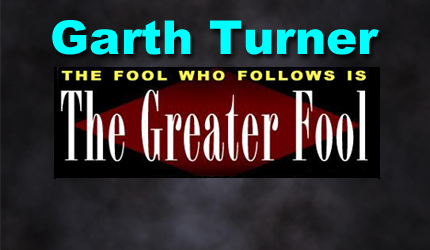 A best-selling Canadian author of 14 books on economic trends, real estate, the financial crisis, personal finance strategies, taxation and politics. Nationally-known speaker and lecturer on macroeconomics, the housing market and investment techniques. He is a licensed Investment Advisor with a fee-based, no-commission Toronto-based practice serving clients across Canada.
As you know, 2018 sucked. But not just for financial markets. Look what's happening to everybody's fav investment – their house.
Unlike liquid assets, whose values are published daily and are unassailable, real estate remains a black hole of misrepresentation. No wonder so many people are led so astray. And here's a little example. On Friday North America's largest real estate board (in the GTA, natch) published the latest stats. The key message:
Home prices were up very slightly in the City of Toronto and down in the surrounding GTA regions. This dichotomy reflects the fact that the condominium apartment segment, which accounted for a large proportion of sales in the City of Toronto, performed better from a pricing perspective than the detached market segment. The average price for condominium apartment sales across the TREB market area was up by 7.8 per cent year-over-year.

"Higher borrowing costs coupled with the new mortgage stress test certainly prompted some households to temporarily move to the sidelines to reassess their housing options. With this said, it is important to note that market conditions were improved in the second half of the year, both from a sales and pricing standpoint," said Garry Bhaura.
Well, that sounds benign, doesn't it? Condos up. Better market conditions. Sales and prices 'improving.' But this doesn't reflect reality, as thousands of commission-less realtors will attest. The market has turned into a wasteland, and anyone who suffered FOMO, buying 18, 12 or even 6 months ago, paid too much.
Average 416 detached plops $280K in 7 months


Look at the gold standard – a detached house in 416. Last month it was changing hands for an average of $1.145 million. The last time this number was seen was about two years ago, which means somebody buying at the start of 2016 and selling today – paying the standard commission – has lost money. In fact, this benchmark Toronto property has shed $280,202 – or 19.6% of its value – since just last May. Ouch. Worse, this home is down by $432,650 (27.4%) from the spring of 2017, when everybody was lubed up and desperate to buy.
By every measure, this is a turkey. Someone who lost $432,000 (plus huge transactional costs) on an investment portfolio of $1.5 million would be looking for their advisor's jugular. If they levered a mess of that money, the pain would be even more intense as wealth simply evaporated.
Why isn't the industry being forthright with this information? Duh. Because folks like Mr. Bhaura don't want you to know. Unlike stocks, bonds, preferreds or REITs, such data is hidden, subjectively diddled in the basement by paid real estate board elfs, then released in misleading dollops to a bankrupt media. No wonder people think investing in property is a no-brainer, low-risk proposition while 'playing the markets' means constantly flirting with loss. The fact is that even with 2018's stock plop and the real estate boom of the past couple of years, financial investors have come out ahead. And no realtor fees, land transfer tax, property tax, insurance, Audis in the driveway, open houses or people pawing through your closets.
But, this isn't just about Toronto. Similar tales are coming out of many markets across the country. Look at Victoria, for example. Sales last month toppled 19% year/year and were 25% behind those of two years ago. Condo deals crashed while 26% fewer detacheds changed hands. For the year as a whole, down 20%. Prices are flat with a top-end crumble taking place. "The story arc in real estate this year," says the head realtor, "has been the impact of government influence…" No guff.
And poor, wet, delusional Vancouver. Compared to the GTA's 16% sales plunk, YVR's in freefall. Last month's action was a stunning 47% below that of December, 2017 and a 33% drop from the previous month. For the entire year, it's the worst performance since 2000 – when you thought Donald Trump was funny. Detached houses shed 8% of their value. The culprits: "high home prices, new mortgage requirements and taxes all contributed to the market conditions."
Then there's Calgary, continuing a decade-long slump with a 14% sales reduction in 2018. December saw a 21% fall from year-ago levels, while anxious sellers pushed available inventory up 30%. Prices down again, of course.
Edmonton – sales and prices down in 2018. Ditto in Saskatoon. London saw fewer sales but higher prices. Sales off 28% in Oakville. Fewer transactions in Lethbridge, while they're still counting in Montreal.
Overall, this is no healthy housing market. We all know why. The stress test. Higher mortgages. Moronic new taxes. And an industry which seems to do everything possible to lose public trust. Families are bombarded with conflicting 'facts' about the markets they live in. Just days before hearing of a historic sales collapse in Vancouver, for example, the BC Assessment office told everyone how much more their homes were worth. Huh? Who's zoomin' who?
So the advice stands. Buy a house if you need one, and can afford it. But don't try to justify it as an investment. That ship sailed.
STAY INFORMED! Receive our Weekly Recap of thought provoking articles, podcasts, and radio delivered to your inbox for FREE! Sign up here for the HoweStreet.com Weekly Recap.