January 16, 2019 | Gold to Glow. How High Will It Go?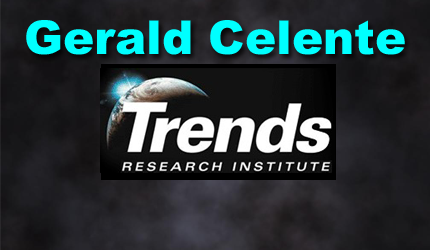 Gerald Celente, who developed the Globalnomic® methodology to identify, track, forecast and manage trends, is a political atheist. Unencumbered by political dogma, rigid ideology or conventional wisdom, Celente, whose motto is "think for yourself," observes and analyzes the current events forming future trends for what they are — not for the way he wants them to be. And while Celente holds a U.S. passport, he considers himself a citizen of the world.
KINGSTON, NY, 16 JANUARY 2019—Last October, with gold at $1,185 an ounce, we sent subscribers a Trend Alert: "Gold down but not out." We noted that while gold sunk some $15 below our bottom range of $1,200 per ounce, it had bottomed out and would move higher. It did, and it has.
We underscored the simple equation that pushed gold lower: The higher U.S. interest rates rise, they boost the dollar and push up U.S. Treasury yields, making gold a less attractive investment since it does not bear interest.
Then on 19 September, two days before U.S. equities peaked, we warned subscribers to prepare for an "Economic 9/11." Our forecast was based on many factors, most importantly, expectations the U.S. Federal Reserve would increase rates again in December, the fourth increase in 2018, and three or four times in 2019…. which would be devastating to equity markets and economies, and in turn increase gold's value as a safe haven commodity.
With economies across the globe and equity markets having been artificially inflated with negative/zero interest rates, generous tax breaks, plus $26 trillion of central bank Quantitative Easing that banksters injected into the system following the Panic of '08 that pumped up a $250 trillion debt bubble… markets and economies would OD without more doses of monetary methadone.
FED FEEDS THE ADDICTS
As 2018 ended, with equity markets worldwide falling into bear and correction territory, and the Dow recording its worst December since the Great Depression, the Federal Reserve's chief, Jerome Powell, changed his tune. He said the Fed would be "patient" in raising rates and was "listening carefully with sensitivity to the message that the markets are sending."
With hopes for more cheap money fixes and the possibility of even lowering interest rates this year, equities have posted strong gains. Thus, the "Economic 9/11" we forecast has been temporarily delayed. Subsequently, with less pressure for higher interest rates, gold has hovered around $1,290 per ounce.
TREND FORECAST: Exploding global debt, declining economic growth and geopolitical instability – especially in the Middle East and our forecast for the U.S., Brazil and other Lima Group nations to overthrow the government of Venezuela – will push gold prices higher.
Moreover, gold prices will stabilize above the $1,200 range as a matter of supply and demand. All the gold ever mined could fit in a 60-foot cube and discoveries of gold have dramatically tapered off over the last decade and no new discoveries were made since 2017.
Thus, we maintain our forecast that gold's downside is $1,200 per ounce, which has proven accurate, and that gold would have to break above $1,450 per ounce to leap back to the $2,000 range it neared in 2011.
STAY INFORMED! Receive our Weekly Recap of thought provoking articles, podcasts, and radio delivered to your inbox for FREE! Sign up here for the HoweStreet.com Weekly Recap.