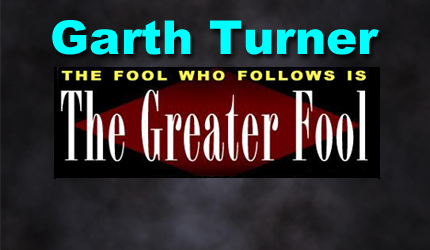 A best-selling Canadian author of 14 books on economic trends, real estate, the financial crisis, personal finance strategies, taxation and politics. Nationally-known speaker and lecturer on macroeconomics, the housing market and investment techniques. He is a licensed Investment Advisor with a fee-based, no-commission Toronto-based practice serving clients across Canada.
Just five or six weeks now until the saps start running, loins stir, hormones course and antlers twitch. Yep. Rutting season is coming. This is when realtors emerge from wintering in their A7s, blinking against the strengthening sun, gaunt from months of eating crow and stale listings, hungry for fresh commissions. Buyers emerge from the woods and sellers scan the horizon for offers. This is prime time for real estate, and after an awful 2018 season, the industry is hoping, praying and doing all it can to create a new FOMO.
Like Toronto broker John Pasalis, normally a smart guy except when (a) he has a meltdown at being mentioned on this blog and (b) he claims the market's just had a gentle soft landing.
That's the meme of late: things are cool. The correction's over. It's safe to buy again because price declines were modest and brief. Inventory is low. So are mortgage rates. Better offer soon, or end up in a cardboard box under the Bloor Street viaduct. Or, worse, at mom's.
Says Pasalis in his recent and widely-quoted report:
"A soft landing in the housing market is a moderate and relatively balanced decline in house prices rather than a big 40-50% crash that some housing markets experience when bubbles burst."
"Since July 2017 house prices have remained relatively stable aside from some seasonal volatility."
"When we consider the fact that prices have only declined 18% from their peak, have been stable since July 2017 and there hasn't been a big increase in inventory which is what we would expect for prices to fall further, there is little doubt that up to now the GTA has achieved a soft landing."
Really? Is it over?
This pathetic blog has argued that the GTA, by far the largest housing market in Canada, is going to come out of the next year far less torched than Vancouver, Victoria or the oily places to the right. Local politicians are not (as in BC) trying to engineer a crash, taxes aren't going nuts, the economy is more diverse and the population vastly higher with a lower ratio of new construction. YVR is pooched by every measure. The GTA not so much. But that doesn't mean we can party like it's 2017 this rutting season.
Seems our real estate dudes have a thin knowledge of what a soft landing means, and how bubbles end. No, they don't pop. They deflate. US house prices, for example, peaked in mid-2006 before starting to fade as interest rates rose and lenders got into trouble. The bottom did not come for almost six years – in 2012. So to declare Toronto's zenith in the spring of '17 was all cleaned up by Christmas of '18 is premature ebullition. Mr. Pasalis should seek treatment for that.
And what of the assertion that house prices 'have remained stable' since the summer of 2017?
Well, not exactly. As pointed out here last week the average 416 detached house, now changing hands at $1.145 million, was selling for $280,202 – or 19.6% more – just last May (of 2018). In fact that same property is 27.4% cheaper than in April of the previous year. These are substantial numbers. Add in the massive cost of buying in Toronto (the land transfer tax alone on that house is $38,750) and of selling (standard realtor commission would be $57,000), and the losses are Herculean.
So, no, prices haven't been stable. The collapse in detacheds has been obfuscated by the rise in condos, however, and that gives Pasalis and his ilk some cover with the public. Thanks to the stress test, buyers have been shoved down the property ladder, creating more competition for entry-level housing, goosing the price of concrete boxes downtown.  But we all know that's temporary housing. No fit place for a golden retriever.
Let's remember, too, the GTA is a bloody big thing. Six million people. Hundreds of square kms. The price of McMansions in the exurbs plopped 20% to 30% a year ago, and has not recovered. Nor are they likely to anytime soon.
Meanwhile consider the economic facts. Wage gains suck, while consumer prices have been rising. Families are squeezed for disposable income, keeping them out of the housing market. The stress test has removed a fifth of buyers and shoved many more into lower price ranges. Household debt is at historic levels, and the fastest-growing segment of mortgage lenders is made up of the sub-prime, unregulated, high-rate guys.
And, mostly, why is the average crappy, unrenovated detached house on a dodgy street still priced at $1,145,000 when the median household income is $79,000? That doesn't seem to be much of a correction, or to constitute a 'soft landing' with the market ready to take off again. And what of the fact most new buyers of such homes have a debt-to-income ratio of $450%, almost three times the norm? Seems precarious.
Hard to know who to believe these days. But it's easier when you rule out those you can't.
STAY INFORMED! Receive our Weekly Recap of thought provoking articles, podcasts, and radio delivered to your inbox for FREE! Sign up here for the HoweStreet.com Weekly Recap.