January 13, 2019 | Cherish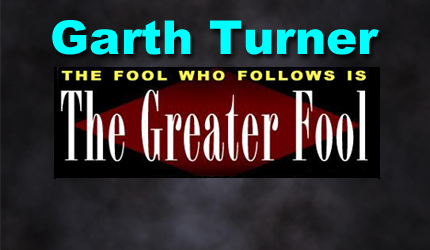 A best-selling Canadian author of 14 books on economic trends, real estate, the financial crisis, personal finance strategies, taxation and politics. Nationally-known speaker and lecturer on macroeconomics, the housing market and investment techniques. He is a licensed Investment Advisor with a fee-based, no-commission Toronto-based practice serving clients across Canada.
Over the weekend a young man from Surrey opened eyes and touched hearts. There are not many moments on a raucous blog devoted to money, finances and mammon when such a thing happens. After all, we're obsessed here with acquiring stuff. We measure success in real estate assessments or the numbers of zeroes in a portfolio balance.
Sure, we drift into canine worship and lament the unfairly short lives of our dogs. That's sad. But not tragic. Tragedy is potential unfulfilled, and the young visitor spoke to that. He also reminded me that the important thing which defines a man is not the misfortune that may befall him, but how he handles it.
As I plowed my way through the usual snippy, combative, self-absorbed comments, it was gratifying to read the following words: "Garth, thanks for all your advice over the years. My wife and I have dumped as much as we can into our investments and avoided the insane Vancouver RE market, and your blog has helped reinforce that it is a good choice for us despite the cult-like mentality here."
The message here has always been simple. If you need a home and can afford one, go ahead and buy. If it means taking big risk, using extreme leverage or hollowing out your finances, there's no shame in renting, staying liquid and having options. The point of life is not real estate. It is, as repeated here often, to enjoy your time. Money comes and goes. The days just pass.
Then he wrote this:
"I'm a young guy (35) dying of cancer and our investments are going to ensure the love of my life is taken care of comfortably, and can take her time getting back to a normal life after I go. Being stuck with a house would be a huge extra headache for her as she'll want to downsize and possibly move away from here. I just wanted to let you know you've had a positive impact even in the worst of circumstances."
Many responded to that over the next few hours, offering words of support and encouragement. They were raw and emotional. What do you say to a dying person, especially one who's lived less than half a life? Place yourself in the same situation and find the message that gives comfort and meaning – when hope is not an option.
There are days I hate this blog, for the ugly underbelly of society which soaks into the comments section. We seem to live in a time stripped of empathy and filled with prejudice, when tribalism and jealousy of others spread fast, infecting everything. But not that day. Not here.
The young man read those comments, and returned.
"Wow, I didn't expect so much attention! Thanks to everyone for your kind words and support," he wrote.
"Oddly, sometimes the words of strangers get to me more than that of friends and family, possibly because it just shows how we all share so much in common and fight mostly the same battles.

No matter what you do in life, cherish your time and loved ones. You really don't know how long it will last. I'm happy that we didn't put our life on hold while we planned for the future, and we have many happy memories. I wouldn't trade my life for anyone else's. Best wishes to all of you. I hope you have a great year."
It will be a year he won't finish. He leaves us with wisdom and a calm grace. The greatest gift, he reminds, is one we cannot replicate, borrow, steal, beg or earn. Time runs out for everyone, try as we might to push it off or to pretend the mindless accumulation of wealth or assets is any substitute.
I would not trade my life, said the dying man, for anyone else's.
He is the wealthy one.
STAY INFORMED! Receive our Weekly Recap of thought provoking articles, podcasts, and radio delivered to your inbox for FREE! Sign up here for the HoweStreet.com Weekly Recap.