January 29, 2019 | Bankers Fear a Warren Wave! says WSJ!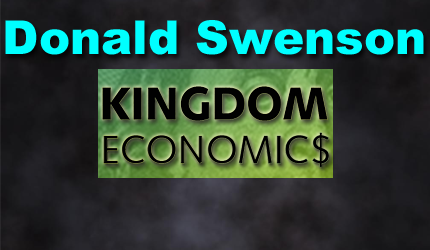 Donald B. Swenson: Born January 24, 1943, Roseau, Minnesota. Graduated H.S. 1961, Moorhead High, Minnesota. Graduated College 1968, Moorhead State University, Minnesota. Designated member of Appraisal Institute (MAI), 1974. Employed with Western Life Insurance Company, 1968 – 71; Iowa Securities Company, 1971 – 73; American Appraisal Company, 1974 – 81. Part-time teacher/valuation consultant/bartender, 1979 – 2008 (taught workshops at Waukesha County Technical Institute, Wi. and Madison Area Technical College, Wi.). Retired 2008 (part time teacher/blogger), AZ. Self educated economist/philosopher/theologian: http://kingdomecon.wordpress.com.
Today's Wall Street Journal (WSJ) gives some press to this lady from the USA called Senator Elizabeth Warren, Massachusetts. Elizabeth appears to be running for President of the USA in 2020 and her expertise is understanding the Big Banks and their control over our economy. She is correct in her perception that the Big Banks rule over finance today. I give her this credit. Banks exercise too much power in Washington, says Ms. Warren. I also would agree!
U.S. banks are approaching Ms. Warren's candidacy with trepidation says the WSJ. Her ideas are for more regulation of the banks as well as breaking up the biggest banks. Ms. Warren's signature accomplishment was helping the Obama administration launch the Consumer Financial Protection Bureau. Since then, the 69-year-old former Harvard Law Professor has become a formidable obstacle for Wall Street banks and their continuing desire to control all financial affairs.
Given that our financial system is now centralized and our banks rule over all finance, I would support Ms. Warren on many of these financial issues. I would not, however, support her philosophy of Socialism for America. The trend today among leading democrats is for Socialism for America and the World. Socialism means that government control over our economy would grow substantially. Bureaucrats would rule over all aspects of commerce and money would flow to select elites who rule the system. The few would rule over the many.
The four leading candidates for replacement of a Trump administration in 2020 are now all Socialist's (leaning toward Communist). The four are Kamala Harris of California, Alexandria Ocasio-Cortez of New York, Bernie Sanders of Vermont, and Elizabeth Warren of Massachusetts. America will become a Socialist country in 2020 if any of the above gain the support of the voters. Our Millennials will likely determine the outcome in 2020…and these voters will likely vote for one of the above. Ms. Ocasio-Cortez, being less than 35, may not qualify for being President, however.
Some background on these candidates include the following:
Kamala Devi Harris (born October 20, 1964) is an American attorney and politician serving as the junior United States Senator for California since 2017. A member of the Democratic Party, she previously served as the 32nd Attorney General of California from 2011 to 2017, and as District Attorney of San Francisco from 2004 to 2011. On January 21, 2019, Harris officially announced her campaign to run for the Democratic nomination for President of the United States in the 2020. If elected, Harris would become the first female and Asian American to ever serve as President of the United States, in addition to being the second African-American elected president following President Barack Obama in 2008.
Alexandria Ocasio-Cortez (age 29) is a self-described democratic socialist.[125] She is a member of the Democratic Socialists of America.[13] She has said that the type of socialism she advocates is not that of Venezuela or Cuba but would "most closely resemble what we see in the U.K., in Norway, in Finland, in Sweden". Alexandria Ocasio-Cortez supports progressive policies such as single-payer Medicare for All, tuition-free public college and trade school,[128] a federal job guarantee,[129]guaranteed family leave,[130] abolishing U.S. Immigration and Customs Enforcement,[131] ending the privatization of prisons, enacting gun-control policies,[132] and energy policy relying on 100% renewables.[133] She is open to using Modern Monetary Theory (MMT) as an economic pathway that could provide funding and enable implementation of these goals.
US senator Bernie Sanders  (age 77) is preparing to launch an even bigger presidential campaign than his first in 2016, according to his supporters and advisers. In my view, says Sanders, it's time we had democratic socialism for working families, not just Wall Street, billionaires and large corporations. It means that we should not be providing welfare for corporations, huge tax breaks for the very rich, or trade policies which boost corporate profits as workers lose their jobs. It means that we create a government that works for works for all of us, not just powerful special interests. It means that economic rights must be an essential part of what America stands for.
Elizabeth Ann Warren (born June 22, 1949) is an American politician and academic serving as the senior United States Senator from Massachusetts since 2013. Warren was formerly a prominent scholar specializing in bankruptcy law. At a town hall meeting in Holyoke, Massachusetts on September 29, 2018, Warren (age 69) said she would "take a hard look" at running for president in the 2020 election after the conclusion of the 2018 United States elections.[107] On December 31, 2018, Warren announced that she was forming an exploratory committee to run for president. The recent news that Warren will join the Senate Armed Services Committee in January has stoked speculation that she is looking to bolster her foreign policy and national security credentials in advance of a presidential run
The above and a host of additional names will likely run to replace our current Trump administration. These names are getting media attention as of today: Mr. Joe Biden, Amy Klobuchar, Kirsten Gillibrand, Cory Booker, Michelle Obama, Andrew Cuomo, Hillary Clinton, and Oprah Winfrey. Given that Mr. Trump has only some 40% support as of today, my sense is that 2020 will result in a democratic win.
If our Creator does not intervene in our world affairs, then the above scenario could happen. My sense, however, is that our Creator will intervene. My sense is that our world system is collapsing so fast that an election of Socialists in 2020 is unlikely. Our world needs a comprehensive overall and a new model for the planet. All the past…ism's of history are no longer relevant. We need to eliminate money and start over. Think for yourself to discern what is happening.
Another view of what is emerging. Money must be eliminated for any new model to work! I am: https://kingdomecon.wordpress.com. 
STAY INFORMED! Receive our Weekly Recap of thought provoking articles, podcasts, and radio delivered to your inbox for FREE! Sign up here for the HoweStreet.com Weekly Recap.