December 21, 2018 | What to Do When Stocks Fall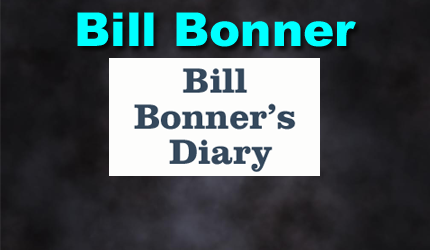 Is an American author of books and articles on economic and financial subjects. He is the founder and president of Agora Publishing, and author of the daily financial column, Diary of a Rogue Economist.
BALTIMORE, MARYLAND – The last days of 2018 are dwindling down. Today, the sun reaches its lowest point on the horizon, in the Northern Hemisphere.
And stocks continue to sink.
Partial Shutdown
One reason cited for the continued selloff on Wall Street was the looming "shutdown" of the federal government.
The Washington Post is on the story:
Large parts of the federal government lurched toward a shutdown Thursday after President Trump told GOP leaders he would reject a short-term deal to keep the government open unless it contained money for border security.

In an emergency meeting with House Republican leaders, Trump said he would reject a measure passed in the Senate that would fund government operations through February 8 but deny Trump any new funding for a wall along the U.S.-Mexico border.

"The president informed us that he will not sign the bill that came over from the Senate last evening because of his legitimate concerns for border security," House Speaker Paul D. Ryan (R-Wis.) said at a news conference after the meeting.
Treasury secretary Mnuchin had a different interpretation. From Bloomberg:
"I think the market reaction is completely overblown," Mnuchin said Thursday in an interview with Fox Business Network, following the prior day's Fed action and press conference by chairman Jerome Powell. "I think that the market was disappointed in the chairman's comments."
The shutdown doesn't worry us. It may rattle investors. But it won't do any serious harm to the economy or its people. The government is a consumer, not a producer. Generally, the less it consumes, the better.
So a shutdown may actually be a positive. Especially if it lasts a long time.
Like Mr. Mnuchin, we're more focused on the Fed. That's where we'd welcome a permanent shutdown.
New Normal
As you will recall from yesterday, the Fed hedged and weaseled on Wednesday. It stuck to its "tightening" script with another 25 basis points of a rate hike.
But it also signaled that it might not follow through with the whole "normalization" program. Or that it might just decide on a "new normal" substantially below the old normal.
Going into the crisis of 2008, the Fed had a more or less normal supply of 525 basis points to work with. That is, its key lending rate was 5.25%.
Now, it has only half that number. Some economists argue that 250 basis points – 2.5% – is a near-neutral rate. That's supposed to be the rate that neither pumps air into the bubble, nor lets it out.
How do they know what the neutral rate is? And why is a neutral rate desirable? Mere mortals cannot answer those questions. You never know what something will sell for – especially something that hasn't traded in a free and open market for the last 30 years – until you put it up for sale.
That is as true for interest rates as it is for a 1957 Chevy.
But our guess is that if the Fed stopped meddling in the credit markets, the price of credit would soar.
It's only because investors expect more EZ money from the Fed that they are willing to buy government debt at such low yields. If that expectation were to vanish… and if the federal government suddenly had to rely on actual savings, lent voluntarily, to cover its deficits – that is to say, if the feds had to finance their deficits honestly – well, the whole ship of state would sink like a stone. And the stock market, too.
Leaky Boat
Even as it is, the Fed is paddling a leaky boat. In order to refloat the economy of 2009, it threw every one of its basis points overboard. That kept heads above water. Barely. It also produced only the weakest recovery ever seen.
What will happen when the next crisis hits? In a matter of seconds, the Fed will have exhausted all its ballast. Then what?
That's when the story will get more interesting. But already, it is more interesting than it was a few weeks ago.
Yesterday, we watched the stock market action closely. We were wondering which way investors would take the Fed's announcement. Would it reassure them that the Fed was ready to halt its rate increases? Or not?
It looked like they couldn't decide. But by the end of the day, the Dow was down another 464 points.
From our point of view, the Fed's intentions are pretty clear. It will raise rates when the coast is clear. When the seas get rough, it will cease raising rates and begin to cut them again.
Many investors will take this as assurance that the Fed still has their backs. But we aren't so sure. By the time it breaks out the lifeboats, many investors will already be in over their heads and going down to the bottom.
And then, there is no reason to think that lopping off a mere 250 basis points will be enough. It took 500 of them to do the trick last time – with less debt to overcome… and no talk of a shutdown… or a trade war…
How will it turn out? We think we know. Stay tuned for our 2019 predictions… coming on January 2.
In the meantime, move to the country… rack up some firewood… bounce the grandchildren on your knee in front of the fire.
And, oh yes, switch from stocks to gold… and enjoy the holidays.
Regards,
Bill
STAY INFORMED! Receive our Weekly Recap of thought provoking articles, podcasts, and radio delivered to your inbox for FREE! Sign up here for the HoweStreet.com Weekly Recap.