December 6, 2018 | Walking it back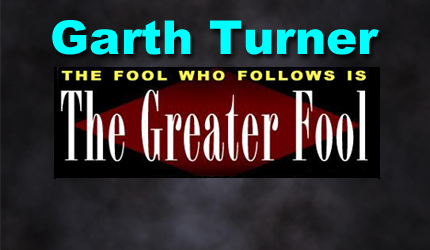 A best-selling Canadian author of 14 books on economic trends, real estate, the financial crisis, personal finance strategies, taxation and politics. Nationally-known speaker and lecturer on macroeconomics, the housing market and investment techniques. He is a licensed Investment Advisor with a fee-based, no-commission Toronto-based practice serving clients across Canada.
Stocks have been going down. Bonds shooting up. Yields are falling. Central banks are walking back. Things have been evolving quickly over the last few days. And you can bet some of those 2019 events mentioned here yesterday have a pretty fair chance of taking place.
As Canada enters an election year the economy's starting to limp, which scares T2 more than a call from Donald Trump. GM was a blow. Bombardier, too. Ford may be coming. But mostly this is a story about oil. Our crude crashed in price and was only rescued when Alberta said it was curtailing production. But because oil is our biggest export, selling less of it isn't exactly a brilliant move.
Now housing is wobbling badly. Look at poor Van.
Sales last month were the worst in a decade, down 42% year/year and 35% lower than the ten-year average. But that's just one piece of the story. Listings have exploded – ahead more than 40% from this time last year. And now the real estate board has admitted what every seller knows – prices are tumbling. They have fallen up to 7% in the past six months, while the benchmark Frankenumber is down 6.5% from this time last year.
The reason: Average people can't afford average houses. Prices are still stupid, mortgage credit has been squeezed and mortgage rates have gone up. Add in an idiotic layer of taxes by the anti-house cabal now running the province, and you have all the elements for a tumble.
Even in the Kingdom of 6ix, things are not cool.
The Toronto market took its biggest plop last month since the Spring. Sales crashed from the previous month by the greatest amount in eight months. Prices dipped an annualized 5% in November. And unlike YVR, where sellers are scrambling to get out, in the GTA listings have dropped 26% from last year. As the number of houses on the market falls faster than the overall sales total it underscores just how much the cost of borrowing has chased off buyers. Less inventory should bring higher prices. But now when the moisters have been frozen out.
Well, our bankers are watching this. Not happy dudes, suddenly. The trade deal with Trump has not lifted steel or aluminum tariffs, and sure didn't help us with GM. The Alberta oil cap is just a stopgap measure, and maybe a bad one since it scares off new investment bucks. And if the Trump Bump is over in the States – as the stock and bond markets have been hinting – then a stalling-out of that economy could mean we go into reverse.
So, of course, the Bank of Canada did not raise rates this week. And after what the bankers had to say on Wednesday our dollar fell, bond prices (and bond ETFs) jumped higher, the yields bond pay dropped and the markets seriously reduced the odds of a rate increase in January. Meanwhile in the US, the president's 'awesome deal' with China has been sloughed off as hyperbole and markets are pricing in two more interest rates hikes (not four), and a slowdown in 2020.
Whether this happens or not is unknown. But Mr. Market is a capricious dude, able to turn on a dime, change its opinion in mere moments and be completely unapologetic for it. Those investors who have balanced and diversified portfolios with a nice little pile of the right kind of bonds are seeing a bounce there at the same time equities sell off. It also helps to have a low-vol vehicle for exposure to Canadian stocks, and some exposure to real estate investment trusts, which have had a great year. Diversification. It works. Going all-stock is gambling. Wear your asbestos undies.
Government bond yields plop, bond prices rip

So Government of Canada bond yields have retreated seriously. It looks like we'll get two more rate hikes in 2019, then the bankers will be done. But even adding just 50 bips to the cost of loans, mortgages and HELOCs will keep housing on the ropes (sales are falling 80% of Canadian markets), and put pressure on the feds to 'do something.' As mentioned yesterday, that could come in the form of insurable 30-year mortgages, CMHC coverage for properties over a million and a cap on the stress test.
Suck and blow. Gas, brake, gas. It's getting increasingly tough to have confidence in our leaders. With real estate still largely unaffordable and the economy softening, is this really the time to be encouraging even more household debt?
Just to get some votes and be in power?
You can tell I made a lousy politician.
STAY INFORMED! Receive our Weekly Recap of thought provoking articles, podcasts, and radio delivered to your inbox for FREE! Sign up here for the HoweStreet.com Weekly Recap.