December 27, 2018 | Universal Basic Income Is Easier Than It Looks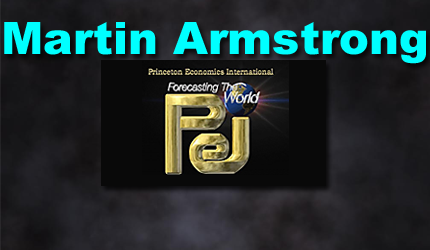 Martin Arthur Armstrong is the former chairman of Princeton Economics International Ltd. He is best known for his economic predictions based on the Economic Confidence Model, which he developed.
Calls for a Universal Basic Income (UBI) have been increasing, most recently as part of the "Green New Deal" introduced by Rep. Alexandria Ocasio-Cortez, D-N.Y., and supported in the last month by at least 40 members of Congress. A UBI is a monthly payment to all adults with no strings attached, similar to Social Security. Critics say the Green New Deal asks too much of the rich and upper-middle-class taxpayers who will have to pay for it, but taxing the rich is not what the resolution proposes. It says funding would primarily come from the federal government, "using a combination of the Federal Reserve, a new public bank or system of regional and specialized public banks," among other vehicles.
The Federal Reserve alone could do the job. It could buy "Green" federal bonds with money created on its balance sheet, just as the Fed funded the purchase of $3.7 trillion in bonds in its "quantitative easing" program to save the banks. The Treasury could also do it. The Treasury has the constitutional power to issue coins in any denomination, even trillion dollar coins. What prevents legislators from pursuing those options is the fear of hyperinflation from excess "demand" (spendable income) driving prices up. But in fact the consumer economy is chronically short of spendable income, due to the way money enters the consumer economy. We actually need regular injections of money to avoid a "balance sheet recession" and allow for growth, and a UBI is one way to do it.
The pros and cons of a UBI are hotly debated and have been discussed elsewhere. The point here is to show that it could actually be funded year after year without driving up taxes or prices. New money is continually being added to the money supply, but it is added as debt created privately by banks. (How banks, rather than the government, create most of the money supply today is explained on the Bank of England website here.) A UBI would replace money-created-as-debt with debt-free money—a "debt jubilee" for consumers—while leaving the money supply for the most part unchanged; and to the extent that new money was added, it could help create the demand needed to fill the gap between actual and potential productivity.
The Debt Overhang Crippling Economies
The "bank money" composing most of the money in circulation is created only when someone borrows, and today businesses and consumers are burdened with debts that are higher than ever before. In 2018, credit card debt alone exceeded $1 trillion, student debt exceeded $1.5 trillion, auto loan debt exceeded $1.1 trillion, and non-financial corporate debt hit $5.7 trillion. When businesses and individuals pay down old loans rather than taking out new loans, the money supply shrinks, causing a "balance sheet recession." In that situation, the central bank, rather than removing money from the economy (as the Fed is doing now), needs to add money to fill the gap between debt and the spendable income available to repay it.
STAY INFORMED! Receive our Weekly Recap of thought provoking articles, podcasts, and radio delivered to your inbox for FREE! Sign up here for the HoweStreet.com Weekly Recap.