December 25, 2018 | U.S. Recession NOW Here! Why?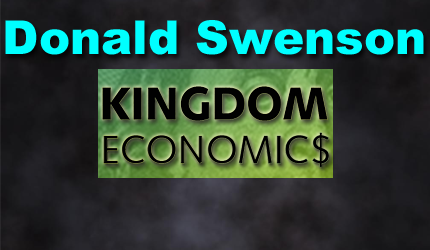 Donald B. Swenson: Born January 24, 1943, Roseau, Minnesota. Graduated H.S. 1961, Moorhead High, Minnesota. Graduated College 1968, Moorhead State University, Minnesota. Designated member of Appraisal Institute (MAI), 1974. Employed with Western Life Insurance Company, 1968 – 71; Iowa Securities Company, 1971 – 73; American Appraisal Company, 1974 – 81. Part-time teacher/valuation consultant/bartender, 1979 – 2008 (taught workshops at Waukesha County Technical Institute, Wi. and Madison Area Technical College, Wi.). Retired 2008 (part time teacher/blogger), AZ. Self educated economist/philosopher/theologian: http://kingdomecon.wordpress.com.
As of today, our Dow Index has declined more than 19% since its high in October of 2018. As I write the Dow Index is down some 653.17 points. Our S & P 500 and the NASDAQ are at the 20% level (down) since their high. To me, this means that we are now in a RECESSION which will be recognized 'officially' in a few months by our authorities. I can discern this recession as I interpret the financial numbers in select sectors which tend to lead a real recession.
My expertise has been in the real estate sector. This sector is now in serious decline and this will become obvious in a few months. The auto sector is also in decline and this will become obvious soon. Tech is also in decline and so are most commodities. All this means that a RECESSION is emerging and nothing can stop this result IMO. We have had some 10 years of UP markets and the policies of our elites have now changed. Our Fed has created this coming environment called the NEXT recession!
Money is a confidence game and when investor 'confidence' wanes and crashes then the markets also wane and crash. We live with metaphysical markets which operate in this metaphysical arena called cyberspace. Our money units are now 'cyber' units and this means that these units can vanish and disappear with a change in confidence. The core concept within economics is this idea called 'value'. Value is a metaphysical concept which lives within our mind (our consciousness). It disappears when markets crash!
Mr. Trump sensed this event with his tweets on the Fed interest rate situation and the policy to reduce the Fed balance sheet from its high of $4.5 trillion. So far the Fed has reduced this balance sheet by nearly $500 billion. If this policy continues then we could say that the Fed policy is QT (quantitative tightening). It was QE (quantitative easing) since 2008 and this created all our bubble markets. We have now experienced some 10 years of UP asset prices for stocks, real estate, and most commodities. All this is now OVER. Prepare for a RECESSION…a growing severe recession!
My sense is that a global financial RESET will soon be on the official policy agenda. The coming meeting of our elites at DAVOS in Switzerland this coming January could be the start of this RESET. My understanding is that Mr. Trump will attend this economic/political conference (called the World Economic Forum) with a host of his heavy weight policy personnel. We can speculate now that the talk will be mostly about how to develop a new currency for the planet.
Money rules this planet and those in control of our monetary system will determine what happens next. If prophecy is valid, then a new digital financial system will be developed by our elites. This is likely to start with the meetings at the World Economic Forum in Switzerland, which meets from January 22 – 25, 2019. Some 2,500 elites (those invited to attend) from all around our planet will attend this event at Davos. I would also like to attend but would need a body of believers to help me attain this goal.
This new system (most likely coming from the WEF) will be a system which leads to this 'Mark of the Beast' global financial system. Prophecy says that the world elites (under Satan) will develop this dark-side system so as to CONTROL all buying and selling on this planet. The policy will be to enslave most of mankind via a 'mark' (symbol) and a series of 'numbers' (an identification system). All this so that our elites can RULE over us!
Rulers need this type of system to maintain control over all people on this planet. Control and enslavement to an inner symbol/number system is what I sense as happening soon. Money must continue for a time so as this 'Mark of the Beast' system can emerge. It's all part of Prophecy and the End Times agenda. Satan and his legion of dark-side agents will be allowed to create this enslavement system. We war 'not against flesh and blood, but against powers and forces within the dark-side of our spiritual realm'.
Following are some details on the coming DAVOS economic conference to be held over in Switzerland in January. It's called the World Economic Forum (WEF). The theme of this year's forum is: "Shaping a Global Architecture in the Age of the Fourth Industrial Revolution."
https://www.weforum.org/system-initiatives/shaping-the-future-of-digital-economy-and-society
https://www.cnbc.com/2018/12/18/white-house-announces-trump-will-attend-world-economic-forum-in-davos.html
You can help me with promoting a free world for all individuals if you support my philosophy of the 'individual' (outlined in this blog called Kingdom Economics). Our battle is now spiritual and philosophical. I am: https://kingdomecon.wordpress.com.
STAY INFORMED! Receive our Weekly Recap of thought provoking articles, podcasts, and radio delivered to your inbox for FREE! Sign up here for the HoweStreet.com Weekly Recap.