December 8, 2018 | Trading Desk Notes – December 8th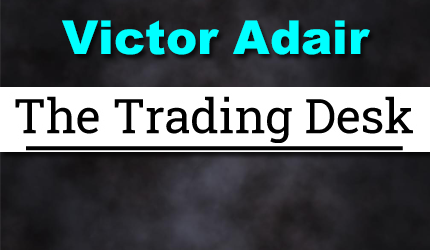 Victor Adair, author of The Trading Desk Notes, began trading penny mining shares while attending the University of Victoria in 1970. He worked in the mining business in Canada and the Western United States for the next several years and also founded a precious metals trading company in 1974. He became a commodity broker in 1977 and a stock broker in 1978. Between 1977 and his retirement from the brokerage business in 2020 Victor held a number of trading, analytical and senior management roles in Canada and the USA. Victor started writing market analysis in the late 1970's and became a widely followed currency analyst in 1983. He started doing frequent media interviews in the early 1980's and started speaking at financial conferences in the 1990's. He actively trades his own accounts from The Trading Desk on Vancouver Island. His personal website is www.VictorAdair.ca.
The major US stock indices opened sharply higher this week (after closing higher every day last week) but within hours of the opening the indices turned tail and fell like a stone…taking out last week's low by Thursday morning. That high speed tumble (Dow futures down >1,800 points in 4 days) was followed by a scorching intraday rally late Thursday…only to have markets tumble again on Friday.
The recent price action looks more like a bear market than a bull market. Last year the major indices trudged upwards in an almost boring fashion with never more than a 4% correction. This year we saw an incredible "run-for-the-roses" rally in January that took the major indices to All Time Highs…but that was immediately followed by a 12% drop in just 2 weeks. The major indices recovered from that break…began to rally again…and made new All Time Highs by the beginning of October…only to tumble >10% in the following 3 weeks. For the past 2 months the indices have chopped up and down in violent fashion (compared to the boring price action throughout 2017) and this looks like bear market price action…sharp emotional drops (when you wonder if "this time" we're going to get the Big Break like we had in October 1987) followed by face-ripping short covering rallies.
The major European stock indices are at 2 year lows.  If the DJIA was at 2 year lows it would be around 18,500 or 6,000 points lower than where it is now.
The US Dollar Index has been around 18 month highs the past couple of weeks while the Canadian Dollar made new 18 month lows this week (dropping below 7450) as the Bank of Canada gave strong indications that they will be less aggressive than previously expected in raising interest rates over the next several months. The British Pound hit 18 month lows this week ahead of the Brexit parliamentary vote scheduled for next week.
US interest rates have been falling for 5 weeks from the multi-year highs reached in early November as the market sees the Fed being less aggressive in 2019. Signs that American and global growth may be slowing add to the pressure for lower interest rates. The falling stock market also puts a bid into the bond market.
Gold hit a 5 month high this week. Buyers may see it as a "safe haven" from the volatile stock market and the China/USA trade tensions. Gold has been a "forgotten market" (in some respects) over the past couple of years as speculators have focused their attention elsewhere. As I've noted in this space many times gold has fallen ~75% in terms of the S+P 500 since 2012. You have to wonder if that trend isn't about to change!
The crude oil market tumbled ~30% from October's 4 year highs to last week's lows. WTI briefly traded below $50 for the first time in 14 months last week then bounced back as high as $54 this week on hopes that production cutbacks by OPEC, Russia and Canada will support prices. Western Canada Select has rallied above $30 following the production cutbacks announced by the Alberta government.
My short term trading: I came into this week flat because I thought the market could gap higher or lower following the Trump/Xi meeting last weekend and I didn't want to run the risk of being trapped on the wrong side. The CAD gapped higher on Monday and I used that rally to get short. By Thursday it had fallen 1 ½ cents from Monday's highs (change of tone from the BoC) and I covered my short position. CAD rallied more than a cent from Thursday's lows to Friday's highs on the stunning Stats Canada employment report (which nobody, including the BoC, takes seriously!) and on the post-OPEC jump in crude prices… especially WCS…and I used that rally to re-short CAD. I did not trade the stock indices this week. I have a bearish bias but I just couldn't find a good spot to get short. I did however buy the Yen…which may rally if the stock market falls. I'm tempted to be short stocks and crude and long gold but I couldn't find a good risk/reward spot to put on a trade. I need to constantly remind myself that my job is just to make money, not catch every move! Going into the weekend I'm short CAD, long Yen.
PI Financial Corp. is a Member of the Canadian Investor Protection Fund. The risk of loss in trading commodity interests can be substantial. You should therefore carefully consider whether such trading is suitable for you in light of your financial condition. In considering whether to trade or the authorize someone else to trade for you, you should be aware of the following. If you purchase a commodity option you may sustain a total loss of the premium and of all transaction costs. If you purchase or sell a commodity futures contract or sell a commodity option or engage in off-exchange foreign currency trading you may sustain a total loss of the initial margin funds or security deposit and any additional fund that you deposit with your broker to establish or maintain your position. You may be called upon by your broker to deposit a substantial amount of additional margin funds, on short notice, in order to maintain your position. If you do not provide the requested funds within the prescribe time, your position may be liquidated at a loss, and you will be liable for any resulting deficit in your account. Under certain market conditions, you may find it difficult to impossible to liquidate a position. This is intended for distribution in those jurisdictions where PI Financial Corp. is registered as an advisor or a dealer in securities and/or futures and options. Any distribution or dissemination of this in any other jurisdiction is strictly prohibited. Past performance is not necessarily indicative of future results
STAY INFORMED! Receive our Weekly Recap of thought provoking articles, podcasts, and radio delivered to your inbox for FREE! Sign up here for the HoweStreet.com Weekly Recap.