December 29, 2018 | Trading Desk Notes – Dec 29th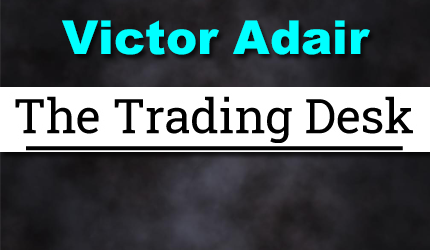 Victor Adair, author of The Trading Desk Notes, began trading penny mining shares while attending the University of Victoria in 1970. He worked in the mining business in Canada and the Western United States for the next several years and also founded a precious metals trading company in 1974. He became a commodity broker in 1977 and a stock broker in 1978. Between 1977 and his retirement from the brokerage business in 2020 Victor held a number of trading, analytical and senior management roles in Canada and the USA. Victor started writing market analysis in the late 1970's and became a widely followed currency analyst in 1983. He started doing frequent media interviews in the early 1980's and started speaking at financial conferences in the 1990's. He actively trades his own accounts from The Trading Desk on Vancouver Island. His personal website is www.VictorAdair.ca.
The Big Story for 2018 was the "topping out" of the global Central Bank accommodation that had buoyed asset markets around the world for nearly a decade. The Fed took the lead in the swing from easier to tighter monetary policy by raising interest rates and starting to run down their balance sheet. Asset markets took notice…and didn't't like it. Stocks, bonds, commodities and real estate prices fell.
American interest rates were rising in late 2017 and that trend accelerated in 2018 as the market came to grips with the "new Fed" under Chairman Powell.  Global stock markets took a tumble in Q1/18 but the leading American indices rallied back to make new All Time highs by October (fueled by tax cuts and share buybacks) while stock markets in most of the rest of the world trended lower.
The American stock indices fell in October, chopped up and down in November and then took a big leg down in December to hit 20 month lows. At the December lows the S+P 500 and the DJIA were down ~20% from their October highs.
Credit markets took notice of the "new Fed" under Chairman Powell and by October 2018 were pricing in at least 3 more ¼ point bumps from the Fed before the end of 2019. As stocks tumbled in Q4 the market began to pull back from that forecast and, despite Powell's announcement that balance sheet reduction would continue on "auto-pilot" by year-end the markets were pricing in no more increases from the Fed and "maybe" the Fed's next move would be to cut rates.
The US Dollar began a virtuous cycle rally in April on diverging Central Bank policies, American tax cuts, share buybacks and a rising US stock market.  That rally looked to be running out of steam by year-end as US stocks tumbled and forecasts turned to lower rather than higher American interest rates.
Gold hit a 20 month low in August ($1160) as the USDX surged to its best levels in over a year and US stocks made new highs. Who needed gold in such an environment?  Apparently not futures market speculators who went net short gold for the first time in over 10 years. Gold traded sideways for the next 2 months, rallied a bit when US stocks started to fall in October and then really caught a bid in December when stocks tumbled and the USDX lost its mojo. By year-end gold was up ~$120 (10%) from its mid-year lows.
Crude oil prices fell ~12% in February as share prices fell but then rallied along with the US stock market until October when WTI hit a 4 year high ~$76. I've made the point before on this blog that crude probably got "too high" going into October as the market anticipated supply shortages, especially as a result of American sanctions on Iran, and when those sanctions were "watered down" crude prices began a relentless tumble and sentiment switched from "supply shortages" to "supply surpluses" as production from OPEC (mostly Saudi Arabia), Russia and the USA surged to record levels and future demand estimates were reduced. WTI traded below $43 on Dec 24/18…a drop of more than 40% in 3 months.
The high for the Canadian Dollar this year was 81.60 in late January when global stock markets were topping out. CAD then commenced a "waterfall" decline (a price break followed by a bit of rally followed by another price break) to end the year around 7350, down ~10% from its January highs. The most recent high for CAD (78.30) was at the beginning of October just as the US stock market was rolling over from All Time Highs and crude oil was rolling over from 4 year highs. The decline from the October highs has been relentless with CAD closing lower for 12 of the last 13 weeks as the USDX rallied, Crude tumbled and expectations of any interest rate increases from the Bank of Canada evaporated.
My short term trading: Over the past 2 weeks I've been trading actively but I've kept my position size small due to the choppy and volatile price action. I caught some good moves both up and down in the S+P, broke even shorting TNotes, lost a bit looking for bounce-back rally in EUR and CAD and I'm still holding the gold I bought a couple of weeks ago.
STAY INFORMED! Receive our Weekly Recap of thought provoking articles, podcasts, and radio delivered to your inbox for FREE! Sign up here for the HoweStreet.com Weekly Recap.