December 23, 2018 | Stocks Lost $2.05 Trillion in 'Value' Last Week! What is 'Value'?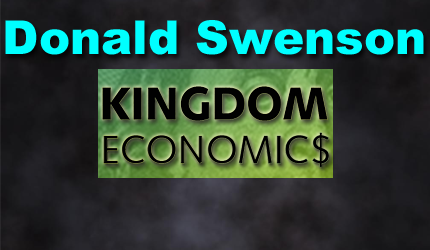 Donald B. Swenson: Born January 24, 1943, Roseau, Minnesota. Graduated H.S. 1961, Moorhead High, Minnesota. Graduated College 1968, Moorhead State University, Minnesota. Designated member of Appraisal Institute (MAI), 1974. Employed with Western Life Insurance Company, 1968 – 71; Iowa Securities Company, 1971 – 73; American Appraisal Company, 1974 – 81. Part-time teacher/valuation consultant/bartender, 1979 – 2008 (taught workshops at Waukesha County Technical Institute, Wi. and Madison Area Technical College, Wi.). Retired 2008 (part time teacher/blogger), AZ. Self educated economist/philosopher/theologian: http://kingdomecon.wordpress.com.
Our markets are now mostly declining in 'value' and this means that digital money disappears from reality. Did you know that our markets trade 'value' via digits? Mere photon 'digits' are now representing 'value' in our marketplace. What is a currency 'digit' (which resides within cyberspace)? Is it part of material reality? I don't think so!
A currency 'digit' is a photon image in our computer screen (a unit of light). I visualize these digits as I look at my computer screen. These photon images (mere 'numbers') are supposed to represent our money item and our proxy for 'value'. Is any of this going to work for trading products and exchanging 'value' in our global marketplace (longer term)? I would suggest, NO!
Last week our American stock markets lost some $2.05 trillion (according to Barron's). This 'value' disappeared from digital accounts and this creates less liquidity within our markets (overall). Some of the bubble within these markets is now being pricked. This could create a trend if it continues.
The NASDAQ exchange has declined more than 20% and this suggests that a BEAR market has arrived for this exchange. The Dow and the S & P 500 are yet to decline this 20%. Is confidence waning in our markets? I think so! Investors are now looking for new safe havens for their savings.
Let's understand this concept called 'value'. What is it? In reality, 'value' is a subjective abstraction within one's mind. When 'value' declines it disappears into our consciousness. Value is a mental abstraction and it has no physical substance to it. Today, our currencies are also mental abstractions (units of nothing).
The dollar ($1.00) is merely a digit (photon image) in our computer screen. It circulates as a metaphysical number within cyberspace. Dollars 'flow' from computer to computer as investors trade, buy, sell, and save. Photon images (units of light) are all that is traded today within all these cyber markets. We call this 1's and 0's.
I swipe my credit card or swish my smart phone via a reader to transfer money from my account to another account. It's all done in cyberspace (my extended consciousness). Speed of light computers do the work. Is any of this workable for our future economy? I doubt it! The system is based upon pure imagination and mental abstractions.
Watch our cyber markets the next few days as 'value' is transferred from account to account. Watch the Dow, the S & P 500, and the Nasdaq. All is now an inner experience within our mind. Money is a photon image (nothing) and value is a mental abstraction (nothing). Nothing creates nothing. What a system? We may need to think up a NEW MODEL down the road. Think for yourself!
STAY INFORMED! Receive our Weekly Recap of thought provoking articles, podcasts, and radio delivered to your inbox for FREE! Sign up here for the HoweStreet.com Weekly Recap.