December 14, 2018 | News From Around The World! Crime Everywhere!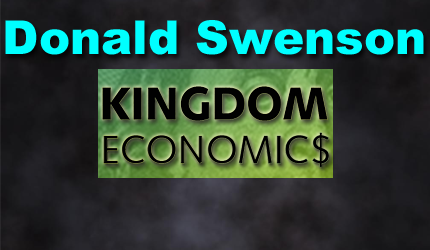 Donald B. Swenson: Born January 24, 1943, Roseau, Minnesota. Graduated H.S. 1961, Moorhead High, Minnesota. Graduated College 1968, Moorhead State University, Minnesota. Designated member of Appraisal Institute (MAI), 1974. Employed with Western Life Insurance Company, 1968 – 71; Iowa Securities Company, 1971 – 73; American Appraisal Company, 1974 – 81. Part-time teacher/valuation consultant/bartender, 1979 – 2008 (taught workshops at Waukesha County Technical Institute, Wi. and Madison Area Technical College, Wi.). Retired 2008 (part time teacher/blogger), AZ. Self educated economist/philosopher/theologian: http://kingdomecon.wordpress.com.
Today's Wall Street Journal has a front page article on the criminal stock market over in Saudi Arabia. This market is pumped up after bad news so that select elites can profit from this market. The leader over in Saudi Arabia (Mr. Mohammad bin Salman) is part of the criminal trading activity. These criminals will use WhatsApp to notify a select group of investors when to trade their market (using public funds). Is this criminal or what?
But is Saudi Arabia the ONLY criminal on this planet? I don't think so! Our entire Casino market is criminal. Our money is criminal and not even official legal tender. Our private elites running our banks are criminals with their counterfeiting of money units to further their private goals. Our Fed is a criminal operation and most thinkers have discerned this for years. Go to YouTube for videos on this criminal operation. Read the history of this criminal operation.
Over in Japan we have mostly ONE criminal who manipulates their market via trades from the public purse (now for years). His name is Hirohito Kuroda. Some 40% of the balance sheet of this criminal bank are trades done surreptitiously. Similar trading activity is done over in Sweden via their Riksbank (run by Stefan Ingves). The European Central Bank has been mostly run by this criminal called Mario Draghi. He is now stopping his QE for the time being.
Over in England we have the criminal Bank of England under the leadership of Mark Carney. India is fighting over who should rule over this Central Bank and who should issue their digital currency. Other criminal banks in the news regularly are this German bank called the Deutsche Bank, the J.P. Morgan Bank, Wells Fargo Bank, the New York Fed Bank, the Argentina Central Bank, the Venezuela Central Bank, and let's not forget the criminal Peoples Bank of China.
Other news from around our planet include the bombers (Russian planes) landing in Venezuela. It appears these planes carry cruise missiles and other military hardware. Great Britain's Brexit situation is unresolved and probably unresolvable. This will come to a head in March of 2019. Las Vegas housing softens as does Phoenix and a host of cities in California. This will continue into 2019 with a huge crash sometime later in 2019. The trends are obvious to those of us who have followed these markets.
Our public deficits are growing ominously and this will lead to further dire consequences later in 2019. We will soon experience over $1 trillion in annual deficits. None of our debt can be repaid and this should send a message to our millennials who desire meaningful change in our system. As I write our Dow Index is down some 475 points. Will our Plunge Protection Team come to the rescue and pump up this index? Yes, we have a PPT that intervenes in our markets regularly. This should be illegal!
It appears that Mr. Trump and his enemies will continue the soap opera in Washington D.C. going into 2019. I see no end for this polarized group of politicians. Those who love the Donald will support his cause. Those who hate him will continue a trend towards eventual impeachment. I see no resolution to this political feud in Washington. We live with a criminal political and financial system. This seems obvious to me. Nothing will change for now. We would need a huge financial CRASH to change events going forward.
Think for yourself on all these issues. I am: https://kingdomecon.wordpress.com. If you want me to advance as a teacher of reality, don't hesitate to donate a few $$$ to help with my education. Enjoy the Holiday Season!
STAY INFORMED! Receive our Weekly Recap of thought provoking articles, podcasts, and radio delivered to your inbox for FREE! Sign up here for the HoweStreet.com Weekly Recap.