December 14, 2018 | Holidazed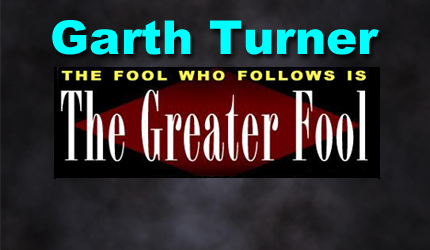 A best-selling Canadian author of 14 books on economic trends, real estate, the financial crisis, personal finance strategies, taxation and politics. Nationally-known speaker and lecturer on macroeconomics, the housing market and investment techniques. He is a licensed Investment Advisor with a fee-based, no-commission Toronto-based practice serving clients across Canada.
Harry has a problem. He dreams about me.
"Both me and my wife are avid readers of your blog. Hey, nothing compares on zipping a cup of warm dark coffee and reading your blog! Over the weekend, when either one of us discovers first the moment you have blogged, it is immediately announced in our household: "Garth has written!". (end of suck-up)."
Well, that part is okay. Now the icky stuff.
"The past few months we had been debating on selling our vacation condo unit and adding that money to the balanced portfolio. On many financial decisions doesn't anyone reading your blog ask themselves this question?: "Hmm, what Garth would do?".

"A funny thing happened a few nights later… As I was dreaming that night I found myself in what it looked like your office. I was standing in front of your desk while you were having a look on a bunch of financial statements. As you were shuffling through the pile you stopped on our condo property taxes document which immediately caught your attention. With a very serious tone, frowned and finger tapping on that paper you looked at me and said: "You know, this has to go!".

Well we followed the advice of your dream figure and we finally listed! To the blog readers: please don't wait for Garth to show up in your dreams to follow his advice. He's may not be as nice as in his blog. Perhaps we could prepare some coffee with cookies for next time we meet in dreamland (do you enjoy coffee with cookies?)."
No, dammit. And stop visiting my office in your PJs.
Now, as to the wisdom of having a vacation condo, Harry at least made the correct decision. So many people have been roped into buying a box in some exotic place like Hawaii, the Caribbean or Vernon trying to justify a whimsical, romantic and flighty material dalliance as a hard-core investment. It isn't. Even if you 'invest' in one of those complexes which arranges short-term rentals of your unit, it's still a bad idea.
First, consider the cost. Even a 'cheap' $300,000 unit somewhere will require a downpayment, financing, condo fees, property taxes and possibly a management fee – like twenty grand a year or more. If you fork over cash for the purchase, then that's money which could be invested and working. Count that as a true cost, plus all of the other overhead.
The point is simple. Cost-efficiency.  If you spend two three or even six weeks in the condo, why own it for 365 days a year? Just short term-rent. You'll be far ahead in terms of cash flow, plus you've avoided a lot of risks. The property could depreciate. The local market could crash. The local currency could slide or inflate (well, maybe not in the Okanagan). The local government could slap on a silly new tax (a big problem in the OK). The destination could fall out of favour. Your spouse might grow to hate it, yet you can't easily sell.
As popular as it is for we beavs, the US is a problematic place to stash wealth in the form of real estate. Some jurisdictions (like Florida) stiff foreigners with a higher property tax rate. You have to be careful about what work you do around your own property, since this can fall afoul of the law. When you sell there are withholding taxes, with the IRS keeping 10% or 15% of the sale price. If you rent the place out, you're subject to a 30% non-resident withholding tax on the gross (not net) income. This is money you'll not be able to claim under the cross-border tax treaty. (There are ways to mitigate the hit, but it's complicated.)
When you sell, lots of paperwork to do, on both sides of the border. America taxes capital gains first, then you can claim this against any Canadian tax payable on the sale. And good luck if you need financing for an American property. Not easy. So best to use the US sub of a maple bank.
So when does it make sense to buy a vaca spot? The short answer is never. Unlike a family cottage, you 're unlikely to pass it on to anyone as a treasured asset (because it costs too damn much to own), nor will you ever retire there (residency restrictions). So, instead, invest the money and use the growth to finance your holiday. Better still, take no holidays, work incessantly, be driven and die early with a massive pile of dough.
That's the guy way. You win.
STAY INFORMED! Receive our Weekly Recap of thought provoking articles, podcasts, and radio delivered to your inbox for FREE! Sign up here for the HoweStreet.com Weekly Recap.