December 3, 2018 | All Ears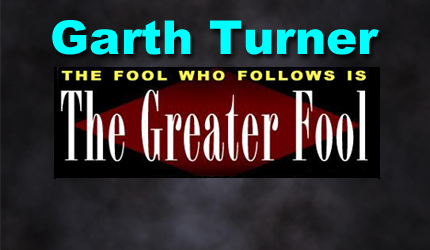 A best-selling Canadian author of 14 books on economic trends, real estate, the financial crisis, personal finance strategies, taxation and politics. Nationally-known speaker and lecturer on macroeconomics, the housing market and investment techniques. He is a licensed Investment Advisor with a fee-based, no-commission Toronto-based practice serving clients across Canada.
Last week we talked about Marianne the Car Princess. The 50-something owner of two dealerships had panicked after her $2 million portfolio had lost 2% in the October Scare. Ignore the noise, I told her. She couldn't. And in going to cash she turned a paper loss of $40,000 into a real one. Bad move. It's why emotions are almost always the enemy of investors.
So the US stock market fell about 6% in October. Last week it gained 5%. It was the best five-day stretch since December of 2011. That win has extended into this week. And a whole lot has changed since we were carving turkeys in Canada. Listen up.
First came word US interest rate increases may soon peter out. Fed boss Jay Powell said the 'neutral' point – where the cost of money neither encourages nor discourages economic activity – was close at hand. That was a big change from weeks earlier when he signalled five or more additional hikes were on the table.
So stocks roared ahead. Bond yields fell. One big negative – that central banks would kill the romping US economy – had just faded away.
Next up, the Trump-Xi thing, which happened Saturday night. The US and Chinese leaders met after the useless G-20 meeting and came to an agreement. It puts that trade war between the two biggest economies on the planet behind us. At least for a few months – but probably for long after. The Chinese media is calling Trump "the statesman of the century," if you can believe it. And said he: "It is my great honour to be working with President Xi." Kissy. Kissy.
Here's why the deal is yuge:
No more trade sanctions, sniping, insults or bullying for the next 90 days. That means the US keeps its tariff level at 10%, instead of raising it to 25% as threatened and another $200 billion in Chinese imports are not affected. China agrees to immediately start ramping up imports of US energy, agricultural and manufactured goods to shrink the trade imbalance. The two nations will try to forge a truce on the transfer of technology, plus work together on cyper-espionage and non-tariff barriers. Xi says he will spank North Korea a little, and make Fentanyl a controlled substance so it's a crime to export it into the States.
There's more, but the main thing is that talking has replaced tweeting. Trump now has the ability to look like a successful world leader instead of an outlier. The trade war rhetoric has been scaled back and the path opened for a wide-ranging agreement between the two behemoths. This is a big deal. So another negative fades.
But there's more.
After hitting the skids last month, the price of Canadian oil screamed higher on Monday – up about 50%. What was selling for about $13 a barrel mid-November was commanding almost $33 just hours ago. Up as well rocketed the shares of pummelled producers like CNRL, Cenovus and Crescent Point.
The breakout came after Rachel Notley, the capitalist dipper premier of Alberta, announced that province would cap oil production beginning in January. Since we can't seem to build pipelines anymore, a massive oversupply of oil was swamping warehouses and depressing prices.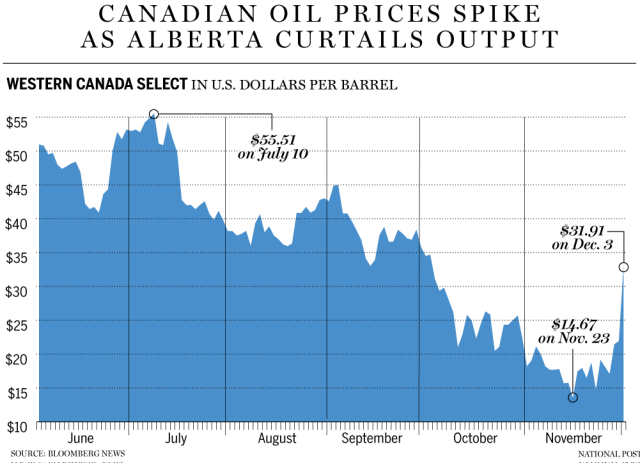 So, let's recap. Interest rates may soon crest. The trade war threatening to eat the global economy may be over. Alberta is saved. Now if Britain can find its way out of the Brexit muddle, Europe may also survive.
Meanwhile US growth is robust. Unemployment is at a 50-year low. Corporate profits have been boffo. We signed the USMCA thing and renamed it CUSMA. Stock markets have plumped nicely since Hallowe'en. Adele still isn't touring. And we're into the third year of the American presidential cycle – when, historically, markets do best. Nice.
Now we're into December. Traditionally markets rise 70% of the time in the twelfth month. This year there are more than the normal reasons (like tax-loss selling) to expect gains. If rates top, trade calms and expansion continues, 2019 could be a winner. You can be absolutely sure Trump wants to go into 2020 on a wave of growth and glory.
Therefore, here's the deal. Next time we have a 10% correction, don't come here all pissy to moan, grovel, grouse or gloat. Man up. Sell nothing. Ignore the noise. Be confident. Always remember when things feel bad, you alone have the ability to make them worse. So, don't.
STAY INFORMED! Receive our Weekly Recap of thought provoking articles, podcasts, and radio delivered to your inbox for FREE! Sign up here for the HoweStreet.com Weekly Recap.