November 30, 2018 | Trump Will Claim Victory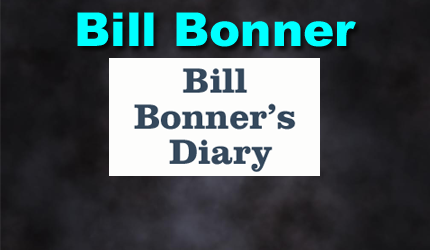 Is an American author of books and articles on economic and financial subjects. He is the founder and president of Agora Publishing, and author of the daily financial column, Diary of a Rogue Economist.
BALTIMORE, MARYLAND – This is the big day. The music starts. The lights go on. And the curtain rises…
And there, on stage, President T. is scheduled to meet with China's leader and decide the fate of the world economy.
Yesterday, Mr. Trump raised expectations of a deal with the Chinese. From Bloomberg:
President Donald Trump said he is very close to "doing something" with China ahead of a planned meeting with President Xi Jinping, raising expectations again that the two leaders may be able to hash out a ceasefire in their trade war.

U.S. and Chinese officials have been working for weeks on the contours of a possible deal for the two leaders to be announced following their dinner on Saturday on the sidelines of the Group of 20 summit in Buenos Aires and a road map for talks to follow.
The stock market wasn't holding its breath. The Dow sold off slightly.
Targeted Tariffs
Our colleague, David Stockman, thinks investors who bet on an end to the trade spat are going to be disappointed:
Wall Street's complacent belief that the impending confrontation with China is all about the Donald playing an especially rough hand of the art-of-the-deal is flat-out delusional. He is not even close to compromising on his Trade Wars because, as the Donald sees it, his weapon of choice – targeted tariffs – is essentially a congenial tool and an acceptable end in itself if he doesn't get sweeping, impossible-to-deliver concessions from the other side.
David's view got a boost yesterday when it was reported that Trump's crackpot trade advisor, Peter Navarro, will be with him in Buenos Aires for the meeting with Xi Jinping tomorrow. If anyone can mess up a trade deal, Navarro should be able to do it.
But we'll stick with our prediction. The Donald is smarter than he seems. And more cunning.
He knows that his reputation as a dealmaker, his claim to have created a "booming" economy, "his" stock market, and his own personal fortune all depend on a continuation of the debt bubble.
And that depends on low interest rates… which depend on the Chinese continuing to play their role.
America needs low-priced products to keep inflation in check. An increase in consumer prices will push interest rates up – which will bring the whole hustle to an end.
Yes, we are more cynical than David. We think Mr. Trump knows what he is doing. And he knows that he has to announce a big "win" when he returns from South America, no matter what is actually accomplished. He will claim victory and preserve the status quo… just like he did with NAFTA.
It's all showbiz.
Debt Bomb
In the real world, the trade imbalance with China can't be negotiated away. China makes cheaper, more competitive products. That wouldn't change, even if trade barriers – including NTBs (non-tariff barriers) – were eliminated completely.
But just because a nation runs a trade deficit doesn't necessarily mean it has a problem; a trade surplus is no sure sign of virtue, either.
China has the world's largest trade surplus. But it also has the world's largest problem. Fueled by America's fake money, and fooled by China's own central planners, Chinese businesses have made huge miscalculations. They have over-capacity in almost every major industry. And now, the vultures are circling.
China's key inputs – oil and iron ore – are both falling. While these trends may have no single cause, it is likely that their biggest customer – China – is cutting back.
Chinese producers aren't sure what will happen tomorrow, either. If the trade war escalates, they hope to offset lost U.S. sales with sales to Europe, Africa, and South America… as well as more domestic demand.
But the transition will take time. And while it is taking place, China's $40 trillion debt bomb could explode.
In the U.S., meanwhile, Mr. Trump claims "his" economy is booming. His economic advisor, Larry Kudlow, says it is much stronger than its Chinese competitor. But the picture is not nearly so clear.
U.S. debt levels for households, companies, and the federal government are all hitting new records – just as interest rates go up.
Higher mortgage rates are killing real estate sales already. From Bloomberg:
Contract signings to purchase previously-owned U.S. homes unexpectedly fell by the most since January, reaching the lowest level since mid-2014 amid mounting evidence that the housing market is struggling.

The index of pending home sales dropped 2.6 percent, after a 0.7 percent gain the previous month, according to data Thursday from the National Association of Realtors in Washington. That missed the median estimate in Bloomberg's survey calling for a 0.5 percent rise. The gauge was down 4.6 percent from a year earlier on an unadjusted basis, following a 3.3 percent decrease.
There's surprising weakness in the labor market, too. Initial jobs claims are widely believed to be the most reliable indicator of approaching recession… and they're going up. Here's Bloomberg again:
Initial jobless claims rose 10,000 last week to 234,000, the third straight gain and the highest level since May, a Labor Department report showed Thursday. The median estimate in a Bloomberg survey was for a decrease to 220,000. The last two weeks included the Thanksgiving holiday and observance of Veterans Day, and filings tend to show wider swings around such events.
How and when these trends will develop, we will wait to see.
But today, it's showtime south of the Río de la Plata. And if there's one thing President T. knows better than anyone it's how to play to the groundlings. They want to see their hero come out of the ring with his hands held high.
And that's exactly what he will do.
Regards,
Bill
STAY INFORMED! Receive our Weekly Recap of thought provoking articles, podcasts, and radio delivered to your inbox for FREE! Sign up here for the HoweStreet.com Weekly Recap.