November 24, 2018 | Trading Desk Notes – November 24th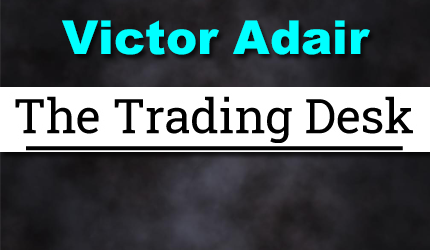 Victor Adair, author of The Trading Desk Notes, began trading penny mining shares while attending the University of Victoria in 1970. He worked in the mining business in Canada and the Western United States for the next several years and also founded a precious metals trading company in 1974. He became a commodity broker in 1977 and a stock broker in 1978. Between 1977 and his retirement from the brokerage business in 2020 Victor held a number of trading, analytical and senior management roles in Canada and the USA. Victor started writing market analysis in the late 1970's and became a widely followed currency analyst in 1983. He started doing frequent media interviews in the early 1980's and started speaking at financial conferences in the 1990's. He actively trades his own accounts from The Trading Desk on Vancouver Island. His personal website is www.VictorAdair.ca.
WTI crude oil tumbled to it's lowest price in over a year…closing lower for 7 consecutive weeks. On October 3rd WTI hit a 4 year high ~$77 as the market feared a supply shortage especially given the American sanctions on Iran. This week WTI traded below $51…a 33% tumble from the October highs as the market feared a supply glut as OPEC (especially Saudi Arabia,) Russia and the USA produced record amounts of crude and the market feared a slowing global economy would reduce demand for crude oil. Speculators continue to liquidate long crude positions (voluntarily and otherwise) adding to downside pressure. New York wholesale gasoline prices have also fallen for 7 consecutive weeks…down ~35% from their October highs.
New York Natural Gas price soared higher the last 3 weeks ( as much as 40%) as the market feared a supply shortage ahead of the North American winter heating season (the past 10 days have been unusually cold creating a record draw down of Nat Gas supplies.) Frantic short covering by speculators also helped Nat Gas spike higher.
Stock markets around the world remain under pressure with the major American Indices, which have been the "Last Man Standing" as stock indices in the Rest Of The World tumbled the past several months, are now also negative YTD with the steepest declines the past 2 months coming from the (previously high flying) tech sector. Apple, which is the largest weight in the S&P 500 and the Nasdaq, has fallen ~26% from its Oct 3 All Time Highs…losing ~US$280 Billion in market cap.
Intermarket relationships: The major American stock indices, crude oil, gasoline and corporate bonds have all fallen sharply since the beginning of October while Gold, US Treasury bonds and the US Dollar have rallied during the same time period…a classic "risk off" profile.
My short term trading this week: At the end of last week I was long a small position of OTM S+P calls, thinking that the stock market was oversold and might bounce. (The DJIA closed Friday  ~600 points above Thursday's lows.)  Weekend reports of Pence and Xi exchanging barbs at the APEC meeting had me thinking the market was going to take a hit…but prices opened only a little lower on Sunday afternoon and I took that as a positive sign…a market that won't fall on bad news might rally. The market actually traded above Friday's close during the Sunday overnight session but opened weak Monday morning and I hit the sell button…which was a good thing because the market fell like a stone for the next 2 days. (The DJIA dropped ~900 points from Friday's close to Tuesday's low.) Given that this was Thanksgiving week I didn't trade very much. Going into the weekend, and using some cautious option strategies, I'm long the S+P and short gold.
PI Financial Corp. is a Member of the Canadian Investor Protection Fund. The risk of loss in trading commodity interests can be substantial. You should therefore carefully consider whether such trading is suitable for you in light of your financial condition. In considering whether to trade or the authorize someone else to trade for you, you should be aware of the following. If you purchase a commodity option you may sustain a total loss of the premium and of all transaction costs. If you purchase or sell a commodity futures contract or sell a commodity option or engage in off-exchange foreign currency trading you may sustain a total loss of the initial margin funds or security deposit and any additional fund that you deposit with your broker to establish or maintain your position. You may be called upon by your broker to deposit a substantial amount of additional margin funds, on short notice, in order to maintain your position. If you do not provide the requested funds within the prescribe time, your position may be liquidated at a loss, and you will be liable for any resulting deficit in your account. Under certain market conditions, you may find it difficult to impossible to liquidate a position. This is intended for distribution in those jurisdictions where PI Financial Corp. is registered as an advisor or a dealer in securities and/or futures and options. Any distribution or dissemination of this in any other jurisdiction is strictly prohibited. Past performance is not necessarily indicative of future results
STAY INFORMED! Receive our Weekly Recap of thought provoking articles, podcasts, and radio delivered to your inbox for FREE! Sign up here for the HoweStreet.com Weekly Recap.