November 2, 2018 | The Issue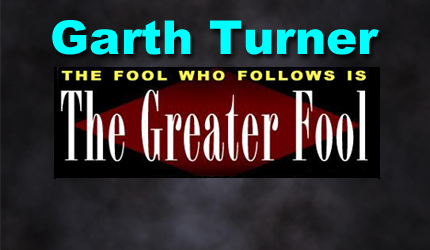 A best-selling Canadian author of 14 books on economic trends, real estate, the financial crisis, personal finance strategies, taxation and politics. Nationally-known speaker and lecturer on macroeconomics, the housing market and investment techniques. He is a licensed Investment Advisor with a fee-based, no-commission Toronto-based practice serving clients across Canada.
Adam gave up. "We recently made the decision to purchase a house after multiple bad rental situations," he admits. But he & his squeeze were smart buyers. No GTA. No epic debt. "We moved to London, a much more affordable city where prices weren't insane. We bought much lower than what we could have been approved for, and didn't wipe out all of our savings by following your rule of 90."
Good blog dogs. But there's a question here: "When we signed up for the mortgage in late spring we were able to get a 5 year variable rate for 1% less than a fixed rate. I had seen a few posts on your blog that variable was still a good option if you could handle the possibility of an increase. Since we started we 've had 2 quarter point increases and our 1% advantage is quickly dwindling with another expected 3 increases by next spring. Do you think it would be advisable to try and lock in a fixed rate (at probably 1% higher) with an expected at least 1% increase by next summer with the possibility for more to come? Or would variable still be the better option? Handling the monthly payments won't be an issue either way, I just don't want to hand any more hard earned money over to the banks than I have to."
Well, Adam, rising rates are definitely a problem for tons of people. The pointy-heads at TD Economics amped that this week with a report saying the debt burden will become more and more onerous over the next couple of years, with interest and principal payments surpassing 15% of disposable income – the highest level on record. "No matter which scenario you look at, one thing remains in common: debt service costs will likely outpace income growth over the next couple of years, squeezing consumer spending."
The bank figures the effective rate on family debt will rise about 1% – huge, given that we now have 3% mortgages. And wages are expected to ride below inflation, which is not cool. The only good news is a family debt crunch might force the central bank to slow its pace of rate hikes. And what did The Ploz say about that, specifically?
"It shouldn't be a hard thing for people to service their debt at those kinds of interest rates," he ventured. "But if people have overextended themselves, given the low interest rates, then we've got a transition issue."
Hmm. A transition issue. Aren't we already there, given the report highlighted here yesterday? When big numbers of minivan-driving, soccer-moming, homeowning families borrow from private lenders at rates of 7-20% because they can't pass the bank stress test, isn't this already an "issue"?
To recap where we're going, Adam, the trip from a 1.75% central bank rate now to 3% (Stephen Poloz's destination) will jack the prime to 5.2% at the chartered banks. HELOCs will clock in at an average of 6%. Fixed mortgages will sit at close to 4.5% and the stress test will zip over 6%. With about a quarter of all mortgages renewing each year, the hardest hit will be all those people in Van and 416 who have $1 million properties and a debt-to-income level of 450% or greater. There are scads of them – folks who really can't easily afford any increase in their monthly, whose properties may well be losing value at the same time. Wham.
Already happening. Look at YVR, where top-end prices have tumbled 11% in a year. Vancouver has gone from No. 1 in terms of rising luxury home prices global to the bottom of the list – No. 43.
Sales dropped in September by 40% (last month's grisly stats are not yet available). Says the head of Sotheby's Canadian real estate ops, "Right now, it is definitely a buyer's market in Vancouver." Of course, that's not true. We're nowhere near the bottom, and those people house-floggers like Brad Henderson manage to suck into this vortex of destructive velocity will always feel betrayed. Sadly his company just reported that 79% of urbanites between 20 and 45, "believe that financial gains on their home will outperform or be on par with financial investments over the next five years." If true, that would put the average crap Eastside house at $3 million within a decade. What folly.
Now, to the question. Variable or fixed?
The advice some weeks ago was to stay variable until rates started to move and a defined timetable emerged. The spread at that time was (as Adam can attest) about 1%. That meant the central bank would have to move four times before the VRM advantage was lost.
So, what's changed?
The Ploz added a quarter point a couple of weeks ago. Then he told us what the target was. Now he's revealed when he wants to get there (sort of). As a result we've discovered the Bank of Canada would like to increase five more times, at least three of those (and probably four) in 2019. Meanwhile the spread between variable and fixed has narrowed. A locked-in fiver at the banks is currently 3.6% to 3.5%, while their variable rates sit around 3.3%. (The cheapest VRM is 2.6%, but that's from some guy who also sells used Ram trucks in Welland.)
So, yeah, nailing it down for five years at a still-decent rate, with little premium over floating, is sane. Hopefully, Adam, you have the ability to convert without penalty. Because, after a single payment, the [email protected] will look at you funny. Take her a box of edibles.
STAY INFORMED! Receive our Weekly Recap of thought provoking articles, podcasts, and radio delivered to your inbox for FREE! Sign up here for the HoweStreet.com Weekly Recap.