November 13, 2018 | Not Quite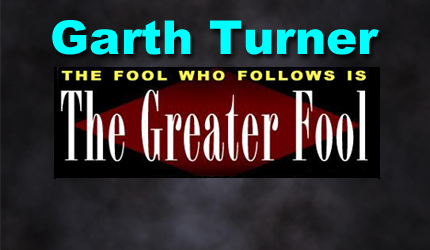 A best-selling Canadian author of 14 books on economic trends, real estate, the financial crisis, personal finance strategies, taxation and politics. Nationally-known speaker and lecturer on macroeconomics, the housing market and investment techniques. He is a licensed Investment Advisor with a fee-based, no-commission Toronto-based practice serving clients across Canada.
Love's labour lost. Or, in this case, Val's condo.
"Both my brother and my boyfriend are huge fans, and advised me to write in," she writes, understanding the benefit of a meaningful suck-up. Turns out bro lives in Ottawa, is a renter, and worries about sis who's recently moved in with the BF.
Val's tale:
I bought a (gasp) condo in (gasp) Calgary at age 26 in 2013 with my modest marketing job and immaculate saving skills. I put $48,000 down and paid $231,000. It sure is a beauty. I've never regretted buying it and I really enjoyed living there for the last five years, but now I am living with my boyfriend and we plan to get married and start a family.

You can see the listing here.

I am currently flooded with offers around $1700 rent for the condo, as it hasn't sold in 2.5 months so I listed it for rent. Two weeks before the contract with my realtor is set to expire, I get an offer: $230,000. I dropped the listing from $249,000 twice already and it is now listed at $242,000.

My boyfriend and I want to buy a home and while he is willing to pay the down payment, (although I'm sure it would be nice if I contributed funds from the condo sale) and rent the condo to keep as an investment, we are still trying to decide what to do with it. I hate to sell at a loss, but he is also willing to help me invest my funds from the condo and he consistently yields at least 6% a year from his own portfolio. Please help!!"
I wrote and asked her for numbers. Turns out the mortgage owing is still $185,000 and costs $900 a month. The monthly condo fees are $300, with property tax/insurance coming in at $120. A 6% return on her downpayment equals $240, so the true carrying cost of the condo ends up being $1,560. Not bad, and apparently a little less than if she had rented the same unit for $1,700. So her annual benefit from owning would be $1,680.
So has it been the "investment" she believes?
Meh, not exactly. The market value is apparently $230,000, and to realize it will cost $11,500 in realtor fees. After the mortgage principal is retired (assuming a zero break fee) it leaves Val with $33,500. In other words, she put down $48,000 and is recovering $33,500 five years later. Ugh. But over five years she had a net benefit of $8,400 (since the cost of owning was a little less than renting), which reduces the overall loss of $14,500 to just a little over $6,000.
The conclusion: bro is right. Renting would have been cheaper. But what to do now?
If Val rents the place out for $1,700 a month, she ends up with a small cash flow which is added to her employment income, fully taxed. She gambles that real estate values in Calgary will recover to the point where she might be able to sell without a loss –which (with $55 oil today, ouch) is far from certain. On the other hand, if she sells the place and eats the loss she still has $33,500 to add to her BF's stash in order to buy a home and start a family (apparently you need to do both at the same time in Calgary).
However if she invests the $33,500 to earn 6% over time, and does it entirely within her TFSA (she has no savings now) the $2,000 annual growth will be tax-free.
Now for the tricky, emotional, touchy-feely part. Val loved her condo.  Yes, she didn't have  much equity and ended up losing a piece of her net worth, so it was a lousy investment. But it was hers. Moving in with the BF changed everything. That was risk and love, co-mingled. If the relationship doesn't work out, and the condo's gone, she is adrift. Selling the place and dumping her proceeds into a communal house takes things to a new level of dependency and trust. But by renting the condo out, and telling herself 'it's an investment' she can hang on to a piece of the old Val, in case the new one is hurt.
And you thought this blog was just about ETFs and carburetors.
Well, Val, here's a solution. Keep the condo you fancy. Wait for that Jason Kenny guy to win Alberta back and ram a few pipelines through. Invite the BF to move into your place, cementing your position as emotional overlord. Forget the house until you see if this is the real deal. And understand there's nothing stopping you from starting a family in a two-bedroom unit.
Now, quick, delete this before he reads it, for I have broken the Man Oath.
STAY INFORMED! Receive our Weekly Recap of thought provoking articles, podcasts, and radio delivered to your inbox for FREE! Sign up here for the HoweStreet.com Weekly Recap.