November 21, 2018 | Naked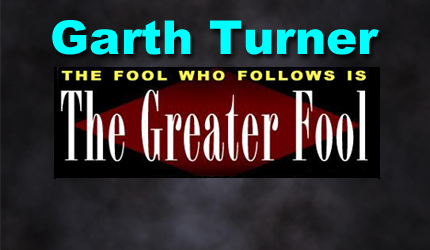 A best-selling Canadian author of 14 books on economic trends, real estate, the financial crisis, personal finance strategies, taxation and politics. Nationally-known speaker and lecturer on macroeconomics, the housing market and investment techniques. He is a licensed Investment Advisor with a fee-based, no-commission Toronto-based practice serving clients across Canada.
As of Wednesday afternoon over 350,000 people had clicked on this vid and watched a morose 10-minute summary of the end of James Cordier's career. RIP, naked call options trader.
The post was the teary farewell of JC to the 290 high-net-worth investors who'd shoveled money into his high-risk, high-stakes, usually-high-return fund called Optionsellers.com. The guy was a self-proclaimed guru in the naked options biz, having written a book on the strategy, then launching a fund based on the same hokum. But that was $150 million ago. Now there's zero. In fact, less than nothing.
This is a cautionary tale about what market volatility can do to people who confuse investing with gambling.
What's a naked call option? Well, when you buy an option you're securing the right (but not the obligation) to buy or sell a commodity (in this case it was nat gas) at a certain point in the future. So, you gamble on what it might be worth at that moment in time. A 'naked' option is one which is unhedged, in other words there's no counterbalancing position in case you bet wrong. Instead of losing only the money it costs to buy the option, you're forced to buy the asset at whatever price occurs. Therefore, unlimited risk.
Cordier piled his clients into naked short options positions, betting without a parachute that nat gas would cost less. But, whoops, the price spiked wildly. The entire fund lacked enough money to cover the positions, so the brokerage acting for it had to borrow to do so. Now Cordier has no money, no fund, no clients and a giant liability. You'd be teary, too.
As I said, this ain't investing. It's rank, reckless speculation, made all the more repugnant and reprehensible because it used other people's money. Yeah, they might have been greedy, rich folk willing to roll the dice. But there's no excuse. Mr. Market fried them all.
Lately stock markets have been blowing off a lot of the froth accumulated during the last two Trump years. Valuations have fallen to more reasonable levels. Major US stock markets have dipped about 10% from their record highs, thanks to rising rates and trade tensions. Plunging oil prices whacked Bay Street. The TSX is down a little more than 5% over the past year, but investors with a balanced and diversified portfolio have largely escaped that.
Of course, in the age of Internet geniuses and fake financial news, fear sells. When markets go up 500 points we're told they 'gained'. When markets drop an equal amount, we're told they 'plunged.' And you can count on something like this: 'Fear grips markets as investors climb a wall of worry.'
What a load. By the way, here's the S&P 500, the broadest US market index, for the past decade. Not hard to see those deciding to jump off every time there was a 'plunge' missed a profitable ride afterwards.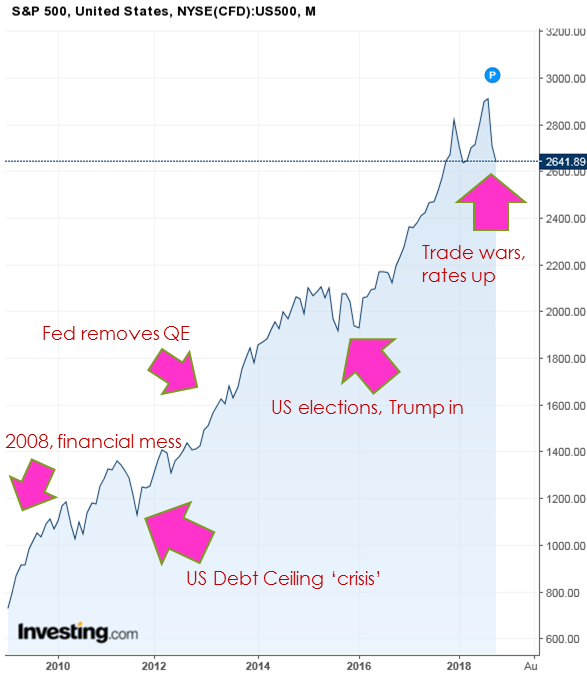 Human nature is a bitch, apparently. It drove James Cordier and his clients into taking extreme risk to secure windfall gains betting against the market. Equally, even small declines and spikes in volatility send other investors running for the exits in a panic. Because fear trumps greed, we see the greatest reactions when the price of any asset goes down. The biggest headlines, too. And the most irrational behavior.
History's no slouch. It shows (look at the chart) that those who ignore temporary plops, bumps, dips, spikes and corrections do just fine by staying invested. Especially if they have a balanced portfolio with both safe and growth assets in it. As I have shown in the past, during the GFC a balanced portfolio lost 20% (while stocks gave up 55%), regained it in a year and grew 17% the next. So the three-year returns during the worst financial dust-up in our lifetimes was 5% annually. Meanwhile those who panicked and sold at the bottom turned a paper loss into a real one. And all-stock investors had to wait seven years to get their wealth back.
In short, what this blog has yammered at you about for years now, works. B&D portfolios are designed to mitigate losses and participate in gains. But they need constant rebalancing and adjusting to ensure the best outcome. For example, over the last 18 months my fancy-pants portfolio manager buddies have sold off small cap US funds (too risky), trimmed the preferreds exposure (as rates rose), added short bonds (less volatile), adjusted TSX holdings to low-vol and high-divvy assets and last summer reduced S&P exposure (too expensive).
The point of having various assets (not just stocks) is to contain risk and still pursue growth. Nobody knows what the morrow shall bring, after all. In the last year, for example, REITs have done great – up almost 9% – while maple dividend stocks have sold off 7%. Common-sense investors have been protected from the kind of capitalist cowboyism of naked call options.
And don't forget – despite sucky markets and online doomsters trying to terrify you –  that a B&D portfolio's gains of roughly 19% in 2016 and 2017 have been retained by investors in 2018.
I you think this is the End of Days, go hide under the bed. If you believe the sun will rise tomorrow do nothing. And if you'd like to be sweet and send poor James a sympathy card, here you go: [email protected]
STAY INFORMED! Receive our Weekly Recap of thought provoking articles, podcasts, and radio delivered to your inbox for FREE! Sign up here for the HoweStreet.com Weekly Recap.