November 19, 2018 | Life Happens When You're Away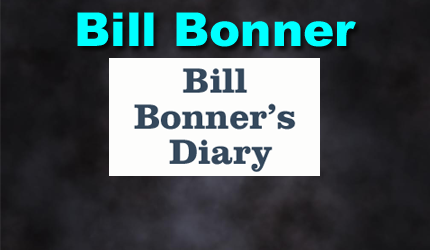 Is an American author of books and articles on economic and financial subjects. He is the founder and president of Agora Publishing, and author of the daily financial column, Diary of a Rogue Economist.
Thy love afar is spite at home.
– Ralph Waldo Emerson
BALTIMORE, MARYLAND – Another week. This one should be slow… with many people off for Thanksgiving.
But you never know.
The old-timers say the days before a holiday are especially indicative of the market's mood. Traders don't like leaving themselves in danger while they're away from their terminals. That is, if they think there is much chance of a crash, they will sell out in advance so they can enjoy the holiday without fear.
Life Happened
Meanwhile, we are back at home after six months abroad. "What's new?" we ask.
"The charm of ordinary life," answered a familiar voice.
On Saturday, we attended a memorial service for a cousin, Joe, who died two weeks ago. On Sunday came a christening for a grandchild. One gone. One arrived. Score = even.
"People worry about changing Chinese trade policies… or who will win the Ravens game. They spend their time on their iPhones and computers. Real life goes on around them… and they don't even notice.
"They may be focused on the wrong things, the wrong places, and the wrong people.
"A man makes a billion dollars in California. A woman wins an election in Arizona. A transvestite in New York sues a museum over its bathroom policy.
"And right here at home, their eyes are shut. We never even met your cousin's wife."
We had seen little of Joe over the past 50 years. In the early 1960s, we worked together with our cousins in the tobacco fields – dragooned into sweaty service by uncles desperate for cheap labor.
But in June 1966, we graduated from high school. By September, we had all dispersed – to join the army… to begin careers and families… to go to college… or simply to disappear.
By 1970, at least three of our small circle of friends were already dead. One died of a drug overdose. Another was killed in a barroom brawl. The third died in the war.
But most of us just went about trying to meet the challenges of ordinary life – earning a living, getting married, having children, and getting along as best one can.
And life happened… a half century of it.
Life in Photos
The reunion on Saturday was the first of what, surely, will be many. Our cousin died in his seventies… of "age-related" disease.
That is, he did not die prematurely of a heart attack, in an accident, or by medical fluke.
He died as the rest of us will – of something aggravated by something else and set in motion by the wear and tear of time. We are all over 70 now… and all holding a losing hand.
Joe cashed in his chips already.
But there, pinned to the bulletin boards, was the life we never saw.
The photos showed Joe dressed in a tuxedo at his wedding… with his brothers, admiring a motorcycle… at the beach with his two daughters… at a daughter's graduation… driving a tractor… collecting trash and treasures… at home… on vacation …at weddings and on birthdays…
A whole life recalled in photos. We were in none of them.
We went off to Europe and South America. Joe stayed home. We studied economics and finance. Joe delivered the mail.
"So many people spend so much time worrying about elections and the economy," continued the familiar voice, looking in our direction. "They miss so much of what is really going on around them in their own families, the things that really matter. We miss a lot… simply because we are not here."
While We Were Away
The christening of our granddaughter on Sunday drew many of the same relatives as the funeral, but it was a happier occasion… the beginning of a life, not the end.
We gathered at the church in the morning, splashed water on her head, and then came back to the house for a reception. There, too, we caught up with people we had scarcely seen at all in three decades.
Many had grown old since we last saw them – gray hair, slightly bent over… talking of hospital visits.
Their children had grown up, too. Now, they spoke of a new generation… with unfamiliar names.
Life had happened to them, too.
"When did that happen?" we wondered to the familiar voice.
"While we were away," came the answer. "Ordinary life doesn't stand still just because we are off on a lark somewhere else. It goes on. We know what we gain from our travels, but we don't know what we lose."
Regards,
Bill
STAY INFORMED! Receive our Weekly Recap of thought provoking articles, podcasts, and radio delivered to your inbox for FREE! Sign up here for the HoweStreet.com Weekly Recap.