November 12, 2018 | Gold: Back Below Its 50-Day Moving Average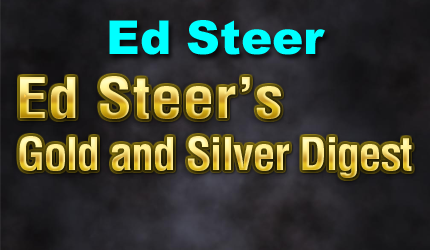 "Ed wrote the daily precious metal commentary for Casey Research starting in 2008. His stand-alone column became their most highly-rated blog [either free or paid] almost from the outset—and remained that way until he started his own subscription-based website in June of 2015."
10 November 2018 — Saturday
YESTERDAY in GOLD, SILVER, PLATINUM and PALLADIUM
The gold price was sold quietly lower until around noon China Standard Time on their Friday.  It crawled quietly higher from there until a few minutes after the London open — and then it crawled equally quietly lower until the COMEX open.  Then the spoofing and algo spinning began — and the low tick of the day came around 12:15 p.m. in New York.  It crept a few dollars higher from there until around 2:30 p.m. in the thinly-traded after-hours market — and didn't do much after that.
The high and low ticks were reported by the CME Group as $1,224.60 and $1,207.20 in the December contract.
Gold was closed in New York on Friday at $1,209.40 spot, down $14.10 on the day — and back below its 50-day moving average.  Surprisingly enough, net gold volume wasn't as heavy as I was expecting…a fact I pointed out to Ted on the phone yesterday…at a hair under 266,000 contracts, but roll-over/switch volume out of December and into future months was very decent at around 58,000 contracts.
The silver price inched quietly lower until around noon CST on their Friday as well — and then didn't do much until 2 p.m. CST — and slid quietly from that point into the COMEX open.  JPMorgan did the rest — and set silver's low tick came at 10:45 a.m. in New York.  It was bounced off that low tick a couple of times, before crawling higher staring around 12:15 p.m. EST.  That lasted until about 3 p.m. in after-hours trading — and it didn't do much from there into the 5:00 p.m. close of trading.
The high and low ticks were recorded as $14.425 and $14.08 in the December contract.
Silver was closed yesterday afternoon at $14.15 spot, down 27 cents from Thursday — and a goodly distance below its 50-day moving average.  Net volume was extremely heavy at a bit over 96,000 contracts — and there was a hair under 21,800  contracts worth of roll-over/switch volume in this precious metal.
Platinum was down 6 dollars by noon in Shanghai on their Friday, but made it back to the unchanged mark by shortly after the Zurich open.  It then got the JPMorgan treatment starting at the COMEX open as well — and its low tick was set shortly after the Zurich close.  It was bounced off that low multiple times from that juncture — and was closed a dollar off its low at $851 spot, down 10 bucks on the day.
Except for the odd bump higher — and the odd soft spot, palladium was handled in a similar fashion as platinum.  Its low tick came shortly before noon in New York — and it managed to rally back to the $1,100 spot mark by the COMEX close.  Palladium finished the Friday session at $1,102 spot, down 11 dollars from Thursday.
And here's the 5-year dollar index, just to give you a bigger picture look at the world's 'reserve' currency.  The delta between its close on Friday…96.73…and the close on the intraday chart above, was 17 basis points on Friday.
The gold stocks gapped down a bit at the 9:30 open in New York on Friday morning — and then continued to sag until their respective low ticks were set at 10:30 a.m. EST.  They began to chop unevenly higher from there — and the HUI closed down only 1.60 percent.
Despite the JPMorgan engineered price declines during the COMEX trading session on Friday, there was some obvious deep-pocket bottom-fishing going on the in precious metal shares yesterday.
---
Here are the usual charts from Nick that show what's been happening for the week, month-to-date — and year-to-date.  The first one shows the changes in gold, silver, platinum and palladium for the past trading week, in both percent and dollar and cents terms, as of their Friday closes in New York – along with the changes in the HUI and the Silver 7 Index.
As I said in this space last week…it's still JPMorgan's world in the precious metals market– and they'll do whatever they want, or until they're told to step aside.
---
So far in November there have been 204 gold contracts issued and stopped, but in silver that number is 1,401…which is an enormous number for a so-called non-delivery month.
---
Month-to-date the mint has had only one sales report — and that was the middle of this past week, when they reported selling 6,000 troy ounces of gold eagles — 2,000 one-ounce 24K gold buffaloes — and 405,000 silver eagles.
Ted mentioned the fact that this week was the second busiest week for in/out activity in silver in COMEX history, as just under 14 million troy ounces was either received or shipped out.  I expect that he'll have a goodly amount to say about this state of affairs in his column this afternoon.
---
---
They arrived at that number by decreasing their long position by 3,620 contracts — and they also added 5,911 short contracts — and it's the sum of those two numbers that represents the change for the reporting week.
I would suspect that JPMorgan's short position in now large enough that they would now be included in the large '5 through 8' traders category — and Citigroup's short position in silver may be on the verge of being large enough as well.  The only other Bank in the Big 8 category would be Scotiabank — and they're still in the Big 4 traders category I would think.  The remaining traders in the Big 8 category would most likely be of the Managed Money variety.  That would be especially true after the COMEX close yesterday.
But under the hood in the Disaggregated COT, there was a bit of a surprise waiting, as the Managed Money traders made up less than half [45%] of the change in the Commercial net short position.  They sold 2,891 long contracts, plus they reduced their short position by 7,219 contracts — and it's the difference between those two numbers…4,328 contracts…that represents their change for the reporting week.  The difference between that number — and the Commercial net short position…9,531 minus 4,329 equals 5,201 contracts, was made up as it always is, by the traders in the other two categories.  Both categories…the 'Other Reportables' and the 'Nonreportable'/small trader category covered short positions like mad during the reporting week.  This was particularly true of the 'Nonreportable'/small trader category.
The Commercial net short position in silver is now up to 19,291 contracts, or 96.5 million troy ounces of paper silver.
With the new Bank Participation Report in hand, Ted pegs JPMorgan's short position at around 15,000 contracts.  In last week's COT Report Ted calculated that they were short a bit over 10,000 contracts — and they added about 3,500 more contracts during this past reporting week, so Ted's guesstimates all month long have been pretty much on the money.
Of course, as I mentioned in both Thursday's and Friday's columns, the current COT Report we have in front of us now is very much 'yesterday's news' already — and that comment certainly applies even more after Friday's COMEX close.
---
They arrived at this number by adding 8,040 long contracts, plus they increased their short position by 14,971 contracts — and it's the difference between those two numbers that represents their change for the reporting week.
Despite the increases in the Commercial net short position in gold recently, the position changes of the Big 4 and Big '5 through 8' traders are still mostly immaterial because of the contamination of that data by the large number of Managed Money traders that still inhabit this group.  Although JPMorgan's short position is now large enough that they would now be in the Big '5 through 8' category, because Ted said they added a fairly healthy number of short contracts during the reporting week.  And if they are now in that category, they're certainly the only U.S. bank or trading house that's there.
Under the hood in the Disaggregated COT Report, it was all Managed Money traders, plus a bit more, as they increased their long position by 2,083 contracts — and they also reduced their short position by 5,994 contracts — and it's the sum of those two numbers…8,077 contracts…that represents their change for the reporting week.
Here's the 3-year COT chart for gold — an as I've already mentioned, the change wasn't overly material.
Of course, like for silver, 'all of the above' is totally out the window, especially after Friday's engineered price decline and close back below gold's 50-day moving average.
The surprise for Ted with this week's COT — and companion Bank Participation Report, was that JPMorgan appeared to be the only short seller active…not only during this reporting week, but all of October as well…if I heard him correctly.  He'll have lots to say about this in his weekly review later today.
So with this week's COT Report results already irrelevant, we're back at very-to-wildly bullish set-ups in both silver and gold once again.
But it can be generally said that we're still on 'care on maintenance' in the precious metals — and basically marking time…waiting for 'whatever' to happen.
---
But, like the COT Report itself, the chart above is basically irrelevant at this point as well — and for the same reason. Except for Scotiabank — and one or two U.S. banks…JPMorgan for sure — and possibly Citigroup by a whisker, if at all…the positions of the Big 4 and Big 8 traders are still mostly made up of the brain-dead/moving average-following Managed Money traders now.
For the current reporting week, the Big 4 traders are short 110 days of world silver production, up 6 days from what they were short in last week's report – and the '5 through 8' large traders are short an additional 48 days of world silver production, which is down 5 days from last week's report-for a total of 158 days held short, which is a bit over five months of world silver production, or about 368.8 million troy ounces of paper silver held short by the Big 8. [In last week's COT Report the Big 8 were short 157 days of world silver production.]
And, once again, don't forget that like in silver…a lot of the traders in the Big 4 and Big 8 categories in gold are still Managed Money traders — and not the commercial variety.
---
Also in gold, 27 non-U.S. banks are net short a very smallish 8,340 COMEX gold contracts, which isn't much per bank…308 contracts each.  In the October BPR, 27 non-U.S. banks were net short only 1,960 COMEX contracts, so the month-over-month increase is 6,380 contracts, which is not a material amount.  However, I suspect that there's at least one large non-U.S. bank in this group [probably Scotiabank] that holds all of that amount short, plus much more, all by itself…as the 8,340 contracts is a net number.  What that means is that a goodly number of these foreign banks are now net long the COMEX futures market in gold.
The world's banks…with the exception of JPMorgan — and maybe Citigroup, plus most likely Scotiabank…are basically gone out of the gold market.
Also in platinum, 17 non-U.S. banks are net short 6,910 COMEX contracts, which is up from the 3,604 contracts they were net short in the October BPR.  But compared to the short positions of the 5 U.S. banks, the short positions of the non-U.S. banks are mostly immaterial.
Also in palladium, 14 non-U.S. banks are net short 1,895 COMEX contracts-which is down a bit from the 2,192 COMEX contracts that these same 14 non-U.S. banks were short in the October BPR.  When you divide up the short positions of these non-U.S. banks more or less equally, they're immaterial, just like they are in platinum…especially when you compare them to the positions held by the 4 U.S. banks.
It's apparent that the banks can move palladium prices around even with small amounts of trading, as they are a large part of total open interest in a very tiny and illiquid market at the best of times — and also trade "all for one, and one for all"….especially the U.S. banks…JPMorgan in particular.  For that reason alone, they're still the dominant factor in the price of palladium.
I don't have all that much in the way of stories again today.
CRITICAL READS
The odds of de-risking/deleveraging dynamics attaining destabilizing momentum are mounting. Many hedge funds now have losses for the year, which forces managers to take down both risk and leverage in anticipation of year-end outflows. I believe deleveraging is now having a growing impact on marketplace liquidity around the world – and across asset classes. Yields are rising and spreads are widening throughout global fixed-income. Unstable equities markets around the globe are indicating a fragile liquidity backdrop. And this week's $2.68 (4.3%) drop in WTI has all the appearances of a major leveraged speculating community panic liquidation (portending challenges for the – to this point – resilient junk bond market).
As another extraordinary market week came to its conclusion, the bulls "Back to Fundamentals" mantra from Wednesday was being hijacked by the bear camp. From my analytical perspective, the outcome of the midterms wasn't going to materially alter the Bursting Global Bubble Thesis.
Global financial conditions continue to tighten. Very serious issues related to China's faltering Bubble remain unresolved. Italy's political, financial and economic problems won't be disentangled anytime soon. And the midterms weren't going to solve the more pressing issues in the U.S., certainly including inflated asset and speculative Bubbles and a Federal Reserve determined to stay on the policy normalization course.
For me, Back to Fundamentals means a return of "Periphery to Core Crisis Dynamics" – rising yields, widening Credit spreads, de-risking/deleveraging, faltering global liquidity and, to be sure, China.
---
A few weeks ago, we reported that even when the market was hitting all time highs ahead of the historic October bloodbath, hedge fund investors were growing increasingly nervous, and rushed to redeem $15 billion from the space in September, the largest single monthly outflow in years, bringing year-to-date net flows to flat after being stubbornly in the green for much of the year despite what has been another deplorable year for hedge funds.
This was not the first time either: over the last three years, investors had removed over $100 billion from the industry, but performance gains had offset these losses… at least until last month.
Which is why just one week ago,  we warned that what may be the most underappreciated delayed risk to the market is a surge in redemption requests as LPs and investors got their monthly performance reports, showing the worst month in years, and in knee-jerk response faxing in their request to have most or all of their money pulled out now before the rout accelerated.
That, as Kishan explains, is the deadline for investors to put managers on notice to get some – or all – of their money at year end.
---
Using time as the ultimate measure of wealth, today, the top 10% are so wealthy that they can command about four times as much of the laborers' time as they could in the 1970s.
Voters didn't necessarily see it that way… But they felt that something wasn't right. And they voted for Mr. Trump to do something about it. "Make America Great Again," they pleaded.
Alas, the president did not understand the challenge and missed his opportunity to do anything about it. America could only be made great again by returning to the conservative principles that made it great in the first place – limited government, limited deficits, limited wars, and limited bureaucracy.
Instead, the president increased the deficit and diverted attention with public feuds, border walls, and trade wars.
And now, with the Democrats in control of the House… and Mr. Trump in control of the Republicans… the opportunity is gone. There will be no real reform of any sort.
Which, of course, is just what the insiders were hoping for.
---
Italy signaled it would not bow to pressure from the European Union to water down its budget for next year, with Deputy Prime Minister Luigi Di Maio dismissing the prospect of sanctions as unlikely.
Speaking to the Foreign Press Association in Rome, Di Maio of the anti-establishment Five Star Movement said he was open to dialogue but made no hint of concessions. The populist government is preparing to reply to the European Commission by next Tuesday's deadline.
Separately, Finance Minister Giovanni Tria told a parliamentary hearing that the government isn't planning to change the deficit target, and will reaffirm to the E.U. the key points of its budget plan. He said the E.U. projection of a 2.9 percent deficit next year is not justified.
The government is locked in a clash with the commission on its budget plans, accusing Brussels of botched analysis over economic forecasts. At the same time a push to deliver on at least part of election promises is sparking near-constant wrangling between Di Maio and fellow-Deputy Premier Matteo Salvini of the anti-migrant League.
---
The E.U. has been trying to create a special purpose vehicle (SPV) that would allow the bloc to continue buying Iranian oil and keep trade in other products with Iran after the U.S. sanctions on Tehran return.
The idea behind the SPV is to have it act as a clearing house into which buyers of Iranian oil would pay, allowing the E.U. to trade oil with Iran without having to directly pay the Islamic Republic.
---
It was rather symbolic that on the same day the NSA delivered his bellicose speech, the U.N. General Assembly (UNGA) voted overwhelmingly in support of a resolution calling for an end to the U.S. economic embargo against Cuba. The document did not include amendments proposed by the U.S. that would put pressure on Havana to improve its human-rights record.
Bolton's "troika" includes only countries ruled by governments that are openly "red" or Communist.  The list of nations unfriendly to the U.S. is much longer and includes Bolivia, Ecuador, Dominica, Grenada, Uruguay, and some other states ruled by leftist governments. Andrés Obrador, the president-elect of Mexico, takes office on Dec. 1. The Mexican leader represents the country's left wing and looks like a tough nut to crack. Outright pressure may not be helpful in this particular case.
---
On November 8, China shocked markets with its latest targeted stimulus in the form of an "unprecedented" lending directive ordering large banks to issue loans to private companies to at least one-third of new corporate lending, said Guo Shuqing, chairman of the China Banking and Insurance Regulatory Commission. The announcement sparked a new round of investor concerns about what is being unsaid about China's opaque, private enterprises, raising prospects of a fresh spike in bad assets.
Guo's comments were the latest attempt by authorities to try to improve funding access for China's non-state companies, which have been struggling to get bank loans in the aftermath of China's crackdown on shadow lending. More importantly, it was the first time financial regulators had given targets on private lending, confirmation that earlier efforts hadn't sparked the necessary credit activity.
---
Output retreated 19 percent from a year earlier, Pretoria-based Statistics South Africa said in a statement Thursday. Overall mining output fell 1.8 percent, while production of platinum-group metals increased 7.2 percent, it said.
Producers in South Africa, which operate some of the world's deepest and most labor intensive mines, have been forced to reduce output and cut thousands of jobs as they struggle to contain operating costs. The continent's most-industrialized economy fell into its first recession in almost a decade in the second quarter.
Sixty-nine workers have died in South African mines so far this year, with the nation's gold mines accounting for more than half of the fatalities, Mineral Resources Minister Gwede Mantashe said last month.
---
The latest figures for Shanghai Gold Exchange (SGE) monthly gold withdrawals are in (for October) and they show a marginal downturn from those for the same month a year earlier.  But then October can be an anomalous month given the week long Golden Week holiday at the beginning of the month during which time the SGE is closed for business so perhaps not too much should be read into the latest data.
Withdrawals for the year to date are still marginally up on a year earlier, so we will have to wait for November's figures (usually a strong month) to see if there is any specific trend downwards yet.  A Table showing the monthly gold withdrawals data year to date, with comparative figures for the prior two years, is shown below…
At the moment China is still on track for another 2,000 tonne plus gold withdrawals year, but if full year demand slips a little we shouldn't be too surprised.  Gold imports from Switzerland and Hong Kong – the two principal published sources for China's direct gold imports, both appear to be slipping a little and the U.S.-imposed tariffs will be having some adverse impacts on China's domestic economy which may be leading to a reduction  in disposable income among the gold-buying public..  The country's own gold production is reported to be slipping too as tighter environmental controls are being implemented leading to reduced production, and even closures, at some of the country's own gold mines.
The PHOTOS and the FUNNIES
STAY INFORMED! Receive our Weekly Recap of thought provoking articles, podcasts, and radio delivered to your inbox for FREE! Sign up here for the HoweStreet.com Weekly Recap.