November 27, 2018 | Global Slowdown will Extend into 2019!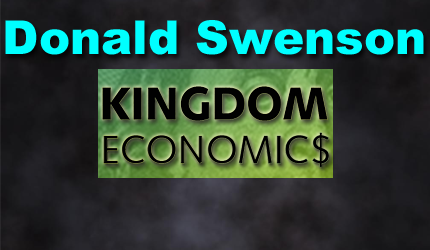 Donald B. Swenson: Born January 24, 1943, Roseau, Minnesota. Graduated H.S. 1961, Moorhead High, Minnesota. Graduated College 1968, Moorhead State University, Minnesota. Designated member of Appraisal Institute (MAI), 1974. Employed with Western Life Insurance Company, 1968 – 71; Iowa Securities Company, 1971 – 73; American Appraisal Company, 1974 – 81. Part-time teacher/valuation consultant/bartender, 1979 – 2008 (taught workshops at Waukesha County Technical Institute, Wi. and Madison Area Technical College, Wi.). Retired 2008 (part time teacher/blogger), AZ. Self educated economist/philosopher/theologian: http://kingdomecon.wordpress.com.
The elites who run our planet with their various digital money operations are now finding that their past policies of easy credit and counterfeit QE must be reversed (at least to a degree). This change in thinking at the TOP will create this coming slowdown and eventually a crash in these digital markets. Change happens 'at the margin'. We live within a global financial casino which operates TOP/DOWN.
Today's Wall Street Journal covers a number of issues which point to this coming slowdown/crash scenario. It appears that our key Central Banker over in Europe, Mr. Mario Draghi, will stop his QE injections (now totaling some $3.27 trillion since 2013). This will happen at the end of 2018. This policy decision will create asset deflation over time in Europe and affect all markets. Real estate valuations will decline, auto valuations will decline, and general credit extensions will decline.
These policy changes, along with the decision of our Fed to increase interest rates, will magnify this slowdown for 2019. We may not witness a real slowdown in 2018 as our elites can mask any slowdown with daily manipulations in the stock and bond markets. These Central Banks have ample cash flow from their prior QE injections to manipulate these digital markets via their trading activities (for a time).
All these policy decisions will gradually create more uncertainty in our markets and confidence will wane as we enter 2019. Change is always 'at the margin' and the prior good times mean nothing to those who must survive 'at the margin'. Real estate is especially affected by policy decisions 'at the margin'. Autos and durables will also be affected. Borrowing will likely decline as liquidity is withdrawn.
The cryptocurrency markets are also getting hammered as liquidity declines. Bitcoin is now at $3825/coin. This market is now only $130 billion compared to its level of over $800 billion in January 2018. I did forecast this crash back in 2017 and the eventual valuation of these 'imaginary' currencies will be zero. Bitcoin is nothing but an 'image' in the computer screen and it has no real ability to sustain its prior valuations.
All the hype about new trade relations with China at the G-20 this month may help to boost stocks for a day or two. Stocks move on positive emotions from our leaders but these valuations don't last for more than a few days. Digital stock markets represent what? What is a digital dollar (for example)? It is nothing but 'hot' air derived from computer trading. The unit (called a dollar) is merely a unit of our 'imagination'.
We all live with huge financial illusions and deceptions. Few take the time to think critically about what is happening in our markets. Few ask questions which have real meaning. Take the time to think critically about these digital currencies which we all live with. What are they (in reality)? Where are they located? Who creates these units of nothing for our markets? You may be surprised if you really think this through!
Enjoy the coming Holiday season. 2018 will soon be history. 2019 will bring huge changes to all our markets. Policy decisions have changed and this is key to change within all our markets. We live in a global casino where all decisions at the top affect the underlying base. Change happens 'at the margin'. Prepare for a new paradigm in 2019. I sense that it is coming!
STAY INFORMED! Receive our Weekly Recap of thought provoking articles, podcasts, and radio delivered to your inbox for FREE! Sign up here for the HoweStreet.com Weekly Recap.