November 21, 2018 | Economic 9/11: Stocks and Crypto Crash. Real Estate and Retail Next?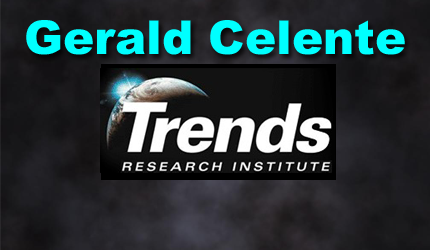 Gerald Celente, who developed the Globalnomic® methodology to identify, track, forecast and manage trends, is a political atheist. Unencumbered by political dogma, rigid ideology or conventional wisdom, Celente, whose motto is "think for yourself," observes and analyzes the current events forming future trends for what they are — not for the way he wants them to be. And while Celente holds a U.S. passport, he considers himself a citizen of the world.
KINGSTON, NY, 21 NOVEMBER 2018—On September 19, two days before U.S. equity markets hit new highs, we alerted Trends Journal subscribers to prepare for an Economic 9/11.
With equity markets around the world now diving into bear and correction territory, the first shots of the Economic 9/11 we forecast have been fired. Even cryptocurrencies are crashing. But again, Trends Journal subscribers were forewarned and forearmed. How low will it go and what's next?
As far back as August, our crypto-trends expert, Jonathan Cho had forecast that the decline will continue and that Bitcoin's bottom is in the $1,000 range or slightly below. "What's occurring now is the beginning of the end, likely not just for Bitcoin but also for unbacked cryptocurrencies, as they'll likely never again reach the heights they did in 2017," Cho said.
While cryptocurrencies are highly speculative and unrelated to economic fundamentals, so too are stock and real estate markets which have been artificially inflated by the cheap money craze that has boosted them to soaring heights.
And there is a dangerous economic road ahead. From the International Monetary Fund to the biggest hedge funds and wealthiest financiers the world, they too are now flashing warning signs… the signs and signals of the Economic 9/11 we had forecast that they are just now beginning to recognize.
The only possible reversal of the current market decline is if the Federal Reserve reverses its aggressive schedule of interest rate hikes and central banks pump out more rounds of quantitative easing.
Indeed, it was not basic economic fundamentals that put the world on the path of recovery following the Great Recession. It was central banks injecting heavy doses of monetary methadone into failing financial systems that juiced equities and real estate markets to artificial highs.
And now, with financial, real estate, tech, retail and energy stocks falling sharply across the globe, and with equity markets diving into bear and correction territory, the only possible reversal are higher doses of the cheap money drug.
Yet this time, considering the $250 trillion massive debt load weighing down the global economy, another monetary infusion will only push markets up temporarily before they OD.
TREND FORECAST: As the economic health of these money-drugged induced economies worsens, demand for gold, the ultimate safe-haven asset will increase. We maintain our forecast that gold prices' bottom range is around $1,200 per ounce and prices will not spike until gold solidifies above $1,450 per ounce.
STAY INFORMED! Receive our Weekly Recap of thought provoking articles, podcasts, and radio delivered to your inbox for FREE! Sign up here for the HoweStreet.com Weekly Recap.