October 4, 2018 | WSJ says: Gold Is No Longer Haven Asset of Choice!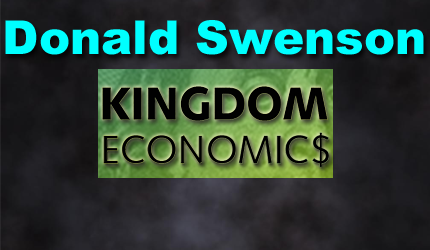 Donald B. Swenson: Born January 24, 1943, Roseau, Minnesota. Graduated H.S. 1961, Moorhead High, Minnesota. Graduated College 1968, Moorhead State University, Minnesota. Designated member of Appraisal Institute (MAI), 1974. Employed with Western Life Insurance Company, 1968 – 71; Iowa Securities Company, 1971 – 73; American Appraisal Company, 1974 – 81. Part-time teacher/valuation consultant/bartender, 1979 – 2008 (taught workshops at Waukesha County Technical Institute, Wi. and Madison Area Technical College, Wi.). Retired 2008 (part time teacher/blogger), AZ. Self educated economist/philosopher/theologian: http://kingdomecon.wordpress.com.
Prices of gold have fallen rapidly this year and investors have not desired this historical precious metal for their haven. This is valid to a point. The same goes for silver. Both precious metals have fallen to record lows as our authorities have promoted the digital dollar. This digital $ has gotten stronger (in relative terms) and this is one reason why the sentiment for gold and silver continues to wane.
But what does this Wall Street Journal article miss for the longer term? What this article implies is that gold will continue to wane as a haven (indefinitely). I would suggest that this could change in a moment's time. Our digital $ is strong only because our markets continue to go UP and UP. But when a REAL correction develops (this could happen soon) then the mindset of investors and the public could change in a moments time.
What the writer of this WSJ article misses is that our digital economy is very fragile and imaginary. These digits, which are supposed to represent 'value', are pure fantasy and products of our imagination. When a market corrects and goes down by 20% or more, Investors and the public (and some of the media) will then wake-up to the reality that digits in the computer screen are pure fantasy and FAKE. We live with fake money which few notice as long as prices and stock values go UP.
But the day is coming when all this fake and fantasy will change. A serious market correction is destined for all these electronic markets. This is occurring today in some emerging nations like Venezuela, Iran, and Argentina. But all our 65 electronic stock exchanges on this planet are interconnected and when a REAL correction hits these markets, all the fantasy and fakery will be exposed. This is coming IMO.
As I write this missive the price of silver is $14.58 and gold is $1198. These prices are suppressed by our Exchange Stabilization Fund computers and this leads investors to think that supply and demand for these metals has waned to nothing. But this could change in a moments notice if our markets actually CORRECT significantly. A 20% correction will change the mindset of many investors and pundits. I sense that this type of correction is on the near horizon.
When might this correction occur in real-time? The U.S. 10 year bond is now at 3.191%. This is the highest it has been for some 10 years. The 30 year bond is now at 3.341% in real-time. These rates (if they continue) will dramatically slow down our bubble economy. Real estate and borrowing will slow and if the rates get to (say) 3.25% for the 10 year, then the game could change radically.
Our economy depends on easy credit and easy borrowing. Low rates pump up our credit demand and also corporate borrowing. The opposite occurs when rates go up. Right now the rates are mostly going up in the USA and some emerging nations have much higher rates. Argentina has rates as high as 60%. I can state with confidence that these higher interest rates will produce a REAL correction at some point down the road. My estimate is around March of 2019.
Our central bankers will continue to manipulate these rates as our economy slows and this can pro-long a REAL correction for a few more months. But I sense that a REAL correction is destined for 2019 (if not before). Watch as the real estate sector starts to slow dramatically later this year. Then watch as confidence drops substantially. We all know that investor emotions can change on a dime. As I write, confidence is mostly strong and positive. But all this can change in a moments notice.
The coming vote on Judge Kavanaugh could be a positive or a serious negative. The coming elections (the results) in November could be mostly positive or they could be very negative. Our nation is seriously polarized today and I don't think this will change for the immediate future. Polarization and fragmentation is likely to continue into 2019 and after. A major correction in our markets will make this reality known to the entire country. So watch the markets these next few months as I sense a REAL correction coming!
STAY INFORMED! Receive our Weekly Recap of thought provoking articles, podcasts, and radio delivered to your inbox for FREE! Sign up here for the HoweStreet.com Weekly Recap.