October 31, 2018 | U.S. Entering Stage-One Recession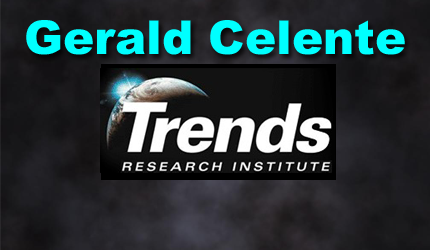 Gerald Celente, who developed the Globalnomic® methodology to identify, track, forecast and manage trends, is a political atheist. Unencumbered by political dogma, rigid ideology or conventional wisdom, Celente, whose motto is "think for yourself," observes and analyzes the current events forming future trends for what they are — not for the way he wants them to be. And while Celente holds a U.S. passport, he considers himself a citizen of the world.
KINGSTON, NY, 31 OCTOBER 2018—Back in February, when the U.S. Federal Reserve signaled it would aggressively raise interest rates, foreign currencies started to fall against the dollar and equity markets across the globe began their dive into bear and correction territory.
And, as we had long noted, with some $250 trillion in global debt, much of it dollar based, as the dollar grows stronger and global currencies get weaker, the cost burden of servicing that debt grows heavier. Subsequently, as forecast, economies worldwide are slowing, stagnating and/or falling into recession.
However, with U.S. equities hitting new highs until recently, America's Gross Domestic Product strongly growing and unemployment levels falling to 50-year lows, Wall Street proclaimed that the economy would continue to expand despite higher interest rates.
Wall Street was wrong. We were right. Clearly, as evidenced by slumping real estate sales. With the benchmark 30-year fixed mortgage rate now at 5.04 percent, it hit the unaffordable break point for most Americans whose wages have not kept up with inflation.
In Southern California, for example, new and existing houses and condominium sales plummeted in September, sinking 22 percent compared to August and 18 percent over last year, hitting its slowest pace since 2007 … the prelude to the Panic of '08.
Nationwide, September home sales dropped 5.5 percent to a near two-year low.
Moreover, last week, total mortgage application volume fell 16 percent lower than a year ago when mortgage rates were nearly a full percentage point lower, and mortgage applications to refinance a home loan, a key indicator of how the market responds to rate increases, were 32 percent lower than a year ago.
THE WIDE REACH OF RISING INTEREST RATES
Sensing the recessionary climate, in a cautionary move, Capital One and Discover announced this week they will be more diligent and restrictive in how they manage credit limits for their credit card customers, a clear sign that lenders are growing concerned over how consumers will be able to manage higher rates.
Indeed, how credit card limits have been set and managed by lenders is a stalwart indicator of how lenders view economic and consumer spending trends.
TREND FORECAST: A Stage One Recession has begun. Global equity markets and economies that got their cheap money super high from their central banksters' monetary heroin fix, cannot sustain higher interest rates.
From the White House to Wall Street, they will exert pressure on the Feds to moderate interest rate increases to minimize the debt load on governments, corporations and consumers … and to prevent stock markets from crashing and economies from sinking into recession.
STAY INFORMED! Receive our Weekly Recap of thought provoking articles, podcasts, and radio delivered to your inbox for FREE! Sign up here for the HoweStreet.com Weekly Recap.