October 6, 2018 | Trading Desk Notes – October 6th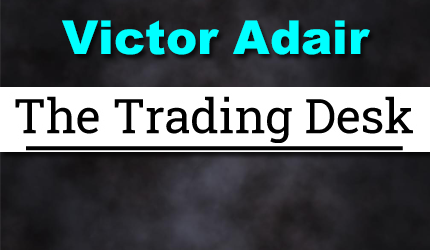 Victor Adair, author of The Trading Desk Notes, began trading penny mining shares while attending the University of Victoria in 1970. He worked in the mining business in Canada and the Western United States for the next several years and also founded a precious metals trading company in 1974. He became a commodity broker in 1977 and a stock broker in 1978. Between 1977 and his retirement from the brokerage business in 2020 Victor held a number of trading, analytical and senior management roles in Canada and the USA. Victor started writing market analysis in the late 1970's and became a widely followed currency analyst in 1983. He started doing frequent media interviews in the early 1980's and started speaking at financial conferences in the 1990's. He actively trades his own accounts from The Trading Desk on Vancouver Island. His personal website is www.VictorAdair.ca.
Interest rates surged higher this week with nominal and real yields on the US 10 year treasury hitting 7 year highs. Bond prices tumbled, the US Dollar (USD) rallied and global stock markets fell as a "shakeout" hit speculative excesses across markets. Market sentiment quickly turned from "risk on" to "risk off."
My trading accounts are currently positioned to profit from a rising USD and falling stock markets. I expect to be adding to these positions in the weeks ahead.
The starting point for my "big picture" market view is that way too much money has been borrowed to finance speculative excesses across markets and that rising interest rates will cause dramatic market corrections. Once these corrections begin they will be self- sustaining as the "weight" of selling begets more selling. I expect market psychology to reverse from "reaching for yield" to "reaching for safety."
I expect the USD to rally as capital seeks "safety and opportunity" in America. For the past several months I've written about the "stealth strength" of the USD as various EM currencies tumbled against the USD while G10 currencies were only slightly weaker.
Several major American stock indices (and the Japanese Nikkei) hit All Time Highs early this week but then registered Weekly Key Reversals Down. The EEM ETF hit 17 month lows. The TSE hit 4 month lows. The small cap Russell 2000 made an All Time High the beginning of September and hit a 4 ½ month low this week.
Stocks and bonds are falling together…and that spells TROUBLE for the popular risk parity trade which assumes that you can hedge a strong bullish position in stocks with a leveraged long position in bonds…because bonds always rally when stocks fall…right?
The Canadian Dollar (CAD) jumped to a 4 month high when trading began this week on Nafta relief, narrowing interest rate differentials (now that Nafta was settled Poloz was free to jack up rates,) the Shell LNG announcement and the Quebec election. This seemed to be an excellent opportunity to "buy the rumor/sell the news so I shorted CAD. CAD is at an 8 year high Vs. AUD and a one year high Vs. the Euro. It trended 3 cents higher against USD from June to October while nearly all other currencies fell against USD during that time. In the last 6 weeks Western Canada Select has fallen from ~$24 discount to WTI to an All Time record ~$43 discount.
WTI Crude oil hit a 4 year high this week (just below $77) on the assumption that US sanctions against Iran will reduce their exports by more than 1 MBD thereby tipping the global supply/demand balance into deficit as other countries are unable/unwilling to make up the shortfall. Bullish market sentiment hit an extreme of 96% this week. Our view is that the run up in crude prices is just one aspect of the "speculative excesses" noted above and we bought OTM puts this week.
Gold fell more than $200 (15%) from mid-April (when the USDX started to rally) to mid-August (when the USDX hit a 14 month high.) It has bounced $30 – $40 off its lows and is probably holding in better than I would have expected given the steady-to-better USD and sharply higher real interest rates. Perhaps gold is getting a "reaching for safety" bid especially since it has fallen ~75% against the S+P in the past 7 years.
I've been "out of step" with markets since mid-summer and I've lost money as a result…not much money, because I kick out losing trades very quickly, but the losses added to my sense of being out of step and I wondered why.
Perhaps "politics" had made the markets choppy and I have little/no skill at handicapping politics. Perhaps I was guilty of trading what I thought the market should be doing rather than what it was doing. Perhaps my "anticipation" of change was correct but "too early." Perhaps I was trying to position for a big move but had my stops too tight and got knocked out of my trades before they had a chance to work. Perhaps my "big picture" views of 1) higher interest rates, 2) a stronger USD, and especially 3) a shakeout of speculative excesses across markets, and especially in high flying equities was either "too early" or just plain wrong.
I took some solace from Stanley Druckenmiller saying that he too was out of step and losing money:  https://www.youtube.com/watch?v=ukH6RloCWzl full interview:  https://www.realvision.com
I'm feeling a little vindicated this week and my trading account balances are growing…my next job will be to find a spot to add to my positions.
PI Financial Corp. is a Member of the Canadian Investor Protection Fund. The risk of loss in trading commodity interests can be substantial. You should therefore carefully consider whether such trading is suitable for you in light of your financial condition. In considering whether to trade or the authorize someone else to trade for you, you should be aware of the following. If you purchase a commodity option you may sustain a total loss of the premium and of all transaction costs. If you purchase or sell a commodity futures contract or sell a commodity option or engage in off-exchange foreign currency trading you may sustain a total loss of the initial margin funds or security deposit and any additional fund that you deposit with your broker to establish or maintain your position. You may be called upon by your broker to deposit a substantial amount of additional margin funds, on short notice, in order to maintain your position. If you do not provide the requested funds within the prescribe time, your position may be liquidated at a loss, and you will be liable for any resulting deficit in your account. Under certain market conditions, you may find it difficult to impossible to liquidate a position. This is intended for distribution in those jurisdictions where PI Financial Corp. is registered as an advisor or a dealer in securities and/or futures and options. Any distribution or dissemination of this in any other jurisdiction is strictly prohibited. Past performance is not necessarily indicative of future results
STAY INFORMED! Receive our Weekly Recap of thought provoking articles, podcasts, and radio delivered to your inbox for FREE! Sign up here for the HoweStreet.com Weekly Recap.