October 20, 2018 | Trading Desk Notes – October 20th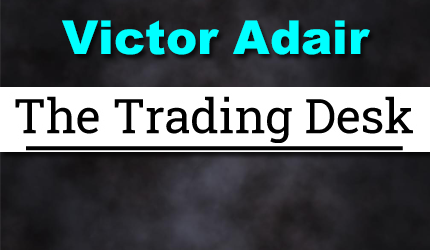 Victor Adair, author of The Trading Desk Notes, began trading penny mining shares while attending the University of Victoria in 1970. He worked in the mining business in Canada and the Western United States for the next several years and also founded a precious metals trading company in 1974. He became a commodity broker in 1977 and a stock broker in 1978. Between 1977 and his retirement from the brokerage business in 2020 Victor held a number of trading, analytical and senior management roles in Canada and the USA. Victor started writing market analysis in the late 1970's and became a widely followed currency analyst in 1983. He started doing frequent media interviews in the early 1980's and started speaking at financial conferences in the 1990's. He actively trades his own accounts from The Trading Desk on Vancouver Island. His personal website is www.VictorAdair.ca.
The major American stock indices hit All Time Highs around the beginning of October and have fallen as much as 7-10% since. I've been anticipating a correction (if not more) in those indices for the past couple of months as other major stock indices around the world fell and as US interest rates kept rising. I started short selling too early and lost money but I've recovered those losses and more by trading from the short side the past 3 weeks.
The only thing I can trade is price and I think changes in market psychology (Fear and Greed and everything in between) is the key thing that causes prices to change. For instance, when a market is in a bullish phase and is hit with some "bad news" prices may drop…but people who see that decline as a bargain will start buying and their buying will lift prices to new highs. Markets go up when buyers are more aggressive than sellers.
I try to get a sense of market psychology by watching many different markets (as Jimmy Rogers famously asked, "How can you trade wheat in Chicago if you don't know the price of iron ore in Beijing?") because I believe that all markets are connected…even though their relationship with one another changes from time to time.
I look at simple price charts of dozens of different markets to get a "feel" for market psychology. I look at dozens of different spread charts to see how one market is trading relative to another and often ask myself, "Why is that?" 
My current sense of stock market psychology is that the bulls are beginning to wonder if they should be taking profits and the bears are sensing opportunity…I've therefore watched for short term rallies to run out of steam and gone short. The recent choppy intraday price action may be a symptom of an underlying trend change.
My short term trading: I'm short the S+P and added to my short CAD. If either/both of those markets keep falling I hope to add to my positions. In my other managed accounts the key positions are bullish the USD and bearish WTI.
Shanghai and Shenzhen stock indices hit 4 year lows this week…down ~30% from their January highs. The Renminbi is down ~10% since April (when the USD began to strengthen) and is very close to late 2016 lows (when the USD was making new highs.)  If the Chinese currency takes out its 2016 lows that will mark new 10 year lows and will cause more than a ripple across global financial markets. All markets are connected.
PI Financial Corp. is a Member of the Canadian Investor Protection Fund. The risk of loss in trading commodity interests can be substantial. You should therefore carefully consider whether such trading is suitable for you in light of your financial condition. In considering whether to trade or the authorize someone else to trade for you, you should be aware of the following. If you purchase a commodity option you may sustain a total loss of the premium and of all transaction costs. If you purchase or sell a commodity futures contract or sell a commodity option or engage in off-exchange foreign currency trading you may sustain a total loss of the initial margin funds or security deposit and any additional fund that you deposit with your broker to establish or maintain your position. You may be called upon by your broker to deposit a substantial amount of additional margin funds, on short notice, in order to maintain your position. If you do not provide the requested funds within the prescribe time, your position may be liquidated at a loss, and you will be liable for any resulting deficit in your account. Under certain market conditions, you may find it difficult to impossible to liquidate a position. This is intended for distribution in those jurisdictions where PI Financial Corp. is registered as an advisor or a dealer in securities and/or futures and options. Any distribution or dissemination of this in any other jurisdiction is strictly prohibited. Past performance is not necessarily indicative of future results
STAY INFORMED! Receive our Weekly Recap of thought provoking articles, podcasts, and radio delivered to your inbox for FREE! Sign up here for the HoweStreet.com Weekly Recap.