October 13, 2018 | Trading Desk Notes – October 13th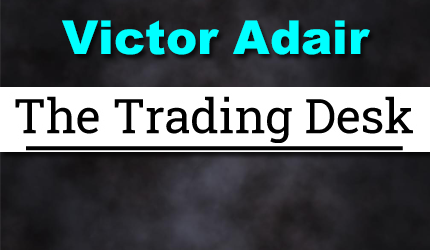 Victor Adair, author of The Trading Desk Notes, began trading penny mining shares while attending the University of Victoria in 1970. He worked in the mining business in Canada and the Western United States for the next several years and also founded a precious metals trading company in 1974. He became a commodity broker in 1977 and a stock broker in 1978. Between 1977 and his retirement from the brokerage business in 2020 Victor held a number of trading, analytical and senior management roles in Canada and the USA. Victor started writing market analysis in the late 1970's and became a widely followed currency analyst in 1983. He started doing frequent media interviews in the early 1980's and started speaking at financial conferences in the 1990's. He actively trades his own accounts from The Trading Desk on Vancouver Island. His personal website is www.VictorAdair.ca.
Stock markets around the world tumbled this week. The DJIA touched new All Time Highs last week (Oct 3) but was down over 2000 points at this week's lows. In just a few days the DJIA gave back all of the gains made since July. Trading volumes on the week were the largest since the DJIA suffered a dramatic tumble the first week of February.
Warning signs had been building for weeks…interest rates were rising, the rally was driven by a few leading stocks while many other stocks were weakening, the NYSE composite had not made new highs and had rolled over mid-September, the Russell 2000 had peaked just after Labor Day and was falling, stock markets around the world, with the exception of Japan, had been falling for weeks or months…a growing divergence with the leading American indices. Speculator sentiment was extremely bullish…the net long speculative position on the S+P futures was at a 4 year high…save for the 2 week period in January of this year when markets around the world were making new highs.
Last week I wrote, "The starting point for my "big picture" market view is that way too much money has been borrowed to finance speculative excesses across markets and that rising interest rates will cause dramatic market corrections. Once these corrections begin they will be self- sustaining as the "weight" of selling begets more selling. I expect market psychology to reverse from "reaching for yield" to "reaching for safety."
My trading accounts started this week positioned to profit from a falling US stock market, weaker crude oil and a weaker Canadian Dollar. I took profits on my bearish stock positions and have maintained the bearish positions on CAD and WTI.
Currencies: The Japanese Yen played its "safe haven" role and began to rally late last week as both the Japanese and American major stock indices began to weaken. As the stock markets fell this week the Yen continued to strengthen. The Euro touched a 2 month low Tuesday and bounced…Trump taking a cheap shot at Powell may have given the Euro a bid. The Canadian Dollar continued to fall back from the 4 month high made Oct 1. The Western Canada Select discount to WTI went to a new historic low of ~$50…which priced WCS at ~$20 BBL. The Bank of Canada issues its Business Outlook Survey Oct 15…if Canadian terms of trade are weakening the market may start to price in the Bank of Canada "going easy" on interest rate increases while the Fed stays firm…which likely adds to pressure on the Canadian Dollar.
Crude Oil prices fell this week: WTI hit a 4 year high near $77 last week with the "supply shortage" narrative driving trader sentiment but prices slipped away from those highs as the major American stock indices began to fall…as American inventories began to build and as WTI prices didn't rally on hurricane worries. At this week's $70.50 low WTI was down ~8% from last week's highs.
Gold jumped over $40 from this Monday's low to Thursday's high. The rally broke gold prices out of the sideways range they've been in for the past 2 months and broke the downtrend line that's been in place since April. The rally came after the USD had weakened for 2 days and followed Trump's cheap shot at the Fed. Speculators in Comex gold futures have been net short gold for the past few weeks…for the first time in over 10 years…so part of the rally may have been driven by some of those shorts covering…but…as I've written here before, the gold price has fallen 75% against the S+P 500 index since 2011, with that ratio hitting 14 year lows in September, and some of Thursday's buying had to be inspired by "reaching for safety."
Gold rallied this week while the stock market fell…and I thought that was very interesting. Back in Jan/Feb when the stock market tumbled gold also fell…down ~$80. When the stock market had its "run for the roses" rally from mid-December 2017 to the (then) All Time Highs in late January gold also rallied…jumping about $130 to its best level in 18 months. I think one of the reasons that gold didn't fall this week, along with stocks, was because speculators were net short (paper) gold…they didn't have (paper) gold to sell to meet stock market margin calls!
Maybe markets are sensing that a MAJOR change is underway. For years I've said that my job is to try to imagine how the future will be different from the present…and to position my accounts to take advantage of that change. So consider these WHAT IFs: what if the swing to populist/nationalist politicians, the swing away from globalization, leads to a swing to easy fiscal policies? What if America is leading the world in this regard? What if Italy ignores Brussels and goes ahead with easier fiscal policies…will other European countries do the same? In May of next year people in 27 EU member countries will cast votes  to elect 705 Members of the European Parliament…what if those votes go to candidates favoring easy fiscal policy over austerity? If the world begins to embrace easier fiscal policies will that mean that monetary policies get tighter?
Where's the trade in this idea? If the world starts to embrace easier fiscal policy (people look at America and see a hot economy as a result of easy fiscal policy) that would mean huge government deficits…which likely means interest rates go up. The stock market really benefited from easy monetary policy so if monetary policy tightens in response to easier fiscal policy perhaps stocks go down. And if governments are cranking up infrastructure projects as part of their fiscal policy maybe commodity prices rise.
Credit where credit is due: Kevin Muir at the MacroTourist got me thinking about this idea a few weeks ago: http://www.themacrotourist.com/posts/2018/09/20/outrage/  and Felix Zulauf had a great interview in Barron's Oct 6/18 where he talked about this idea.
PI Financial Corp. is a Member of the Canadian Investor Protection Fund. The risk of loss in trading commodity interests can be substantial. You should therefore carefully consider whether such trading is suitable for you in light of your financial condition. In considering whether to trade or the authorize someone else to trade for you, you should be aware of the following. If you purchase a commodity option you may sustain a total loss of the premium and of all transaction costs. If you purchase or sell a commodity futures contract or sell a commodity option or engage in off-exchange foreign currency trading you may sustain a total loss of the initial margin funds or security deposit and any additional fund that you deposit with your broker to establish or maintain your position. You may be called upon by your broker to deposit a substantial amount of additional margin funds, on short notice, in order to maintain your position. If you do not provide the requested funds within the prescribe time, your position may be liquidated at a loss, and you will be liable for any resulting deficit in your account. Under certain market conditions, you may find it difficult to impossible to liquidate a position. This is intended for distribution in those jurisdictions where PI Financial Corp. is registered as an advisor or a dealer in securities and/or futures and options. Any distribution or dissemination of this in any other jurisdiction is strictly prohibited. Past performance is not necessarily indicative of future results
STAY INFORMED! Receive our Weekly Recap of thought provoking articles, podcasts, and radio delivered to your inbox for FREE! Sign up here for the HoweStreet.com Weekly Recap.